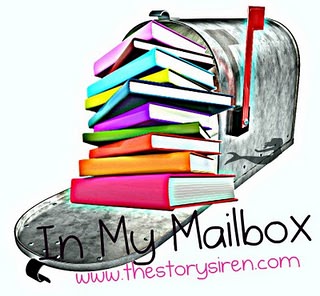 In My Mailbox, started by Kristi from The Story Siren is an awesome weekly meme to post what books we've received this week; whether it was sent for review by a publisher, purchased at a book store, borrowed from the library, or won from a giveaway.
Okay, I know every week I say something like, "What a fab week!" but this week I seriously mean, "What a fab week!" I've been waiting for a really awesome week of books to do my first IMM vlog and this week is just right. First of all, I'm really excited about the books I share in the video below, but I also have a pretty good variety of books sent for review, that I've purchased and from the library.
Sooo, apparently my brother filmed the video the wrong way on his iPod Touch, so I apologize for the random way the video is centered. Excuse my many "ums" in the video; I was really nervous for some reason! I'm sure I'll get better at vlogging as I continue to do more. Enjoy!
Purchased from bookstore:
Anna and the French Kiss by Stephanie Perkins
For review:
The Darlings Are Forever by Melissa Kantor (Thank you Deborah from Disney Publishing Worldwide and Hyperion Books for Children!)
The Liar Society by Lisa and Laura Roecker (Thank you Lisa and Laura, as well as Paul from Sourcebooks Fire!)
From the library:
If You Lived Here You'd Be Home Now by Claire LaZebnik
The Lover's Dictionary by David Levithan
And don't forget to enter my OTHER WORDS FOR LOVE by Lorraine Zago Rosenthal giveaway!
What's in your mailbox today?