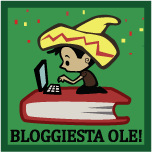 Everyone knows I'm a sucker for setting and accomplishing goals, so when I heard about Bloggiesta…I knew I wouldn't be able to stay away.
So, what exactly is Bloggiesta? It's basically a weekend-long blog challenge hosted by Maw Books Blog to improve your blog and cross items off your to-do list. You can put as much or as little time into the challenge as you want. Throughout the weekend, there are mini-challenges with tips and ideas to make your blog even better.
Below are some of my specific goals for this weekend:
–Write reviews
–Answer emails
–Edit review policy
–Edit services page
–Edit book reviews page
–Send out interview questions
-Schedule more author interviews/guest blogs
-Figure out if I'm removing my blog roll and if so, figure out something better to put on that page
-Prepare a few discussion posts
–Catch up on Google Reader
–Comment on blogs
-Research and figure out when I'm signing up for BEA/BBC
–Learn how to copyright my blog (Silly me, my blog was already copyrighted!)
–Find new blogs to read through bloggiesta!
Challenges participated in:
–Organize Thy Shelves hosted by Jenn's Bookshelves
–Email Best Practices hosted by Hey Lady Whatcha Reading
–Your Review Policy hosted by Girls Gone Reading
–Clean Up Your Feed Reader hosted by The Book Lady's Blog
–Backing Up Your Blog hosted by Farm Lane Books Blog
–Grade Your Blog hosted by Bookish Ruth
Overall thoughts:
Bloggiesta is such a fantastic idea! I accomplished a lot on my to-do list as well as some things I never even thought of (like creating a Google spreadsheet for my upcoming reviews/author interviews). I didn't accomplish everything on my list, but bloggiesta is a year-long activity for me! I usually spend Sunday afternoons working on upcoming posts/improving my blog, so I'm looking forward to making my blog even better!
I had a great time hopping around to new blogs and look forward to the next event!
Total time spent:
8 hours
How did you do during Bloggiesta?