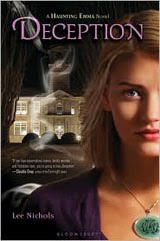 Deception
Author: Lee Nichols
Goodreads| Amazon| Author Website
When Emma Vaile's parents mysteriously disappear on a business trip, Emma isn't really THAT concerned. Reeling from a recent ended friendship,s he figures now is as good a time as any to start being social again and host her first big bash at her freaky, antique-filled home. But when the cops bust her at the party because someone has reported that she's been living by herself, Emma is devastated. At the station, Emma is rescued by Bennett, her brother Max's friend from college, who comes to the police station with papers stating that he is Emma's legal guardian.
Bennett quietly leads her out of the station, and puts her on a plane to Boston, to his house on the East Coast. Emma is seriously confused, but kind of happy; she has a huge crush on Bennett, but unfortunately, he shows no interest in her.
When Emma gets to Bennett's house on the East Coast, Bennett disappears for days at a time, leaving Emma wandering throughout the massive mansion. That's when she begins to see things. Odd things. Ghosts. And she discovers that she can talk to them; and get them do things she asks. When Bennett returns, Emma learns the truth; she is a ghostkeeper, and a powerful one at that.
I'm off to a great start in 2011 achieving my goal of reading books outside of my normal comfort zone. DECEPTION is the first supernatural book I've ever read, and while I thought some things were weird about it, overall, I really liked the experience and am looking forward to branching out even more throughout the year.
One of my favorite things about this book was that it expertly combined enough about Emma's normal life (teenage angst, crushes on boys, making friends) with all of the odd things happening in her life (the whole ghost thing). This perfect combination kept me interested for all of the reasons that I normally love contemporary novels, but then added in this whole new layer of supernatural.
This book was sufficiently spooky. There were several moments in the book (especially before Emma learned she was a ghostkeeper) that I felt seriously on edge and scared. I loved it! When I was little, I loved hearing ghost stories, so I'm not sure why I waited so long to pick up this kind of book.
I really liked the interactions with the "friendly" ghosts throughout the book. I thought it was pretty cool that Emma developed these strange but completely genuine relationships with people who had been dead for years. Since Emma's family had completely deserted her, it was nice to see Emma's "ghost" family rally behind her to help her learn how to use her powers.
Emma was a great main character. She was strong, interesting, and even funny. Emma is a little naive at times (who isn't?) but she's been through a lot and as a reader, I was rooting for her happiness the entire book. Emma is a tough cookie- she goes through a lot in this book: an ended friendship, unrequited love, being abandoned by her parents, and learning about her family history and her new role in life as a ghostkeeper. Under the circumstances, anyone would be a little frazzled, but Emma keeps her cool. I really admired Emma's motivation to learn as much about her powers as she could.
My only problem with this book was Emma's interest in Bennett. Bennett was NOT a very nice guy throughout the book- he often hindered Emma from learning information about her ghostkeeping abilities, and he just came off as cold. Coby seemed like such a better male love interest to me and I was frustrated that Emma wouldn't give him more of a chance, before it was too late.
The ending of this book was especially intriguing, leaving me high and dry until the sequel BETRAYAL comes out in March. I can't wait!
4/5