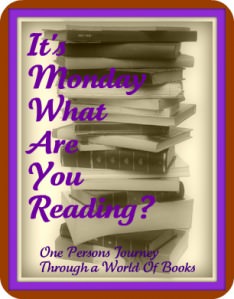 *Don't forget to check out my giveaway! I'm giving away my copy of I Now Pronounce You Someone Else by Erin McCahan. Click here to enter! Ends on Wednesday!*
It's Monday, What are you Reading? is a weekly meme hosted by Sheila at One Person's Journey Through A World Of Books to discuss what we are reading this week, as well as books completed the previous week.
I'm feeling pretty good about my reading so far this month! I was worried with NaNoWriMo that I wouldn't have as much time for reading, but hopefully I'll continue reading some great books this November.
Books I Completed Last Week:
Wanted by Sara Shepard: Oh. My. Goodness. I can't believe I'm done this series. This last book had me seriously on the edge of my couch with goosebumps and flinching at every little sound in my house. (Review to come)
Sliding Into Home by Kendra Wilkinson: A few years ago, I couldn't get enough of the TV show The Girls Next Door. I was interested to hear Kendra's own experience of living in the mansion. (Review to come)
Could Not Finish:
An Abundance of Katherines by John Green: Okay, I hate to admit that I absolutely cannot get into this book. I'm about 30 pages in and I'm not interested. Does it get better? Should I continue reading?
Books I'm Reading This Week:
My Nest Isn't Empty, It Just Has More Closet Space by Lisa Scottoline and Francesca Scottoline Seritella: This is the first book I'll be reading on my mom's Nook! Can't wait to see what the experience is like- and I've heard this book is hilarious, so I'm sure it will be enjoyable.
Firefly Lane by Kristin Hannah: Per my mom's constant recommendation ("Jess, have you read Firefly Lane yet? Come on, come on! What are you waiting for?") I'm pretty excited to finally read this one.
So, what are you reading this week?