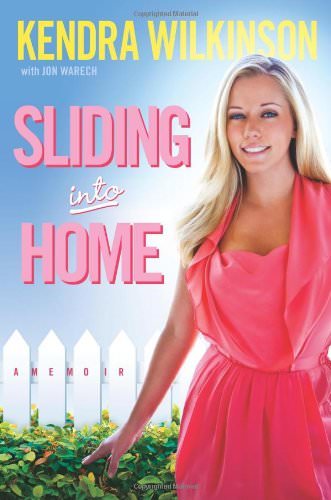 Sliding Into Home
Author: Kendra Wilkinson
ISBN: 9781439180914
Sliding Into Home by Kendra Wilkinson, best known for her time as one of Hugh Hefner's girlfriends and her role on the hit E! TV show The Girls Next Door, is a memoir of Kendra's life.
A memoir at age 25? While it hardly seems like that would be enough time to write a memoir, Kendra Wilkinson has sure been through a lot in her short 25 years. This book chronicles her early childhood without a father, her dark time with drugs as an early teen, her short-lived strip-teasing career, her journey into the world of Playboy and finally her marriage to NFL player Hank Baskett and the birth of her son Hank Baskett Jr.
I have to admit, a few years back when The Girls Next Door was on TV, I was obsessed with the show. For some reason it just fascinated me that these three women SHARED a boyfriend, and an 80 something year old boyfriend at that. I tuned in each week without fail to watch the dynamic between the three women, to see their interactions with Hef, and to take a peek at what life in the Playboy mansion is like.
This book took me in a little deeper into the true world of The Girls Next Door. I'll be completely honest; I picked up this book to read the dirt on what really went down in the mansion. I had little interest in Kendra's early life (and mainly skimmed through those parts waiting to get to the good stuff).
Oh, and juicy stuff it is. Do you want to know what happened on *ahem* "club nights" at the mansion? Kendra takes you right into Hugh Hefner's bedroom with some pretty vivid description. Want to hear about the rocky relationships between the three girlfriends? The strict 9 p.m. curfew Hef imposed on the girls? That's all there too.
But besides the juicy gossip (which I loved), there is a special story of a young girl who truly appreciated the opportunity and the chance that Hugh Hefner gave her. After reading the book, you'll understand that even though the entire situation is a bit strange, it worked for Kendra and helped turn her into a better person.
I was a bit confused at the way the book was organized. The book gives A LOT of attention the Kendra's teen years, while kind of flying through her time at the mansion and her marriage to Hank Baskett. Most people learned about Kendra while she was at the mansion, so that's what I most wanted to read about. While I understand that the time before the mansion shaped her as a person, I would have liked to see more time focused on her later years.
This memoir is very conversational. In fact, probably a bit too conversational. Kendra's voice definitely comes through loud and clear throughout the pages, but at times, the book seemed just a bit too informal.  In one word, the book is written simply.
However, this book is extremely genuine and honest. Just like Kendra, you get what you get.   Kendra really bares it all- the good, the bad and the ugly.
3/5