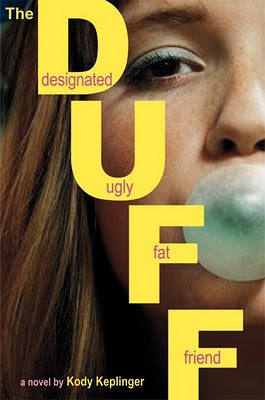 The Duff
Author: Kody Keplinger
ISBN:9780316084239
The Duff by Kody Keplinger tells the story of Bianca, a high school senior. When Bianca and her two best friends Casey and Jessica go out for the night, Bianca finds herself sitting at the bar alone, not into the whole scene. When Wesley, the hottest guy in school (and also the biggest man-whore) sits next to her and strikes up a conversation, Bianca is skeptical- and annoyed. Wesley announces that he's talking to her because she's the Duff (Designated Ugly Fat Friend) in her group of much hotter friends, and that talking to the Duff makes him look like a sensitive and nice guy.
Life isn't so great at home- Bianca's parents are heading for a divorce and her dad has fallen off the wagon and started drinking again. Bianca needs a distraction, and the next time she sees Wesley, she finds herself making out with him out of frustration and the need to clear her mind. Bianca is disgusted by Wesley, but what disgusts her even more is that she enjoys the kiss- and wants more. She begins to secretly meet with Wesley to get her fix, but she's even more surprised when she finds herself falling for the bad boy that she swore she'd never like.
Before I read this book, I heard that you either LOVED it or you HATED it. I definitely fell into the LOVE camp. I devoured this book within 24 hours and when it was over, I was wishing for more.
First of all,  Bianca and Wesley's relationship? HOT. There are some s-t-e-a-m-y scenes in this book (this may be an understatement).  Even though Wesley was such a jerk in the beginning, I found myself falling for him right along with Bianca. I think Keplinger did a great job developing Wesley throughout the story, from someone we despised, to someone we wanted to root for. Wesley's growth throughout the book seemed genuine and was definitely believable.
One of my favorite parts of the story was Bianca's relationship with her two best friends. This book made me crave my own Casey and Jessica! Their loyalty to Bianca and their close friendship is something that is hard to find and even rarer to hold onto. Both of these secondary characters played an important role in the story and helped Bianca to develop significantly.
Something I really loved about this novel was that the dialogue was true to real life. This was certainly a CONTEMPORARY YA novel. I could definitely hear the dialogue throughout the book as if it were really being spoken by teenagers (though I could have done without the overuse of direct address…to me, that was the only thing that didn't seem realistic).
Many reviews I read had problems with Bianca as a main character. I actually really liked her. She seemed real. She was cynical and moody. She had her ups and downs. She kept things from her friends. She struggled with her family. She was unhappy with her looks. She did what made her feel good, even if it meant putting herself out there. In short, she is a teenager. I liked that Bianca had so many problems that many teenagers struggle with. Just because we as readers may not agree with her actions because we don't feel like what she did was morally okay doesn't mean she wasn't a well-written or well-developed character.
Like many other reviews have said, this book is a bit of a game-changer in YA writing. While it is technically classified as YA which many younger teens read, this book is really aimed at an older audience (late teens, early twenties). Keplinger explored topics like sex, alcoholism, family, friendship and relationships in a way that we haven't really seen before. I hope that other writers (myself included) will take away from Keplinger that it's OKAY to take risks and to write about topics that you may have thought were taboo. This book taught me that I SHOULD take chances in my writing, because after all, what do I have to lose?
4.5/5