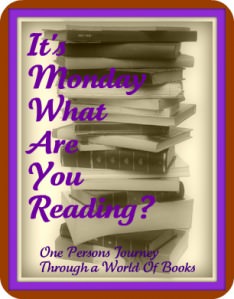 *Don't forget to check out my giveaway! I'm giving away two copies of Great Gals: Inspired Ideas For Living a Kick-Ass Life by Summer Pierre. Click here to enter.*
It's Monday, What are you Reading? is a weekly meme hosted by Sheila at One Person's Journey Through A World Of Books to discuss what we are reading this week, as well as books completed the previous week.
Hooray! I had a wonderful reading week….I think I have the long Holiday weekend to thank. Five books! This is seriously  a record for me!
Books I Completed Last Week:
The Penny Pinchers Club by Sarah Strohmeyer: This book definitely had me turning the pages! I really enjoyed this cute read.
Mostly Good Girls by Leila Sales: I won this one and I was so excited when it arrived. I love stories about friendship and this one was awesome.
The Duff by Kody Keplinger: I knew this was a controversial read from the reviews I read, but I LOVED it and read it within 24 hours…I could not put this down! Plus, it was HOT HOT HOT!
My Nest Isn't Empty, It Just Has More Closet Space by Lisa Scottoline and Francesca Scottoline Seritella: This is the first book I read on The Nook! I was able to read it while I was at the gym and I loved it! Stay tuned for my review this week, as well as an interview with the lovely Francesca!
Great Gals: Inspired Ideas for Living a Kick Ass Life by Summer Pierre: I kind of finished this one because as I mentioned in the review, it's not really a book. It's more of a workbook that you can fill out over time.
Books I'm Reading This Week:
Things I Know About Love by Kate Le Vann: First off, I just adore this title. And it's about a girl who blogs…need I say more?
Vanished by Kate Brian: I've had this one on reserve at the library for the longest time and it's finally coming in! Can't wait to get engrossed in the Private world again!
Little Black Lies by Tish Cohen: Another great title and this one seems like exactly the kind of contemporary YA I love. The reviews I've read have said that the book is driven by emotion which I think will make it a very strong read.
So, what are you reading this week?