In a few months, JL&Co will celebrate its third anniversary.
Looking back, it's incredible to think about how much has happened and how much I've learned in just a couple of years.
A few weeks ago, Anna Goldfarb (a fellow Philly-based writer!) was kind enough to include me in a piece she wrote for Vice about what entrepreneurs wished they'd known before getting started.
As I responded to Anna's interview questions, I started thinking about how much I wish I knew this time three years ago.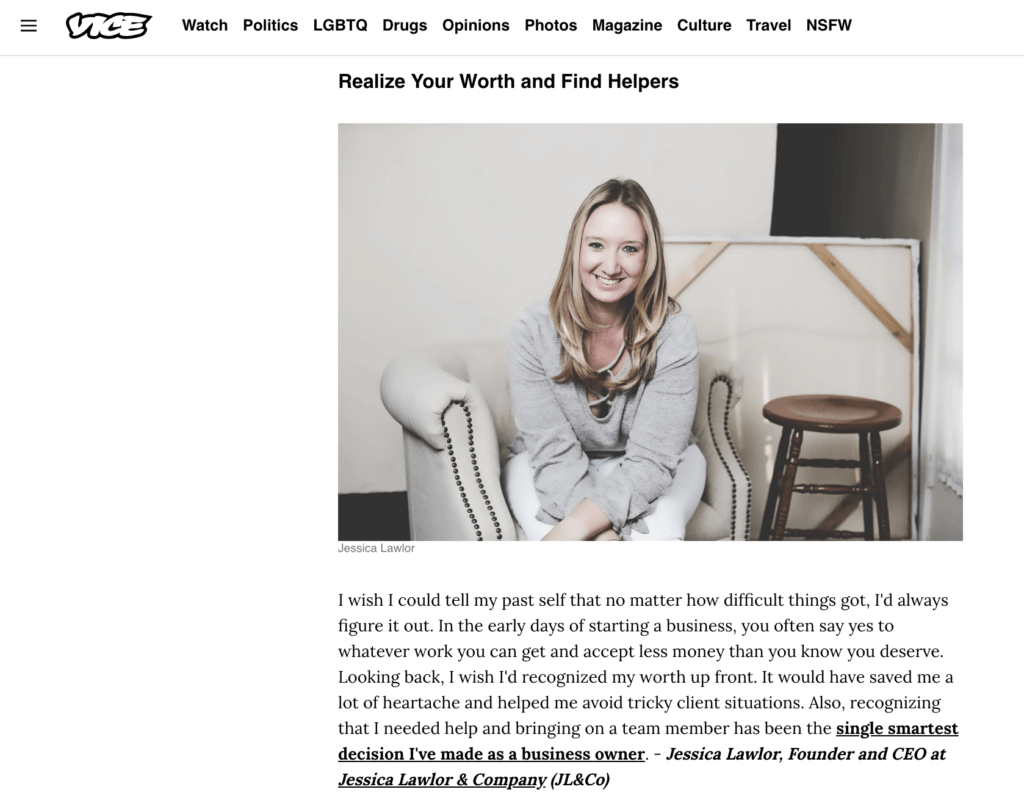 6 things I wish I knew before starting Jessica Lawlor & Company (JL&Co)
While there are some lessons you can only learn by doing, if I could go back in time, there's so much wisdom (and quite a few doses of difficult truths) I wish I could pass on to the bright-eyed, ready to take on the world Jessica of a few years ago.
Here are six things I wish I knew before starting a business.
1. Entrepreneurship is definitely not as sexy as it seems
Before I quit my job, I knew entrepreneurship would be difficult, but to be honest, I also thought it would be pretty sexy.
After all, what could be better than not having a boss, working when and where you want and choosing the type of work you want to do every day?
Well, it turns out this was definitely a case of "the grass is always greener." Of course it was easy to dream about the freedom of entrepreneurship while I was side hustling and commuting to and from work each day.
But, I quickly learned that while entrepreneurship is rewarding, it's definitely not always sexy.
In fact, sometimes it downright sucks. (I even wrote a blog post highlighting all the things that suck about running a business.) For instance, I had no idea I'd experience serious loneliness or that I'd struggle hard to figure out the financial/legal details of running a business or that not having a set work schedule would make me feel lazy.
Maybe I was a little naive at the start, but some of these downsides to running a business really came as a shock to me.
The truth is, even though I'm doing work I love, at the end of the day, it's still work. (And to be honest, working isn't exactly sexy.)
2. Stop consuming all the entrepreneurship content available on the internet
Confession: I used to be an entrepreneurship podcast and blog junkie. I could give you a long list of business owners and internet entrepreneurs that I religiously followed on social media, read their blogs, watched their YouTube videos and eagerly listened to their podcasts.
Consume, consume, consume. I became obsessed with getting my hands on as much information as possible about running a business. Knowledge is power, and all that, right?
I wish I would have told myself to stop much sooner than I actually did.
While there's certainly nothing wrong with gleaning inspiration from fellow business owners for inspiration, I eventually learned that at a certain point, I needed to take a step back and do my own thing. Negative thoughts started creeping into my mind:
"Wow, that business owner is making six figures a year. Why am I not there yet?"
"It seems like that podcaster works all the time. Should I be working longer hours?
"Hm, it seems like everyone successful has a YouTube channel. Maybe I should start one!"
I found myself getting lost in the comparison trap, but more importantly, I found myself stuck. I spent so much time studying what other business owners were doing that I lost sight of my own unique path.
I'd encourage my former self to find a better balance — consume the content that actually inspires, rather than makes you feel less than. Consume the content that helps and pushes you forward, rather than holds you back.
3. Doing what you love for a living is both a blessing and a curse
When I quit my job, I proudly wrote on my blog that I was "cobbling together a career out of all of my passions."
But two years into running the business, I found myself in a serious rut that I struggled to pull myself out of, and couldn't figure out why I ended up there in the first place.
I figured it out when a friend asked me, "What are your hobbies?" and I legitimately could not answer him.
All of the hobbies that came to mind (writing, blogging, yoga, doing things on the internet) were now part of my job. I no longer had any hobbies or activities I did just for fun, because I had monetized them all.
That was a major eye-opener for me, and gave me the push I needed to try some new activities with no intentions of turning them into a business.
While I feel extremely lucky to get to do what I love and make money doing so, I also have recognized that my relationship with those passions have changed in various ways — and not always for the better.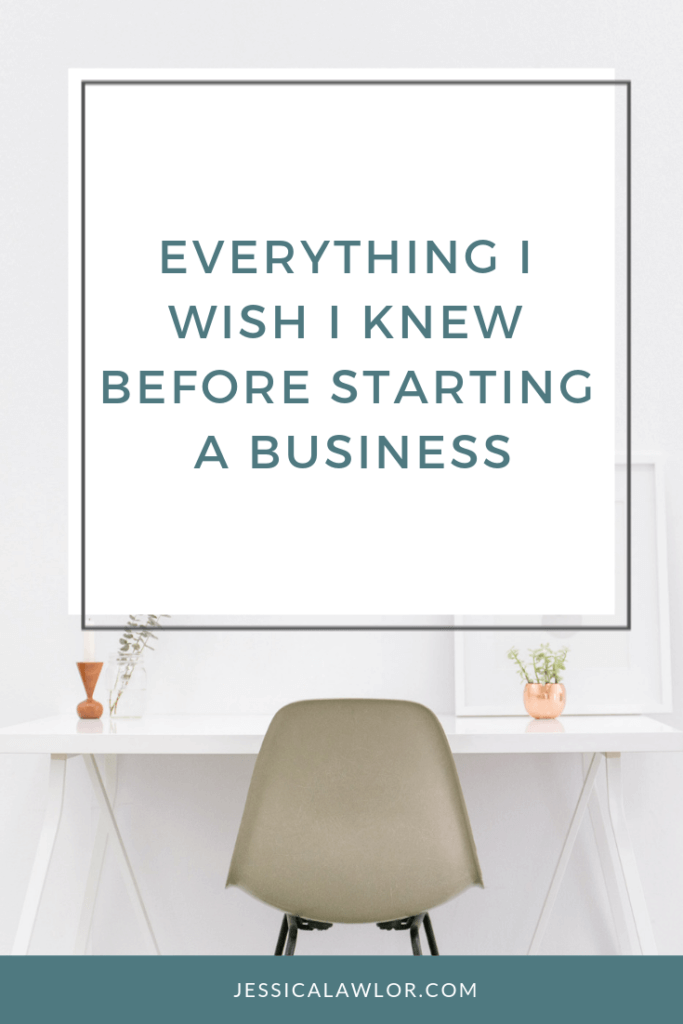 4. Be confident in your skills
I don't like admitting this, but in the beginning, I let clients walk all over me.
I allowed a former client to talk my prices way, way down when they told me, "You're a small business, we're a small business. Help us out with with your pricing." Spoiler: They weren't a small business, and they definitely could afford to pay me what I deserved.
But, like many business owners do in the beginning, I undervalued my work. And I feared that if I pushed back, they would walk away.
Little did I know at the time, it actually would have been better for clients like that one in particular to walk away. Red flags at the beginning of a relationship are never a good sign.
In the early days of starting a business, you often say yes to whatever work you can get and accept less money than you know you deserve. It's totally normal, and even if I told my former self this, she probably wouldn't have listened.
But looking back, I do wish I'd recognized my worth upfront. Easier said than done, but it would have saved me a lot of heartache and anxiety.
5. Don't be afraid to promote yourself
Self-promotion isn't a dirty word.
I've never been one to shy away from sharing my work and personality online, but over the past year, I've taken even more time and care to tell my story and practice what I preach about to my clients for myself and JL&Co.
While self-promotion may feel a little uncomfortable, PR actually can make a difference. I realized I was missing out on serious opportunities by pushing this task to the back burner.
Since I've started proudly promoting my work? I've landed new clients, developed strong relationships with journalists, increased my website traffic and grew my email list.
Wins, all around!
6. You can't do it alone
When I first got started, I never understood the hype about building a team. After all, I considered myself a solopreneur, solo being the key word.
However, after half a year of running a business completely on my own, I realized something: I was drowning. And I needed help. Fast.
So, I hired Rachel, my first team member, and my business has thrived since bringing her on!
Recognizing that I needed help and bringing on a team member has been the single smartest decision I've made as a business owner.
And in addition to working with Rachel, I've developed strong relationships with other business owners who are always happy to lend an ear or share their own wisdom. I'm part of the Solo PR Pro community, and chat regularly with a few amazing and powerful female entrepreneurs (Hi, Crystal and Brittney!) for accountability.
I learned that going at it alone isn't fun — and it certainly wasn't going to make me more successful. Running JL&Co became much more rewarding when I accepted the fact that I could do way more with support and encouragement from others.
Looking forward to the lessons I'll learn in years to come
Yes, I've learned a lot in JL&Co's first few years, but if there's one thing I've come to know about running a business, it's that I'm going to continue to learn many more hard lessons along the way.
That's one of the best parts of entrepreneurship — the learning never stops.
And while these lessons served me well as I got my business off the ground, the bottom line is that there's no one-size-fits-all plan for stepping out of your comfort zone and starting a business. If you're in the throes of running a business, I bet you're learning some lessons of your own too.
As for me, I'm ready to embrace the mistakes I'm bound to make in the future and stay open to the lessons I'm 100% sure are coming my way.
Do you run your own side hustle, blog or business? I'd love to hear what you wish you knew before you got started in the comments below!