Here's the thing: I'm kind of obsessed with checking my email.
To me, my inbox is full of possibility: business opportunities, writing assignments, brand partnerships, blog comments, newsletter replies, invitations to events and useful resources from other bloggers and business owners I admire.
Truthfully, I feel a little giddy each morning when I wake up with an inbox full of goodies. (You won't find this gal complaining about never reaching the ubiquitous #InboxZero.)
But mostly, that's because I've curated my inbox to be a place of joy, entertainment and useful information and news rather than a place I dread checking each day.
Part of that joy comes from the many email newsletters I subscribe to and enjoy.
Blogs are great (hello, welcome and thank you for reading this very site!) and podcasts are awesome (I may or may not be obsessed), but there's something a little bit special about allowing a brand or an individual into your inbox, a place where — let's face it — we all check multiple times a day.
These newsletters always make my day a little brighter — leaving me more informed, excited and in tune with what's happening in all of the various circles I count myself a part of.
Here are seven newsletters I actually want to open as soon as they land in my inbox. Click the name of the newsletter to subscribe, and enjoy for yourself!
By the way, did you know I have a newsletter too? I send it twice a month, and it's filled with inspiration, ideas and action items to get out of your comfort zone. Subscribe here, and join in on the fun!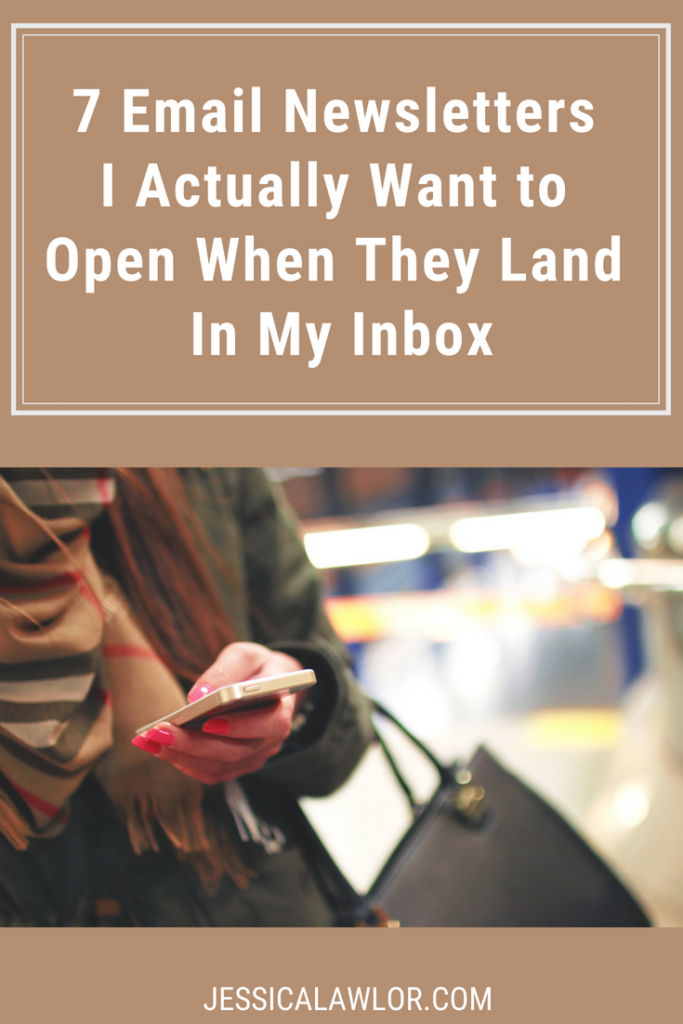 If you love the internet (and come on, if you're reading this blog, I know you do), this newsletter is definitely for you. Compiled by Big Spaceship, Internet Brunch is filled with the best stuff on the internet, including news, GIFs and trends.
Why I love it: This newsletter truly keeps me in the loop on *everything* I need to know that's trending online, whether its a viral tweet, a meme that's sweeping the internet or hard news. I also love the daily roundup of holidays and events + birthdays of prominent people like celebrities, politicians and more. The newsletter is short and snappy — perfect for a mid-day lunchtime read.
When it arrives in my inbox: Between 11 a.m. and 12 p.m., perfect for my lunchtime reading.
Check out a sample newsletter of Internet Brunch here.
The Daily Skimm offers the day's news in one fun-to-read email. Spanning all the topics you need to know, you'll feel super informed and ready to take on the day after giving it a read.
Why I love it:If you're not already reading the Skimm, you're missing out, and where have you been? I don't get out of bed in the morning until I've read my Daily Skimm, so I can be up-to-date on the latest news. I'm a big fan of the "Things to Know" section of the email, often adding new words to my vocabulary like the word from today's email — "plogging" which means picking up trash while jogging. The more ya know, right?
When it arrives in my inbox: Every weekday, right around 6 a.m.
Check out a sample newsletter of the Daily Skimm here.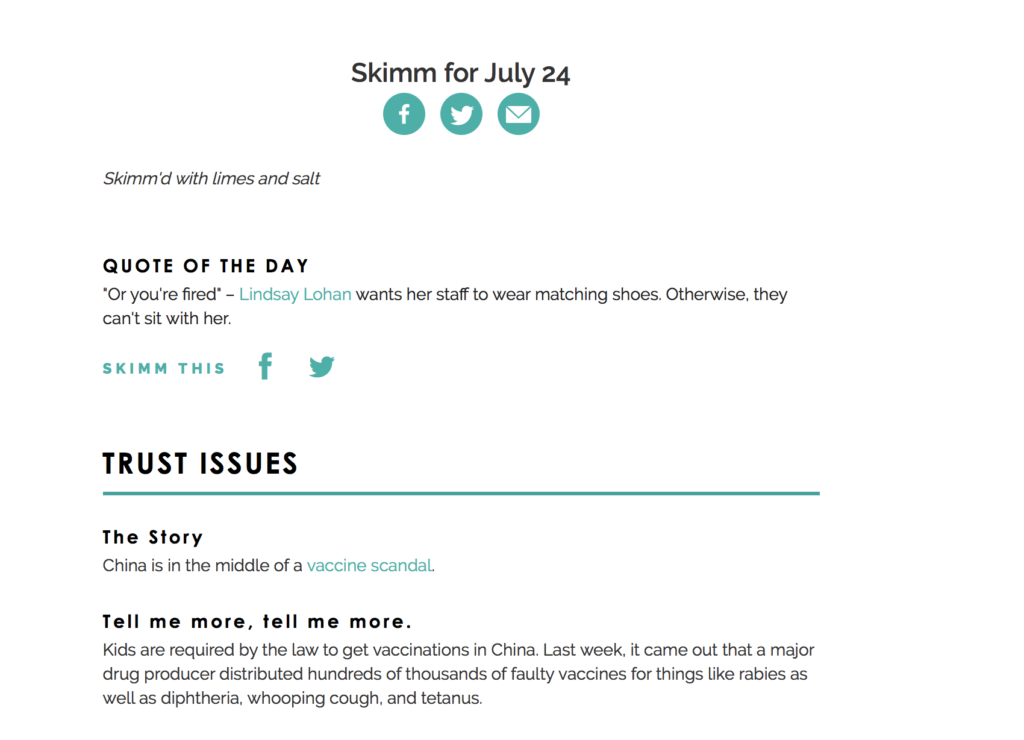 The Penny Hoarder Daily feels a bit like The Daily Skimm of the personal finance world. This email highlights awesome deals of the day, money making opportunities and more, all with a signature voice that's fun and easy to read.
Why I love it: I'm a huge fan of The Penny Hoarder (and even write for the site from time to time!) so the content in this newsletter is always top-notch. I love that the newsletter can help me stay up-to-date with some of the site's top content.
When it arrives in my inbox: Every weekday, around 7 a.m.
Check out a sample newsletter of The Penny Hoarder Daily here.
Staying in is the new going out — at least it is in fast-growing Girls' Night in community. The Girls' Night In newsletter is filled with "all the best reads and self-care recommendations for your night in."
Why I love it: Girls' Night In is a weekly must-read, and the email I most look forward to opening the moment it lands in my inbox. I love the "Smart Reads of the Week" section, and usually find myself clicking open almost every article shared in the newsletter. Oh, and be warned: With the number of links you'll click, you'll definitely find yourself in an amazing internet rabbit hole — just embrace it!
When it arrives in my inbox: Every Friday, around 7 a.m.
Check out a sample newsletter of Girls' Night In here.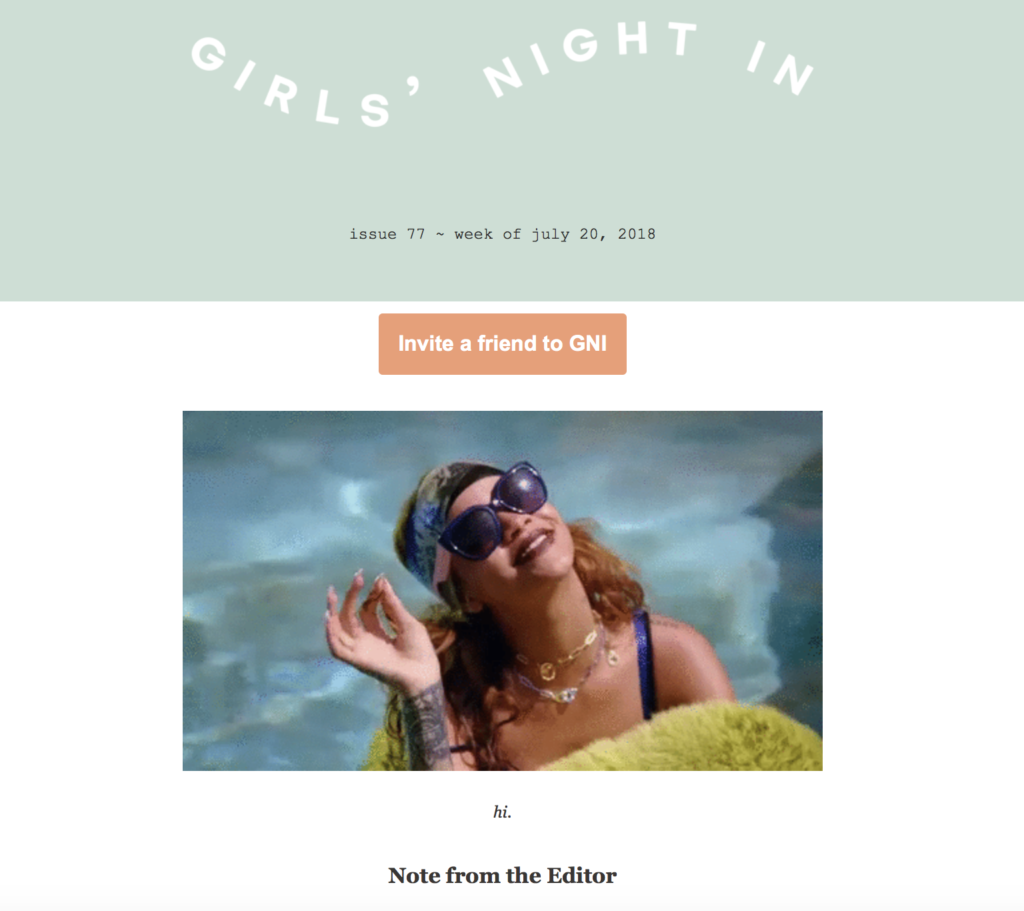 *Bias alert!* Muck Rack is one of my clients, but I'm not involved in the day-to-day writing of the Muck Rack Daily, so I'm allowed to count it among my favorites. The Muck Rack Daily is a digest of journalism on Twitter, so you can see which news stories are trending on social media.
Why I love it: If you're a journalist or PR pro, this one's a must-read for you! I love that the Muck Rack Daily focuses on what journalists are saying about the trending news stories of the day, rather than just straight-up reporting the news, as there are tons of newsletters already doing that. You'll also love the smart and sometimes snarky subject lines, guaranteed to grab your attention in your inbox.
When it arrives in my inbox: Every weekday, between 12 and 3 p.m. (Oh, and a special Sunday blog edition, brought to you by yours truly)
Check out a sample newsletter of the Muck Rack Daily here.
With more than 750,000 subscribers (whoa!), "these Notes are brief passages written by 'The Universe,' personalized with your name (and occasionally your personal goals and dreams), designed to remind you that you have, indeed, been given dominion over all things."
Why I love it: Notes from the Universe is my daily dose of inspiration. I mean, the note calls me by name and references specific goals I've laid out for myself. What can be more motivational than that?
When it arrives in my inbox: Every weekday, around 3:30 a.m. so it's always in my inbox before I wake up.
No sample newsletter available since daily posts are personalized with your name and specific goals, but I've included an image of one of mine below.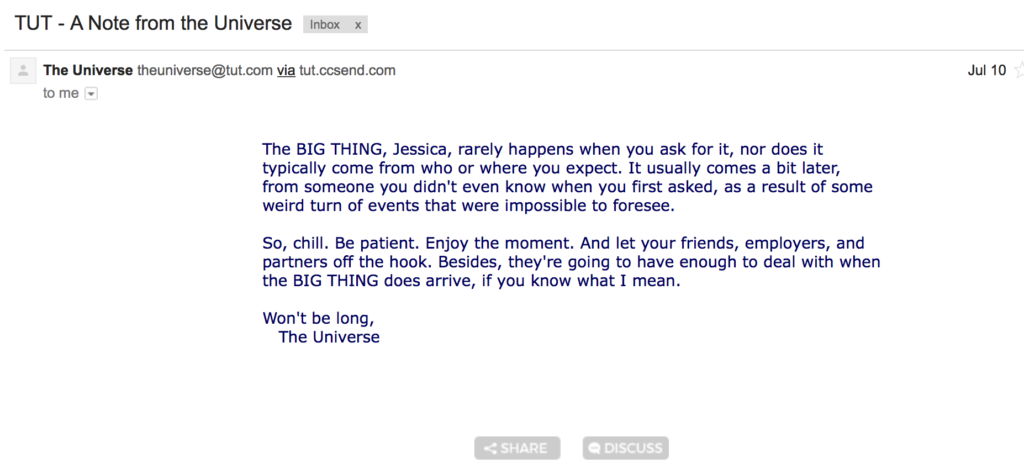 The YNAB Weekly Roundup is short, informative and inspirational, a roundup of YNAB's content from their popular blog about the sexy, sexy topic of budgeting.
Why I love it: I'm a newbie subscriber to the YNAB Weekly Roundup, but I'm loving it already! Since starting a business, I've been paying more attention to my finances (#adulting), so the content from YNAB has been super insightful.
When it arrives in my inbox: Mondays, around 11 a.m.
Check out a sample newsletter of the YNAB Weekly Roundup here.
Tell me: What are your favorite newsletters and why? I'm always looking for new email lists to sign up for! Leave your recommendations in the comments below.
Photo via Pexels
Want more gutsy content delivered straight to your inbox twice a month? Be sure to sign up for my FREE #GetGutsy e-newsletter filled with inspiration, ideas and action items to get out of your comfort zone.