Nearly six years ago, I started a blog.
Looking back, I had absolutely no idea that this blog would one day reroute the entire course of my career — and my life.
Last weekend, I had the opportunity to sit on a panel in front of more than 50 fellow bloggers and influencers at The Blog Connect Conference and share the story of how I turned my blog into a business.
Blogging today is certainly different than it was when I got started with my very first blog back in 2008.
As I sat in front of a room full of bloggers eager to learn how to grow their own blogs, I was reminded that at its core, blogging is quite simple.
Sure, there are many more channels, tactics and to-dos when it comes to blogging, but ultimately, there are some simple truths I've come to learn about blogging that I don't believe will ever change.
Here are three important truths about blogging in 2018 and beyond.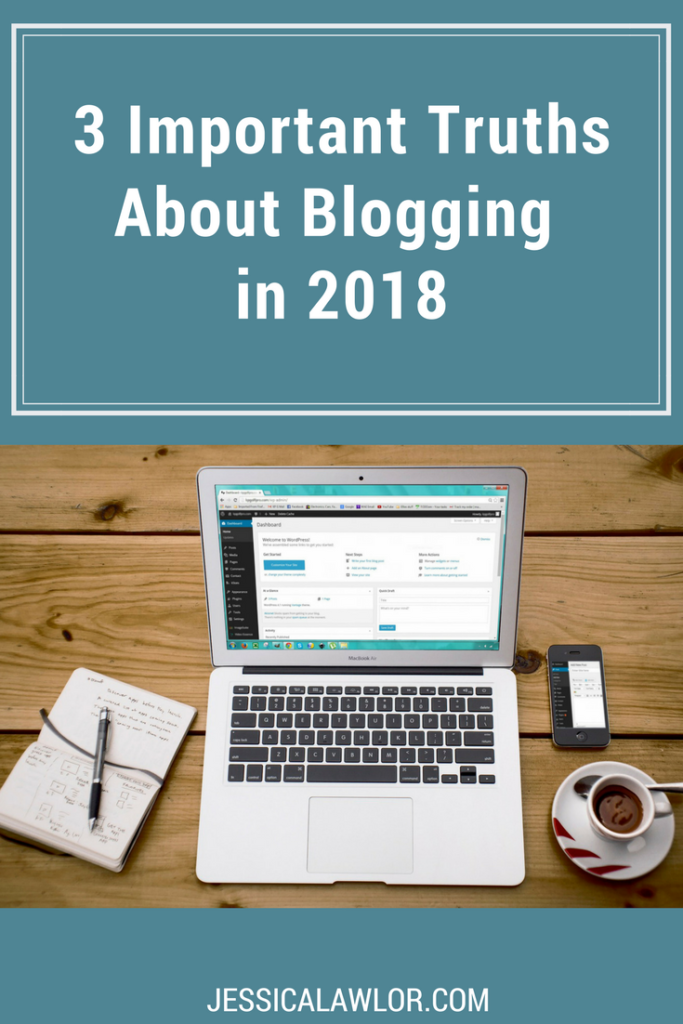 1. You must know your why
As with anything you do in life, it's important to know why you're doing it. If you can't articulate the reason you want to be a blogger, it's time to take a step back.
Knowing your why helps you to connect with a deeper purpose. It gives meaning behind the words you write. When things become challenging, your why will always help to pull you back.
For example, here's why I blog:
I blog to inspire others to step out of their comfort zones. I know how rewarding it has been when I've done so, and I want to share that experience with others who might need an extra push.
I blog to show people you don't always have to do life the way you've been told — that it's OK to break the mold and go your own way.
I blog to connect with others — blogging has always been a way that I've made new friends, and sharing my story publicly allows me to attract the kind of people I want in my life.
I blog to have a creative outlet. I've always loved to write, and this space gives me the freedom outside of my work to do just that.
I blow to showcase my expertise to potential clients. This very blog is the perfect way to give clients a taste of my personality and work before we even jump on an initial call.
As you can see, I have multiple whys — and that's great! You don't need to have one sole reason for wanting to blog.
But your reason(s) should be legitimate — In the current media landscape where it feels like anyone and everyone is an influencer, it can be tempting to start a blog for the wrong reasons. If you've started a blog to get free stuff, that's a wrong reason. Sure, getting free stuff or having the opportunity to work with cool brands is a definite perk of running a successful blog, but it shouldn't be the sole reason you get started. You'll most certainly burn out.
Find a powerful why — one that will sustain you through the times you love your blog, and the times you want to throw in the towel.
2. There's no such thing as an overnight success
When you see a blogger with tens of thousands of social media followers, insane website traffic and brand partnerships for days, no doubt, it's easy to become discouraged, and maybe even a little jealous.
How did that happen, you might wonder. How did this blogger get so popular? Why is my blog taking so long to grow? I'm nowhere near where this blogger is.
STOP: Playing the comparison game is extremely dangerous.
There is no such thing as an overnight success, I promise you that.
Ever heard the quote "Don't compare your beginning to someone else's middle"?
When you see someone successful, you often don't know the full story and effort it may have taken to get there. You're only seeing the result of someone's hard work — not the work in action.
For example, for those stumbling upon my blog for the first time, it may appear I have it all together (or maybe not! I do try to be as vulnerable as possible here). I have this blog, I have a business, and I've recently begun partnering with fun travel brands.
But know that this journey has been a slo-o-o-o-w and steady climb over the past decade (decade!). What you haven't seen though are the countless times I almost quit. The many days I stared at blank WordPress screen. The times I proudly published a post and it earned zero comments and little traffic.
So with that said, I always come back to patience.
Patience, patience, patience.
Slowly, I am reaching my goals. It takes time. I'm OK with that, and I'm having fun, which is important.
Slow growth is still growth. And when in doubt, return to your why.
3. All it takes is just one small step, and then another one — and then another one
Sharing my story at the conference reminded me that some of life's greatest gifts from the smallest steps forward.
Like I said, six years ago, I never would have guessed I'd be where I am right now.
I just knew I wanted to do something. I wanted to take action.
You don't have to see the entire picture clearly right now. You just have to take one tiny step forward toward your goal. Just one step.
A small step I took? Putting this blog out into the world. And then continuing to publish post after post as the days, weeks, months and years passed by.
Could I have waited until I had the perfect website design? Could I have waited until I felt more "ready"? Sure, but what would have been the point of that?
Each step is a step in the right direction, whether it feels like it or not. If you make a mistake along the way, great! Lesson learned. If you find success along the way, awesome! Keep doing that.
So with that, I have a question for you.What decision, change or action can you take today?
Six years from now, you might be pleasantly surprised too.
What truths about blogging would you add to this list? Let me know in the comments below.
*Photo via Pexels
Want more gutsy content delivered straight to your inbox twice a month? Be sure to sign up for my FREE #GetGutsy e-newsletter filled with inspiration, ideas and action items to get out of your comfort zone.