Just like every new season I get the bug to declutter my closet, every few months, I feel a serious urge to declutter my digital life.
A little Internet self-reinvention, if you will.
When I start to feel this urge, nothing is off the table: My inbox, the photos saved on my computer, the apps on my phone, who I'm following on social media.
I have to admit: I get a little ruthless when I'm in digital purge-mode.
This week, the urge to purge came out in full force in the form of my Feedly, the trusty RSS reader I use to keep up with my favorite blogs. (Yes, I still love my RSS reader! I find it's the best way for me to stay in control of the content I read without cluttering my inbox with email subscriptions or risking the chance of missing out on a post via social media.)
Read on to learn how I cut the number of blogs I read in half + discover my favorite must-read blogs of the moment.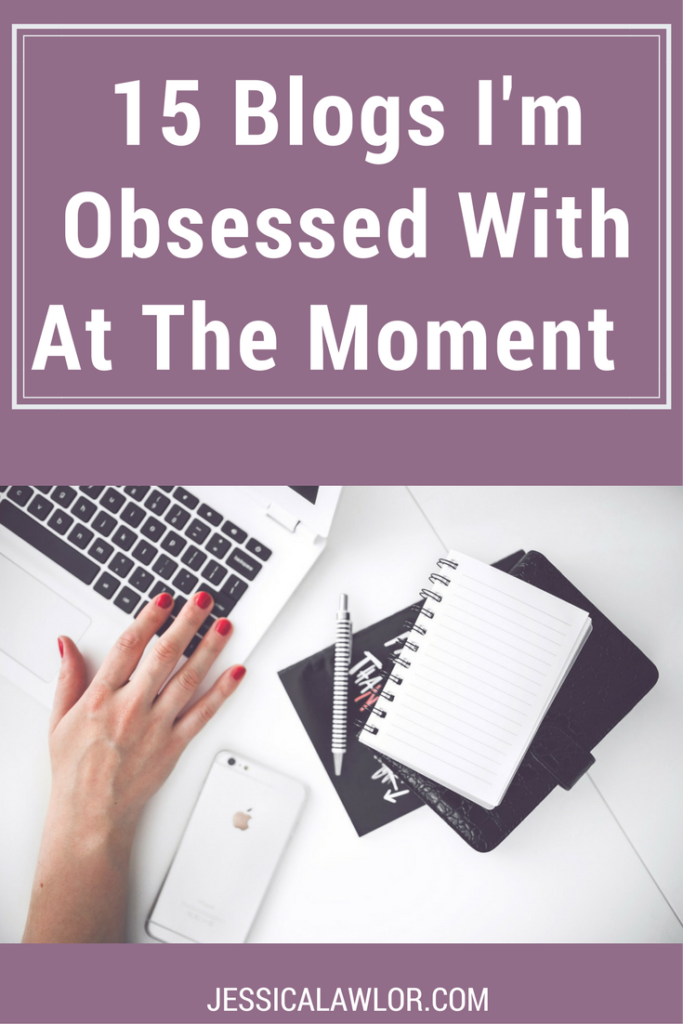 A digital decluttering
For the past several years, I've been subscribed to 120+ blogs (!!!), broken into 13 categories, including entrepreneurship, healthy living, reading, travel, writing, yoga and more.
Here are a few issues I found myself encountering time and time again:
Every time I logged onto Feedly, I became instantly overwhelmed. With more than a hundred subscriptions, if I let my Reader go for a few days or even weeks, I'd return to 1,000+ posts to sift through. That meant I was often hitting "mark all as read" just to get rid of that scary four-digit number.
I've outgrown many of the blogs in my Reader, leading to lots of digital clutter. Outgrowing blogs isn't a bad thing! As I've changed over the years, so has my taste in the types of blogs I like to read. For example, I was still subscribed to several running blogs, yet I haven't run seriously in more than three years. I also understand when people need to cut my blog out of their digital life.
My Feedly has way too many categories. Over time, as I added new blogs to my Feedly, I added new categories. They no longer make sense — even to me. It has become difficult for me to quickly scan to find the blogs I love the most.
How I organized my blog Reader from 120 to 60 subscriptions in one sitting
At 10 p.m. on a Monday evening (this is when I usually get the urge to start big projects…anyone else?), I set out to reorganize my RSS reader. Here are the steps I took.
Step 1: Remove inactive blogs
First things first, I deleted any blog from my Reader that hasn't been updated in more than a year. Those were easy blogs to say buh-bye to.
To find out which blogs in your Feedly haven't been updated frequently, go to your Feedly homepage and click the settings tool. It will bring you to a page of all your subscriptions where you can see which are no longer active.
Step 2: Be honest with myself
Then, things got a bit more challenging. I went through each of my existing categories and evaluated each blog I was subscribed to.
I asked myself questions like: Do I get excited when I see this blog has published a new post or do I let this blog's posts pile up and then scan titles for ones that most interest me? Am I "hate-reading" this blog just to keep tabs on what this person is up to (don't pretend you haven't done the same!) Do I still relate to what this blogger has to say? Is this blog bringing any type of value into my life?
For the most part, it was a quick, gut decision to keep or cut a blog. But there were a few I spent a little more time evaluating.
Step 3: Reorganize categories
Next up was figuring out how to categorize the remaining blogs in my Reader.
Once I had cut 60 blogs from the list, this task was almost easy. Some of my remaining categories were pretty bare bones, and others were easily able to be combined.
For example, my previous "reading" category was quickly cut when I realized I only had one book blog left in the category — it was simple to find a new home for that one remaining site. My category devoted to three yoga blogs easily fit under a general health & fitness category. I had a whole Italy category that moved perfectly under the travel category.
I finished this project with six categories: Blog/Biz Inspiration, Health & Fitness, Adulting, Travel, Lifestyle and Entertainment.
Step 4: Feel lighter
When this exercise was complete, I'd cut my Feedly reader size in half!
I instantly felt lighter, and way more excited to open up my Feedly the next time I was ready to read my favorite blogs.
15 Blogs I Can't Stop Reading
I've been blogging in some capacity now for almost 10 years, and I'm still obsessed.
Even though YouTube channels, Instagram Lives and podcasts are super popular these days, I personally still believe the blog reigns supreme. I don't think blogs are going anywhere anytime soon.
Considering cleaning out your own blog reader or looking for some new reads? Here are 15 of my favorite blogs of the moment to add to your list, broken down by category!
Travel: Blogs to read if you have a case of wanderlust
Helene in Between is my absolute favorite new blog I've started reading in the past few months — I initially found Helene through Pinterest (she's rocking it on social media!) when I was searching for Ireland travel guides. Then, I discovered her blog is an amazing mix of both travel content AND seriously insightful social media and blogging advice.
Helene is your go-to gal for tips on all things blogging and Instagram — you won't regret reading her blog or following her on social media. The pretty travel pics don't hurt either!
Angie is a fellow PR gal turned consultant and well-known travel blogger, so I love reading her blog because it combines two of my passions!
I've been following Angie's stuff for years and have always loved her travel adventures (her destination wedding posts are a DOOZY — just trust me on that) but I also love her perspective on the blogging industry as both an influencer AND someone who works with influencers on behalf of clients.
Alex is living the dream! She travels the world and runs her own business. (And she's been on the road for five years!)
One of my favorite reasons to read Alex's blog is the incredible photography and her focus on fitness in each destination she visits. Plus, she loves yoga so she's a girl after my own heart.
Kate is one of the best travel bloggers out there — when I read her posts, I feel like I'm right there with her in whatever country she's currently exploring. Her writing is on point.
Kate's blog is perfect if you're a solo female traveler. Many of her posts cater to this growing audience.
Healthy living: Blogs to read for health & fitness advice
My blog turned real-life friend Nicole is "simply" amazing (Sorry, I couldn't resist).
I'm constantly impressed by her healthy approach to life — she always shares great recipes, workouts and more, all with her signature honesty. Plus, she's pregnant right now, and while I'm not there quite yet in my own life, I've been enjoying reading about her journey!
I think I love Mary Catherine's blog so much because I feel like we could be friends if we lived closer to one another. She's also a business owner and yoga teacher, so it's easy for me to relate.
The best part about MC's blog is her genuine nature — she's so freaking kind! We could all use a little bit more of that these days.
Follow her also for yoga flows, tips for getting into yoga and thoughts on being a new mama.
Business: Blogs to read for blog/biz inspiration
Dubbing herself your "professional BFF" Holly's title couldn't be closer to the truth!
Each post is jam-packed with knowledge, whether you're a beginner or a seasoned blogger. Her voice also shines through — you'll truly feel like you know Holly once you're done with her blog.
Jess is a genius when it comes to design and online marketing! I love that she isn't afraid to get in front of the camera and varies up her content with some seriously useful videos.
Her how-tos and guides are meaty and perfect for someone trying to figure this whole internet and blogging thing out.
Okay, to be honest, I'm not sure *what* category I'd put Caroline's blog in, but it's a must-read, nonetheless.
Caroline is a Boston-area based photographer sharing her beautiful photography (think: lots of engagement shoots, weddings and family sessions) + biz tips with her readers. She's now engaged herself, so it has been fun to read about her own wedding plans!
Amber's been around the blogging block for awhile, and I highly recommend you check out her site, especially if you're in the market for a rebrand. I love that Amber isn't afraid to switch things up on her blog to better reflect where she is in life, and I often look to her for inspiration to do the same myself!
She's also a fellow PR pro, and is super smart when it comes to all things blogging biz + collaborating with other bloggers/brands.
Lifestyle: Blogs to read if you want a new Internet BFF
I'm a lucky gal because I live in Philly and get to hang with Em IRL, but if you need a Philly-based blogger BFF, she's your go-to.
Emily covers all things Philly on her site — the best restaurants, must-attend events, things to do and even *gulp* dating in the city of brotherly love.
Kendall of Wear She Blossoms is effortlessly cool. I don't follow too many "fashion bloggers" but Kendall is so much more than that. Her approach to fashion is all about wearing what makes you feel happy, and that's a belief I can get behind.
Plus, her photography is on point, and I especially love her travel posts as of late.
If you're planning ANY type of gathering, Chrystina is your girl. I truly don't know how she does it all — besides planning amazing shindigs on the regular, she's the mastermind behind PHLBloggers, a blogger group here in Philly I'm a part of.
Chrystina is also an expert on staying in touch! I'm always so impressed by her handwritten notes and efforts to stay close to those in her life.
Stephany's blog is one of those that I'll probably never delete from my Feedly. I feel like we've been following each other's lives for years! We even had the chance to meet in Florida a few years back.
If you're looking for a serious dose of honesty about the good (and bad!) about growing up, dating, moving out and adulting in general, Stephany's blog is for you. Plus, she's an avid reader, so I'm always looking out for her book recommendations.
A new-to-me blog (although I know it's probably not new to many of you), I LOVE that Lauryn embraces exactly who she is and encourages others to do the same.
While I really love her podcast with her hubby Michael, I'm also enjoyed diving into the archives of her blog for beauty, health and fitness tips!
Over to you — what blogs are you loving?
Isn't one of the best parts of decluttering your closet for a new season so you can go shopping for some great new pieces? (Yes!)
Well…I cleaned out my blog closet, and now I'm in the market for some new great reads!
What blogs are you obsessed with these days? Share in the comments below.
*Photo via Pixabay
Want more gutsy content delivered straight to your inbox twice a month? Be sure to sign up for my FREE #GetGutsy e-newsletter filled with inspiration, ideas and action items to get out of your comfort zone.