For those who are just catching up, in December, I made a career (and life) changing announcement. I resigned from my job working in public relations to take my business, blog, brand and teaching full time. I'm bringing you along for the ride, giving you a glimpse behind-the-scenes of the exact steps I'm taking to make solopreneurship work in the Becoming CEO series.
You can check out previous posts in the Becoming CEO series here.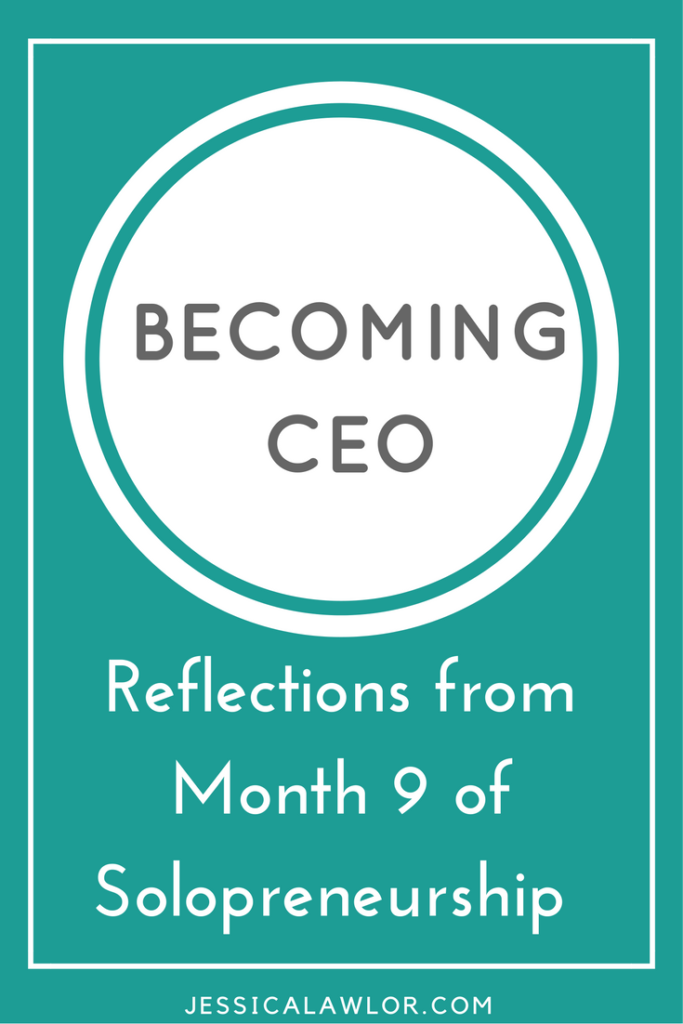 Let's take a look at month nine of solopreneurship! Here's my month by the numbers, an income breakdown, lessons learned, the ups, the downs and how I'm feeling.
Month Nine By The Numbers:
7 phone/Skype calls (as compared to 6 last month)
2 in-person meetings (as compared to 5 last month)
9 meetings total (as compared to 11 last month)
13 yoga classes taught (as compared to 14 last month)
Month Nine Income Breakdown:
Each month, I share a percentage breakdown of my income.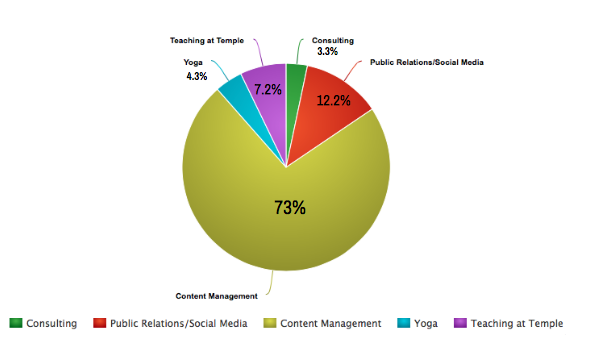 A few thoughts on this month's income breakdown:
Whoa! Hello content management! 75 percent of my monthly income. This is a big deal. To some, this may look alarming because it may seem like I'm placing all of my eggs in one basket, but in reality, the 75 percent is spread among three different clients (Muck Rack, Jetpack, The Write Life). I am LOVING this work, and so glad my business has shifted to reflect what I enjoy doing most.
Sadly, you may have noticed that the writing category is gone completely this month. Unfortunately, with the amount of editing/managing content I've been doing, I haven't had much time to pitch my own work/writing. Hopefully that will change in the New Year when I'm no longer teaching at Temple.
Yoga continues to hold steady, although the percentage doesn't sound impressive compared to other areas. I'm now teaching at three different studios, five days a week.
Lessons Learned from Month Nine:
Protect your energy. In October, I was honored to speak at the PA Conference for Women. I was especially excited to attend the morning sessions of the conference before my afternoon session. However, that morning I woke up, all ready to take my 6:30 a.m. train into the city and realized I was super stressed and drained, and had a to-do list three miles long. I decided it was more important to protect my energy and come to my session ready to go, rather than sit through all the morning sessions worrying about my client work. I made the tough decision to sit out most of the conference so that I could be the best speaker I could be. It was a good choice!
Build a team. Release some control. Holy crap. I will probably include this lesson in every report moving forward, but bringing on a team member was the absolute best decision I've made in nine months running this business. I don't know what I was thinking before and why I didn't do this sooner. My life has been made 1000x less stressful because of my amazing team member (you'll get to meet her very soon!). I can't wait to bring on even more team members soon!
Go with your gut. In October, I finalized my business name and logo! I struggled with both decisions and consulted a ton of different people for their opinions, but ultimately, I went with my gut and I LOVE my business name. Stay tuned!
The Highs and Lows:
There are always going to be good days and of course, there will always be not-so-hot days. Here are the things that made me super smiley and excited this month, along with some challenges I faced.
The Highs:
I attended a Meditation Teacher Training weekend intensive. I'm now "certified" to teach meditation- I'm super excited to incorporate meditation into my weekly yoga classes, as well as different workshops I'm planning.
I spoke at the Pennsylvania Conference for Women- I hosted a roundtable discussion for small businesses called "Hustle Hard."
I received word that my LLC got approved!
I finalized my business name and logo.
I experienced my first $10,000 in income month!
The Lows:
The week I spoke at the PA Conference for Women felt like the busiest of my life. I spent the entire week feeling like I was rushing from thing to thing, never finding time to breathe. I felt on edge that week.
I struggled with some serious anxiety in October. Anxiety like I've never felt before, including waking up in the morning with my heart pounding. I'm not sure where exactly this anxiety is coming from, but I'm working to tame it. My doctor recently praised me on my weight/BMI and asked what I've been doing and I said, "Running a business." Definitely not ideal.
I barely got outside in October. I realize I completely missed fall in my new neighborhood. Definitely a bummer, but a solid reminder to get outside for a bit each and every day.
How I Feel:
Things are moving and shaking! Despite some anxiety this month, having my team member on board allowed me to take a second to breathe while I knew work was still getting done.
In October, I received some praise from a media relations client that truly made my day. Working as a solopreneur can be lonely, and when you're not part of a team with a "boss", you don't always get a pat on the back to keep the motivation going. I always save those positive emails so I can look back on them on difficult days. This is also an important reminder for me to show appreciation and praise for my team member to keep her motivated.
I am OBSESSED with my newest client, The Write Life. If managing the blog and site could be a full time job, I might give up the business and take it 😉 Kidding, of course, but I really love the work and the team. I'm so grateful for this opportunity.
Let's keep moving!
Onto Month Ten! Stay tuned- I'll continue sharing these recaps monthly.
Have any questions about becoming CEO and my ninth month in business? I'd love to answer your questions and hear your thoughts about this journey!
Want more gutsy content delivered straight to your inbox twice a month? Be sure to sign up for my FREE #GetGutsy e-newsletter filled with inspiration, ideas and action items to get out of your comfort zone.