Cheers, friends! Let's settle in for a virtual happy hour. I've got a lot to update you on!
I've got my glass of red wine ready to go. What are you drinking?
Here are all the random little life tidbits I'd share with you if we were at happy hour together.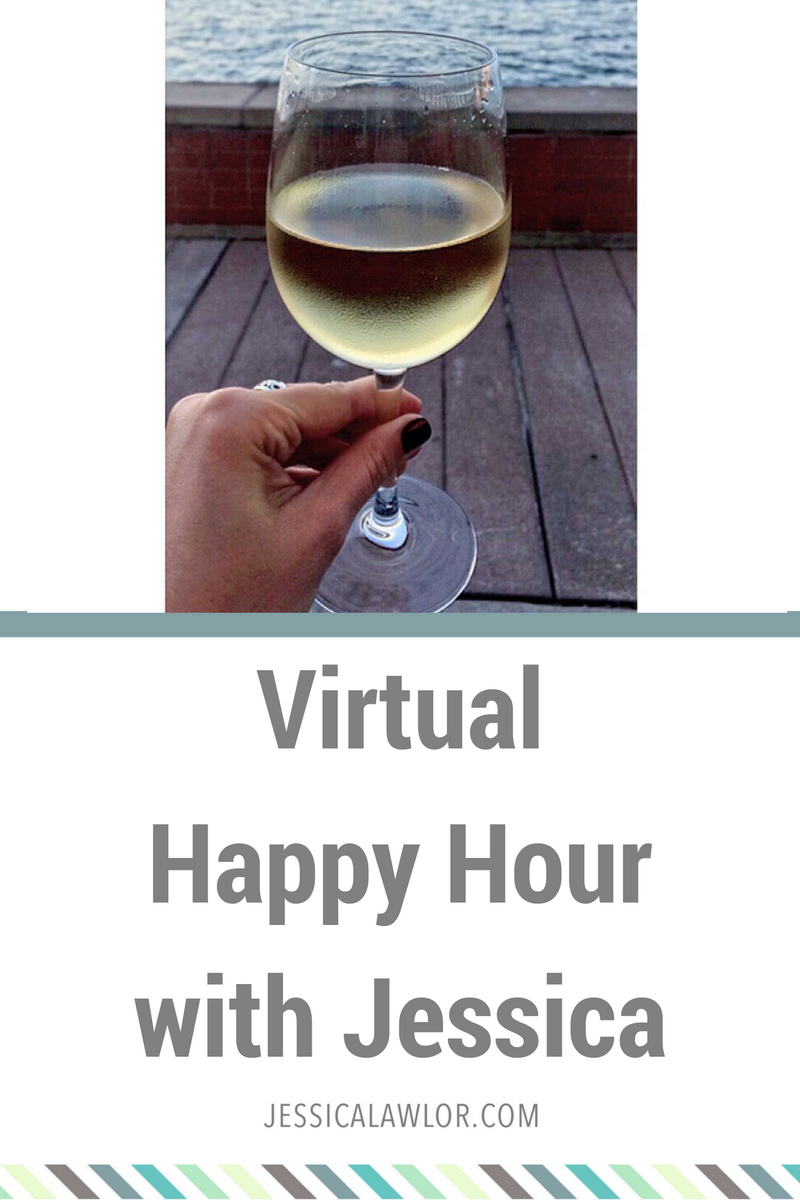 If we were sipping wine together…I'd recap you on how my fall has been so far. It has been a whirlwind of a season, but a good one, for sure. We'd likely chat about Halloween and I'd tell you how I was super proud of my costume this year; it came together last minute, but was one of my favorites that I've ever been. I'd tell you about a lovely fall day spent with my sister in Bucks County. I'd tell you about a beautiful day wine tasting with my boyfriend. I'd tell you about the time I spoke at the Pennsylvania Conference for Women. We'd talk all about how the weather has been pretty perfect, at least here in the Philadelphia area, and how I hope it stays this way and doesn't get too cold too soon!
If we were sipping wine together…we'd obviously talk about yoga. I'd tell you how my practice has changed a ton over the past year. I'm not practicing as often as I did before, but I am expanding out of my yoga comfort zone and have tried lots of new studios and styles of yoga, which has kept things interesting. I'd tell you how I just started teaching at a brand new studio in Chestnut Hill called Rebel and how absolutely gorgeous it is! I'd tell you about how I've fallen off the meditation wagon once again; I'm slowly working my way back and meditating a few times a week.
If we were sipping wine together…I'd tell you how freaking excited I am for Christmas this year. I'll admit, for the past several years, I've been a scrooge, but this year, I can't stop thinking about the holidays! I know part of this excitement stems from the fact that I have my own place now and I can't wait to decorate. I already bought a fake tree for my apartment and tons of decorations. I'll be sure to share pictures once my place is fully decked out for the holidays. I'm also hosting a holiday PJ party, so I'm really looking forward to throwing another party and making this little apartment feel like a cozy home.
If we were sipping wine together…I'd definitely update you on all things business. First, I'd probably lament about my 2.5 hour meeting with my accountant the other day (piece of advice #1 for new biz owners…meet with your account FIRST THING. I wish I had). I'd tell you how my LLC is official, my company name is finalized and my logo will be ready very soon. I'd also tell you about how my team member is a LIFESAVER and a gift from the universe. Having her on board has given me back so much time, but most importantly, has kept me sane.
If we were sipping wine together…I'd share a brief update on my recently client work. I'd tell you about how much I'm enjoying my work with my newest client The Write Life. Transitioning into the editor role has been both challenging and rewarding; I'm learning SO much and can't wait to see how we can continue to grow the site. I'd tell you how doing PR still makes me so happy, especially for my small biz clients Crossing Vineyards and Winery and Pennsbury Manor.
If we were sipping wine together…I'd confess that I'm having a hard time keeping up with the blog the way I used to. I'd admit that I'm feeling a little less inspired, which has been frustrating. However, I'd also tell you that I'm proud of myself for letting it flow and not forcing when I truly have nothing to say…or rather, when my brain is so filled with other junk I can't clear space to write coherently.
If we were sipping wine together…I'd tell you about how change has been really challenging for me lately. I'd probably confess that I've been experiencing some anxiety and am working on that. I'd also tell you that the outpouring of support, love and stories from blog readers and friends absolutely inspired me and lifted my spirits during a really bad week when I published that post.
If we were sipping wine together…I'd tell you that I have a serious Target shopping problem. You know the section of cheap stuff when you first walk into the store? Yeah, that gets me every single time. To be honest though, I'm not upset about it because I've gotten most of my holiday decorations, Christmas cards, wrapping paper, etc. from that section (all for super cheap!) but the Target obsession is real, friends. Someone limit my Target trips, please.
If we were sipping wine together…I'd excitedly share that I'm slowly learning how to cook. I made my first crockpot meal earlier this week, and while the prep process wasn't pretty, the final product was delicious. I felt such a sense of accomplishment when all was said and done, and even though I'm not great in the kitchen, I'm excited to keep giving new dishes a try. I'd definitely ask you to share some of your favorite crockpot recipes!
If we were sipping wine together…naturally, the election would come up. Ugh. I don't want to get into it too much here, but I'll just say that I was deeply shocked and disappointed, as I know many of my friends were, too. What a week we all experienced, huh?
If we were sipping wine together…I'd tell you how much I've loved teaching at Temple University this semester. Teaching has been WAY harder than I ever imagined; so much prep time, reading, writing, grading, communication with students, commuting back and forth, etc. There was so much I hadn't considered, but despite all of that, it has been amazingly rewarding. My 18 students are so wonderful and they've come such a long way since August. I hope they will keep in touch with me and I hope I'll get the opportunity to teach again soon.
Your turn! What would you tell me if we were chatting over happy hour? Let me know in the comments below!
Want more gutsy content delivered straight to your inbox twice a month? Be sure to sign up for my FREE #GetGutsy e-newsletter filled with inspiration, ideas and action items to get out of your comfort zone.