For those who are just catching up, in December, I made a career (and life) changing announcement. I resigned from my job working in public relations to take my business, blog, brand and teaching full time. I'm bringing you along for the ride, giving you a glimpse behind-the-scenes of the exact steps I'm taking to make solopreneurship work in the Becoming CEO series.
You can check out previous posts in the Becoming CEO series here.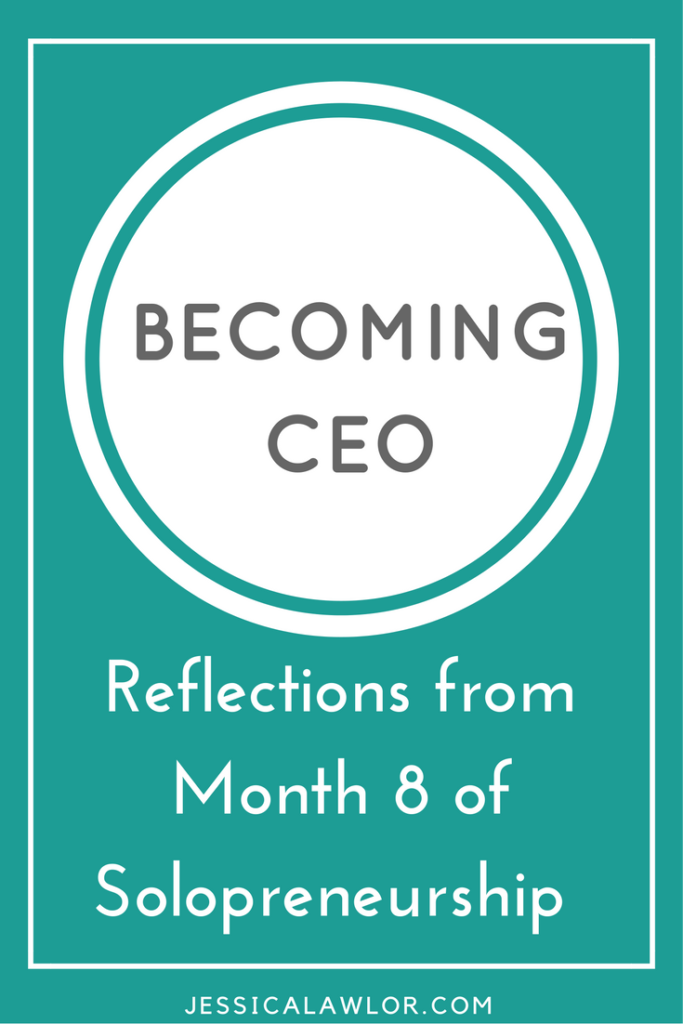 Let's take a look at month eight of solopreneurship! Here's my month by the numbers, an income breakdown, lessons learned, the ups, the downs and how I'm feeling.
Month Eight By The Numbers:
 6 phone/Skype calls (as compared to 10 last month)
 5 in-person meetings (as compared to 1 last month)
 11 meetings total (as compared to 11 last month)
14 yoga classes taught (as compared to 18 last month)
Month Eight Income Breakdown:
Each month, I share a percentage breakdown of my income.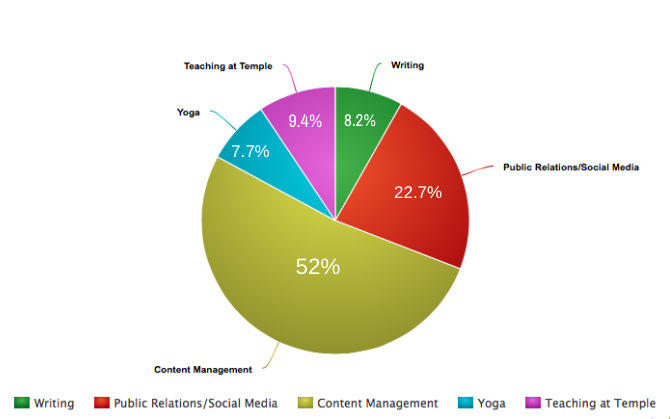 A few thoughts on this month's income breakdown:
A new category! Because I'm teaching a college course at Temple University this semester, you'll see teaching as a new category for the next few months, as adjuncts are paid monthly.
Writing increased significantly in the month of September because I worked on a big assignment for Temple University's Dental School magazine. I work with this client a few times a year, so it's not recurring, but it's always a nice chunk of income for the month I invoice them for the articles I wrote. In the coming months, writing will likely take a backseat, as I bring on a new content management client.
I began work with my newest content management client in September, but won't invoice them until October, so in the next income report, content management will increase even more significantly! Crazy. I now have three major content management clients and I'm loving this type of work.
Lessons Learned from Month Eight:
You can't do it alone. Why did I wait so long to accept help? I never really understood all the hype about building a team. After all, I'm a solopreneur, solo being the key word here. However, after half a year of running a business completely on my own, I realized something: I was drowning. And I needed help. Fast. When faced with the opportunity to work with my dream client (see below), I immediately thought to myself, "AH! Which client do I cut to make space for this new client?" My sister said to me, "Uh…why don't you just hire someone to help you?" DUH. I can't wait to grow this business even more and eventually have an entire TEAM!
Say no to projects that don't feel like a fit. In the beginning of running my business, I felt like I needed to say yes to every opportunity that came my way. In my head, I knew this wasn't the case, but I felt bad saying no to someone. Now, I'm much more choosy about what I say yes to. In September, I turned down a few projects that in my gut, I knew weren't a fit the minute I read/heard about them. I'm working on not feeling bad turning down projects, knowing that this clears space for even more awesome projects that I'm much more passionate about.
Business expenses are…expensive. Man, running a business costs much more money than I ever thought, especially given the fact that my business is online. This is a reality I hope to share with future solopreneurs/business owners in a more detailed post coming soon, but it's something you should know and plan for. In September, I spent more than $1,000 on my business- filing for an LLC, hiring someone to help me through the process, onboarding my first employee and working with a designer on new blog graphics. These tasks were all necessary, but they cost money. I know many of them serve as tax write-offs, so that's great, but whipping out my credit card on a regular basis doesn't always feel so nice.
The Highs and Lows:
There are always going to be good days and of course, there will always be not-so-hot days. Here are the things that made me super smiley and excited this month, along with some challenges I faced.
The Highs:
I hired my first team member! This has legitimately been the best business decision I've made since launching my biz. More to come!
I started the process of legitimatizing my business by filing for an LLC.
I finally chose an official business name. Stay tuned for the big announcement!
I brought on a new client! I'll be serving as the managing editor for The Write Life.
I started teaching a PR class at Temple University.
I taught a special yoga class for the women's rowing team at St. Joe's University.
The Lows:
I felt very stressed out in September. Between lots of change happening in my life, moving, bringing on a new client and teaching at Temple, I felt like I reached my breaking point. There may or may not have been a sobbing phone call made to my best friend/fellow solopreneur at some point during the month. She talked me off the ledge and reminded me that this is completely normal. The next day I felt totally fine. Running a business, man…it's a rollercoaster. Just keeping it real here.
I'm still struggling with finding time to work out.
Commuting to Temple takes up about two hours of my work day every Tuesday/Thursday. This frustrates me even though I know there's nothing I can do about it.
How I Feel:
After a few weeks of complete stress, rushing around, barely having time to breathe, I made the decision to hire my first team member and felt a literal weight off my shoulders when she began working. Why didn't I do this sooner?
I'm starting to feel more sane, which is a very good thing.
Similarly, right now, I'm feeling *REALLY* excited about my business officially becoming an LLC and selecting a name for the biz. I'm working with my designer now on a new logo and I'll be able to share the name with you soon!
In September, I felt reignited with excitement about my business! Hiring a team member and choosing a business name definitely contributed to this excitement, along with starting work with my dream client, The Write Life. I'm feeling pumped about the direction my business is heading and can't wait to see what comes next.
I'm feeling strong financially at the moment, too. Each month, my income continues to increase (as do my expenses, of course, especially bringing on a team member), but it's exciting to see the amount of possibility that exists when you run your own business.
Onto Month Nine! Stay tuned- I'll continue sharing these recaps monthly.
Have any questions about becoming CEO and my eighth month in business? I'd love to answer your questions and hear your thoughts about this journey!
Want more gutsy content delivered straight to your inbox twice a month? Be sure to sign up for my FREE #GetGutsy e-newsletter filled with inspiration, ideas and action items to get out of your comfort zone.