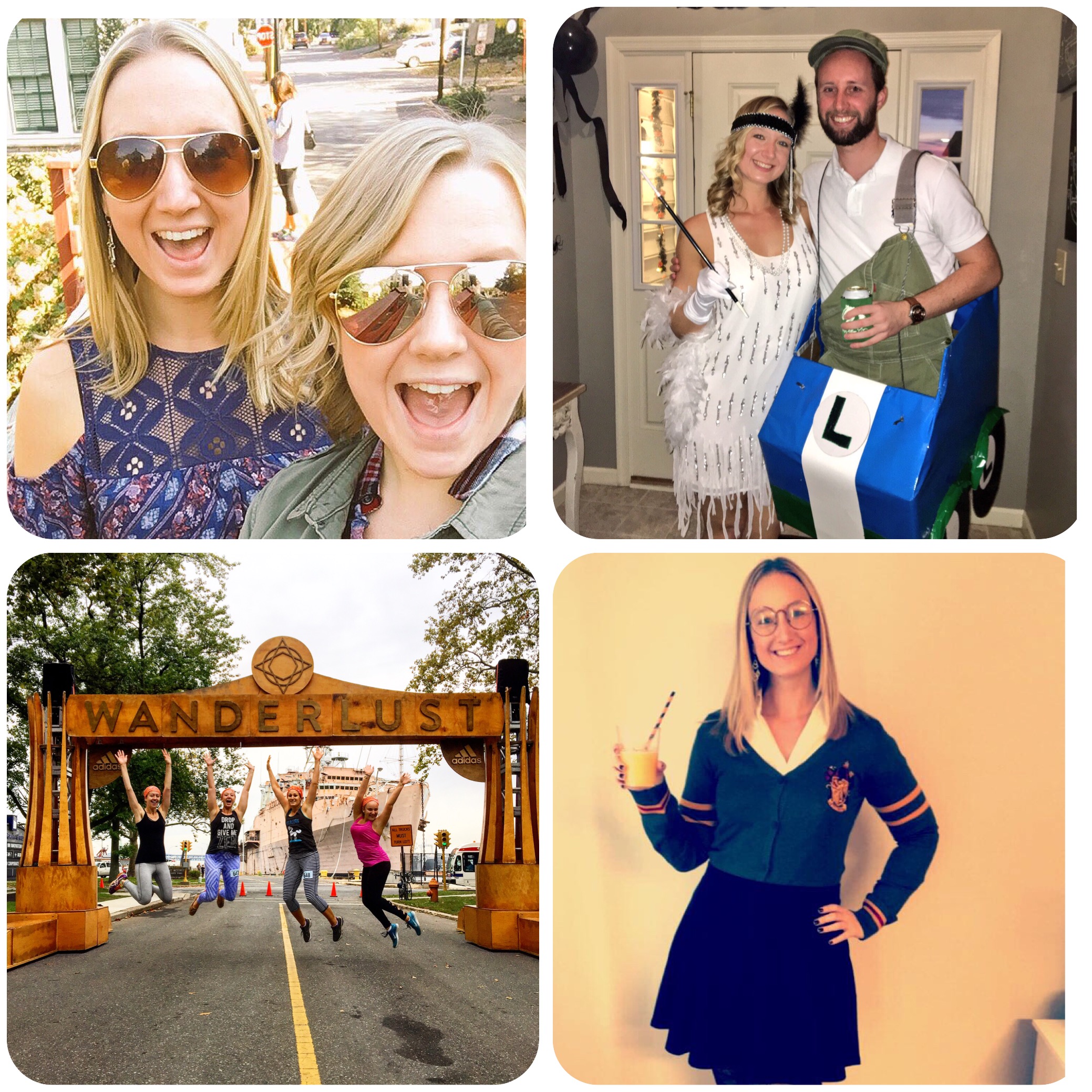 Each monthly check-in, I share three things I accomplished in the previous month and preview three things I'm excited about or hoping to accomplish in the month ahead. It's fun to look back and forward, and as an added bonus, these monthly check-ins keep me accountable to reach my goals.
I hope you'll join in and share your three things in the comments section! I've been thrilled to see that other bloggers enjoy my monthly check-ins and have adopted the format for their own blogs- this is AWESOME! If you write a similar monthly check-in/look ahead post, please feel free to utilize this format and be sure to leave a link in the comments below so we can all support you in your goals for the coming month!
In October, I…
1. Completed a meditation teacher training and expanded my yoga practice. Many of you know I love to talk about the benefits of meditation. Meditation truly has changed my life, and after falling off the wagon, this weekend-intensive really helped me get back on track with my almost daily practice. After meeting Allison Sobel at an intro to meditation workshop last spring, I knew I wanted to eventually study with her. This three-day training was the perfect opportunity to dive deep into different meditation techniques and learning how to actually teach meditation. I've been working meditation into my yoga classes (one of my weekly classes even changed its name to Mindful Flow + Meditation!) and I'm loving this new knowledge I'm incorporating into my teaching and my life. In October, I also practiced at five different yoga studios- I'm working on expanding my practice and trying out new teachers to gain inspiration for my own teaching and of course, to challenge my body and my practice. My new neighborhood is centrally located to so many amazing studios, so it has been exciting to get out of my yoga comfort zone. I'm especially loving power yoga these days- I love how it makes my body feel.
2. Experienced my best month in business yet. October was a milestone month for my company, both financially and in terms of strategy and growth. I continue to be so grateful that I chose to leave my job last year to start my own business. In October, I hit a financial milestone that I never expected to reach in my first year in business. My LLC was approved (!!!), I opened a business bank account and hired a designer to create a logo for my business. Things are feeling really official. I'll be able to share the logo and company name with you soon! October was also my team member's first full month on board, and her help has been tremendous; I am honestly excited to pay her invoice…she is such a worthy investment. I can't believe I waited this long to bring her on. Early in the month, I had the opportunity to speak at the Pennsylvania Conference for Women; I led a small business roundtable called "Hustle Hard." It was fun to connect with so many likeminded women! I hope I'll have the chance to speak at this conference again next year.
3. Indulged in lots of fall fun and hosted another party. Since moving into my apartment in August, I have a newfound interest in entertaining. My housewarming party in September gave me a little taste, so in October, I hosted a Harry Potter-style brunch prior to the HP Festival in Chestnut Hill. The brunch itself was a ton of fun, but the day of the festival was super cold, windy and rainy, so that was a bit of a bummer. In October, my sister Jamie and I spent a gorgeous fall day brunching, pumpkin picking and winery hopping. I went to Wanderlust, a "mindful triathlon" with a 5K (totally walked the whole thing…and I used to call myself a runner!), yoga class and meditation. I also attended two super fun Halloween parties and finally lived out my costume dream of being a flapper. I went on a haunted hayride and even trick or treated with a group of kiddies and adults this year (one house gave out Jell-O shots to the adults….whaaaat?) October is always one of my favorite months of the year, and I'm so glad I got to indulge in lots of fun fall activities.
In November, I will…
1. Plan and host my first-ever company solo retreat/planning session. For the past nine months, I've literally been head-down, in the weeds, working to grow my new business. I haven't taken the time to come up for air to truly look at what I've accomplished and where I'm going. I know it's important for me to take a day to do a "review" on myself and to think about the big picture of where I see my business heading in the future. I'm currently collecting resources on planning a self-evaluation or mini-retreat, so if you have any tips, please send them my way! I've already set aside an entire day in November to turn off my email, turn off social media and truly take the time to reflect. I also may be booking a massage for myself that day, too 🙂 #treatyoself, right? In November, I also hope to finally be able to share with you my company name and logo!
2. Start teaching at a new yoga studio. Moving to Chestnut Hill has brought so many good things into my life, including new yoga teaching opportunities! A brand new, gorgeous studio is opening just a few blocks from my apartment, so I couldn't be more excited to be teaching a class there! The studio is called Rebel Yoga and features not only a studio with some amazing Philly area teachers, but also a canteen with healthy snacks and juices and a boutique. This new class addition brings me to five yoga classes a week, teaching Tuesday through Saturday in the Philadelphia area! If you're local (or visiting), be sure to check out my schedule. I'd love to practice with you!
3. Prepare for the holidays and take advantage of the last bit of fall fun. October is definitely one of my favorite months, but for some reason, November has always been my very favorite month of the year. I don't know what it is, but it's that final push before things slow down for the holidays and the last bit of fall color and warmth before winter. This month, I'm excited to get my apartment ready for the holidays! I'm hosting a Christmas PJ party very early in December, so I can't wait to decorate and prepare for that this month. I'm also excited for Thanksgiving (the best holiday!) and starting my Christmas shopping. My 10 year high school reunion is this month- undecided if I am going to attend, but it's on my radar, along with a Temple football game later in the month.
October Posts You May Have Missed
Becoming CEO: Month Eight of Solopreneurship
Monthly Check-In: Goodbye September, Hello October
Jessica Around The Web
Guest posts, articles and other places you can find me this month online.
Spread the Love on Social Media: Five Must-Enable Jetpack Features– for Jetpack
Jetpack's Picks: Five Resources for October– for Jetpack
Muck Rack's monthly top picks: five links we loved in September– for Muck Rack
The best of Muck Rack: 5 popular posts written for journalists– for Muck Rack
The best of Muck Rack: 5 more popular posts written for journalists– for Muck Rack
#MuckRackCafe with Victor Fiorillo– for Muck Rack
Linked I Loved in October
Some of you may have noticed I discontinued my Start Your Week Right Sunday link roundup. Don't worry, I heard you! Many of you told me you love seeing what I'm reading, so now I'll be sharing my favorite links monthly here in my monthly check-in.
Yelling at Amazon's Alexa: My boyfriend got me an Amazon Echo (aka Alexa) for my housewarming gift. I love it (I like bossing Alexa around) but I loved this take on yelling at Alexa from Sarah Larson at The New Yorker.
How to Pay Yourself as a Freelance Business Owner (the Exact Formula): Carrie Smith has a wealth of knowledge on all things freelancing and this post about how to pay yourself as a freelancer is especially useful for me right now as I just opened a business bank account.
100 Blocks a Day: Not counting sleeping, you have about 1,000 minutes in each day to do as you please. Tim Urban from Wait But Why encourages you to think of these minutes as 100 10-minute blocks. How are you using your blocks?
If I'm Being Honest, I Can't Tell You The Whole Story: YES, YES, YES to these words from Brittany Policastro: "Just because something is what we've always wanted doesn't meant it's easy. Sometimes receiving is the hardest part."
How to Be Ruthless With Your Newsletter Subscriptions: Do you get too many emails? I bet you do. Brittany Berger, AKA the queen of automation, has awesome tips to tame the number of newsletters you receive in your email.
Let's Linger Longer and Fall in Love: Bring to mind the last time you lingered. I don't do it often, but I just lingered over lunch with a friend I haven't seen in awhile. Courtney Carver makes the case for lingering and falling in love.
How to Get Verified on Twitter: Love this guide on how to get verified on Twitter from Buffer's Kevan Lee. I unsuccessfully tried (should have read this post first!) but look forward to trying again soon.
What did you accomplish in October and what are you looking forward to accomplishing in November? Share your three things in the comments below!
Want more gutsy content delivered straight to your inbox twice a month? Be sure to sign up for my FREE #GetGutsy e-newsletter filled with inspiration, ideas and action items to get out of your comfort zone.