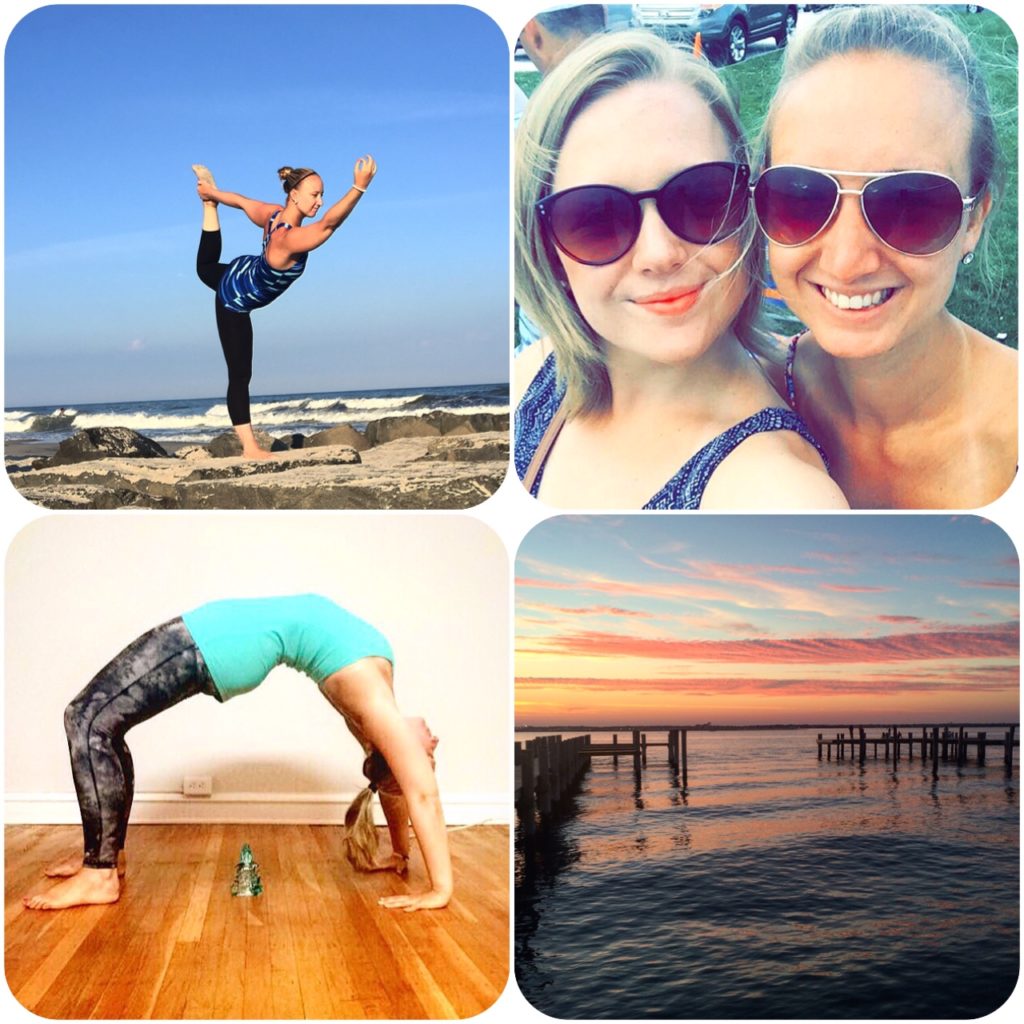 Each monthly check-in, I share three things I accomplished in the previous month and preview three things I'm excited about or hoping to accomplish in the month ahead. It's fun to look back and forward, and as an added bonus, these monthly check-ins keep me accountable to reach my goals.
I hope you'll join in and share your three things in the comments section! I've been thrilled to see that other bloggers enjoy my monthly check-ins and have adopted the format for their own blogs- this is AWESOME! If you write a similar monthly check-in/look ahead post, please feel free to utilize this format and be sure to leave a link in the comments below so we can all support you in your goals for the coming month!
In July, I…
1. Lived in (and worked from) OCNJ for the month. I feel so lucky to have spent the entire month of July down the shore working from my happy place, Ocean City, New Jersey. My family rented a condo for the month and since I now have the flexibility to work from anywhere, I experimented for the first time with location independence. I did come back anywhere from once or twice a week to teach my yoga classes, but generally spent 4-5 days per week at the beach. I developed a new routine, working in the mornings and spending afternoons on the beach. I spent lots of quality time with my family, read a ton of books and slowed down a bit, being away from the pace of my normal life. I hope to have the chance to do this again next year!
2. Prepared to move. At the very end of June, I made the decision to move into an apartment in Philadelphia. My lease didn't technically begin until August 1, but I was able to gain access in late July, so I've been spending time over there slowly moving in. It was weird timing signing the lease in June and living down the shore in July, so I didn't get as much apartment stuff done during the month as I had hoped, but I'm making progress now. I spent a ton of time down the shore on Pinterest, browsing furniture and buying some items. When I came home, it felt like Christmas morning, except instead of presents, I was opening towels and bath rugs and kitchenware 🙂 Thank you for all of your moving and packing tips! They have been immensely helpful.
3. Explored a new yoga studio and made some exciting additions to my yoga teaching schedule. Since I was living down the shore for the month of July, it was definitely a priority to me to still keep up my yoga practice. After visiting Golden Buddha Yoga last summer down the shore, I immediately bought a monthly package to the studio for the month of July. It was so fun to step out of my yoga comfort zone and my normal practice by practicing in a new (non-heated!) space with different teachers. I gain so much inspiration for my own teaching from practicing with others, especially those who were trained in a different way than me, so this month was transformative. The studio is incredibly beautiful, the community is warm and the teachers are all wonderful. I can't wait to go back and spend time there next summer. On a similar note, I added two new yoga classes to my weekly schedule, so I'm now teaching four times a week at two different studios in the Philly area, if you want to get on your mat and practice with me!
In August, I will…
1. MOVE! By mid-August, I hope to be sleeping at my new place! I'm slowly making progress (my new bed arrives tomorrow!) and I have more furniture being delivered over the next few weeks. I am still on the hunt for a couch, a desk chair and a kitchen table, so those are all still on my list. I also need to start packing up here and deciding what I actually want to bring with me and what I want to donate or throw away. Moving is a great chance to downsize and figure out what's really important to me. Every time I drive over to my new place to move things in, I feel so excited, so I'm really looking forward to making it my own and getting settled this month.
2. Travel to Florida at speak at a conference. Back in the winter, I received an email inviting me to speak at the Florida PR Association Conference outside of Tampa. I was so honored and immediately said yes! Now that the conference is around the corner, I'm starting to freak out a bit, but I'm looking forward to seriously stepping outside my comfort zone in a big way during my session. For the first time, I'm not talking about PR or personal branding or social media; they've invited me to speak about what it means to step outside your comfort zone and why that can be rewarding. I'm still working on my presentation and am hoping to wrap that up ASAP, so I can practice and be ready for my talk!
3. Soak up the last bits of summer fun. Summer is my favorite time of year and I'm already bummed that it's August and almost over. However, I do have lots of fun things on the agenda for this month, so that gives me a lot to look forward to. First up: concerts! Summer concerts are the best and this month I'm seeing Halsey and Shawn Mendes. Both are outdoor venues, which makes it so much fun. I'll also be doing a yoga photo shoot this month to get some professional pictures taken to use for promoting the yoga side of my business. I have some end of summer parties to attend and a day trip to Delaware planned to finally buy a new laptop (tax free shopping!). I'm sure some other unplanned adventures will pop up between now and the end of the month!
July Posts You May Have Missed
What's Pushing You Outside Your Comfort Zone?
The Beauty of Being a Beginner
Becoming CEO: Month Five of Solopreneurship
Jessica Around The Web
Guest posts, articles and other places you can find me this month online.
Add These Six Items to Your Content Marketing "To-Try" List– for Scribewise
15 Ways Every Writer Procrastinates When They're Feeling Uninspired– for The Write Life (Also republished by Ragan's PR Daily)
How I Turned My Side Hustle into My Full-Time Job (and Make More Than Ever)– for The Penny Hoarder
Key differences between solo and in-house PR– for PRDaily (republished from my Spin Sucks article a few months ago)
What did you accomplish in July and what are you looking forward to accomplishing in August? Share your three things in the comments below!
Want more gutsy content delivered straight to your inbox twice a month? Be sure to sign up for my FREE #GetGutsy e-newsletter filled with inspiration, ideas and action items to get out of your comfort zone. When you sign up, you'll also be sent a FREE copy of the Get Gutsy ebook, filled with 19 inspirational stories to help you get gutsy.