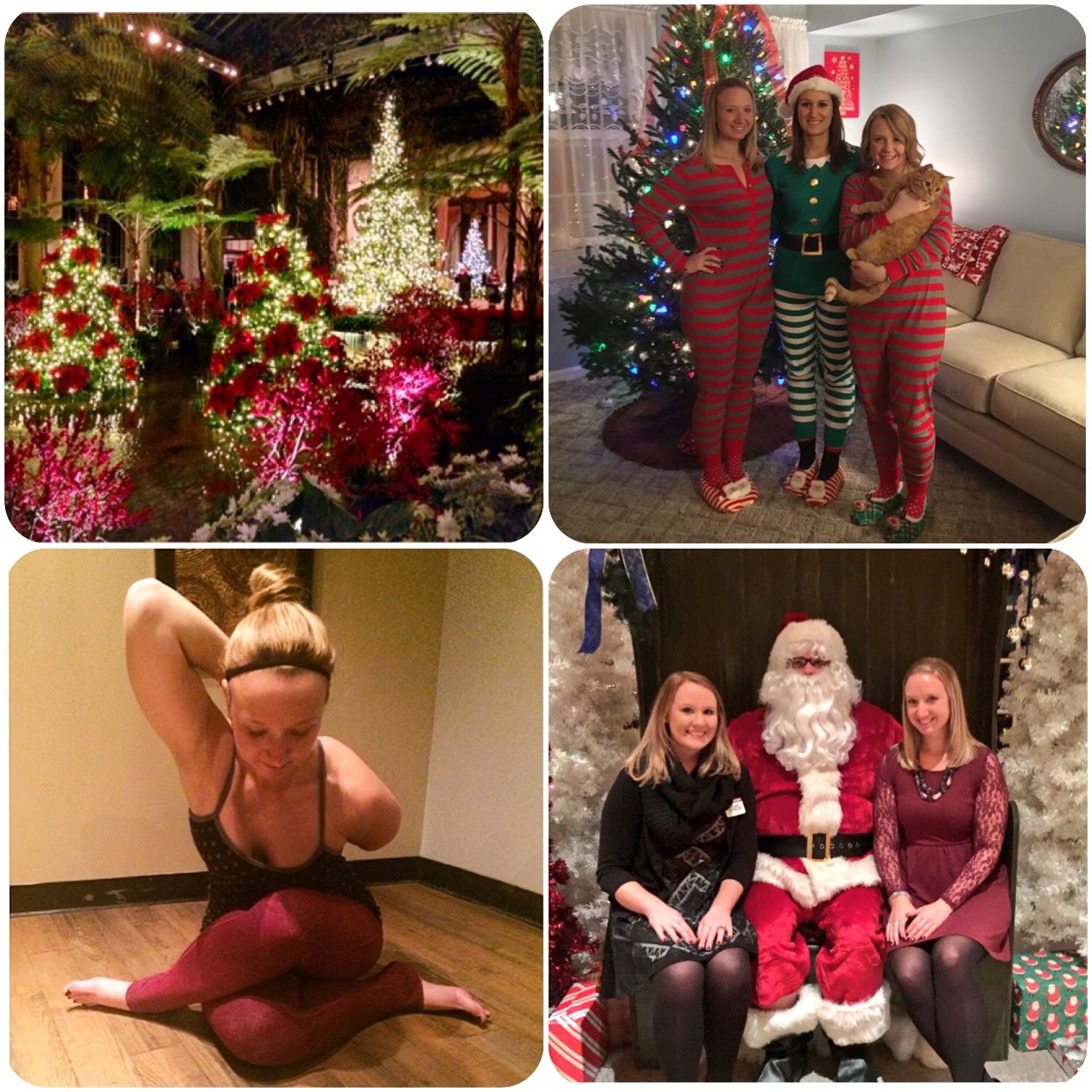 Each monthly check-in, I share three things I accomplished in the previous month and preview three things I'm excited about or hoping to accomplish in the month ahead. It's fun to look back and forward, and as an added bonus, these monthly check-ins keep me accountable to reach my goals.
I hope you'll join in and share your three things in the comments section! I've been thrilled to see that other bloggers enjoy my monthly check-ins and have adopted the format for their own blogs- this is AWESOME! If you write a similar monthly check-in/look ahead post, please feel free to utilize this format and be sure to leave a link in the comments below so we can all support you in your goals for the coming month!
In December, I…
1. Got in the holiday spirit! December seriously flew by this year, but it wasn't without its fill of fun Christmas events to get in the spirit! Earlier in the month, my two friends and I went to Longwood Gardens- that place is a MUST-VISIT during the holiday season. I wouldn't be me if I didn't stop, drop and yoga at the gardens. My mom hosted her annual cookie swap and this year's dress code was Christmas PJs! (YES! I have always wanted to attend a party in pajamas!) I also attended lots of work holiday parties, along with my yoga studio holiday party. So much fun! Christmas weekend itself was wonderful- I spent much of the weekend with my family as we had three different family parties to host/attend. Lots of delicious food, that's for sure!
2. Continued to grow my yoga teaching and classes. It's so exciting to see my yoga classes growing! Since I started my two classes in October, my classes went from around 6-10 people each week to between 25-30 (especially for my Saturday classes!) I know part of it has to do with the studio growing, but it's also exciting to see the same faces return week after week. I feel like I'm beginning to grow my yoga following, which I know takes a lot of time. Growing my classes will allow me to lay the foundation for teaching workshops and perhaps eventually running my own yoga retreat! Now that I've left my full-time job, I'm also looking forward to teaching even more!
3. Resigned from my full-time job! Perhaps the biggest thing that happened in December was that after years (yep, years) of planning and months of thinking about this move, I finally resigned from my job working in PR to pursue taking my own business full time. Actually saying the words out loud to my bosses was the hardest part, and from there, things were set in motion. Now there's lots of work ahead (see January below!) and I'm ready to get this started. I was *blown away* when I made the big announcement here on the bl0g– thank you all SO much for your support. I truly had no idea so many people were behind me cheering me on! That was probably the most humbling and exciting part of sharing my news- I spent the entire day giddy over your support and love!
In January, I will…
1. Travel to Jamaica for a week in the sun! I'm actually sitting on my back porch of my hotel room in Jamaica soaking up this gorgeous sunny weather as I write this post! Each year, my family "skips" Christmas and we spend a week together in a tropical locale. This is our third year of this tradition and this year, we've come to beautiful Jamaica. The week has been absolutely stunning! We've spent hours lounging by the beach and pool, reading, napping and listening to music. The water here is the most perfect shade of blue and super warm, too! The food at our resort is delicious and I had the most incredible massage yesterday. I'm so grateful for the chance to get away for some fun and quiet relaxation time as the year kicks off.
2. Complete my last few weeks at my current job. Making the decision to leave my full-time job working in public relations for a local tourism office was not easy. I truly love the work I do and the people that I have the opportunity to work with. However, in order to grow and move forward, sometimes you need to make hard choices. My last day at my current job is January 29, so I know when I return from vacation, much of my time will be spent wrapping up projects I'm currently working on and writing the "Jessica Bible" so that whomever replaces me has a great understanding of how to do my job. I know these last few weeks will be bittersweet!
3. Prepare to take my business full time. The best part about giving my current company so much notice is that it also gives me ample time to get myself organized and ready to take my business full time. Between the time I actually shared the news with my bosses and the day I will officially start working for myself completely (February 1!), I gave myself about six weeks of preparation time. I'm planning to write a full post about the steps I'm taking to prepare, but in the past few weeks alone I've reached out personally to more than 50 people in my network to share the news with them (prior to the announcement blog post) and then of course, I spent a few days writing that all-important announcement blog post. Many more items on my to-do list for January. You'll hear about those soon!
December Posts You May Have Missed
My Ultimate Gutsy Move: Jessica Lawlor, President & CEO
A Very Merry (Selfie) Christmas
The 10 Most Popular Posts on the Get Gutsy Blog in 2015
The Get Gutsy Love List 2015 (All The Random Big & Small Things That Made 2015 Delightful)
Jessica Around The Web
Guest posts, articles and other places you can find me this month online.
Scorecard: A Look Back at Our 2015 Content Marketing Predictions– for Scribewise
What Does 2016 Look Like for PR Pros and Journalists?– for Muck Rack
What did you accomplish in December and what are you looking forward to accomplishing in January? Share your three things in the comments below!
Want more gutsy content delivered straight to your inbox twice a month? Be sure to sign up for my FREE #GetGutsy e-newsletter filled with inspiration, ideas and action items to get out of your comfort zone. When you sign up, you'll also be sent a FREE copy of the Get Gutsy ebook, filled with 19 inspirational stories to help you get gutsy.