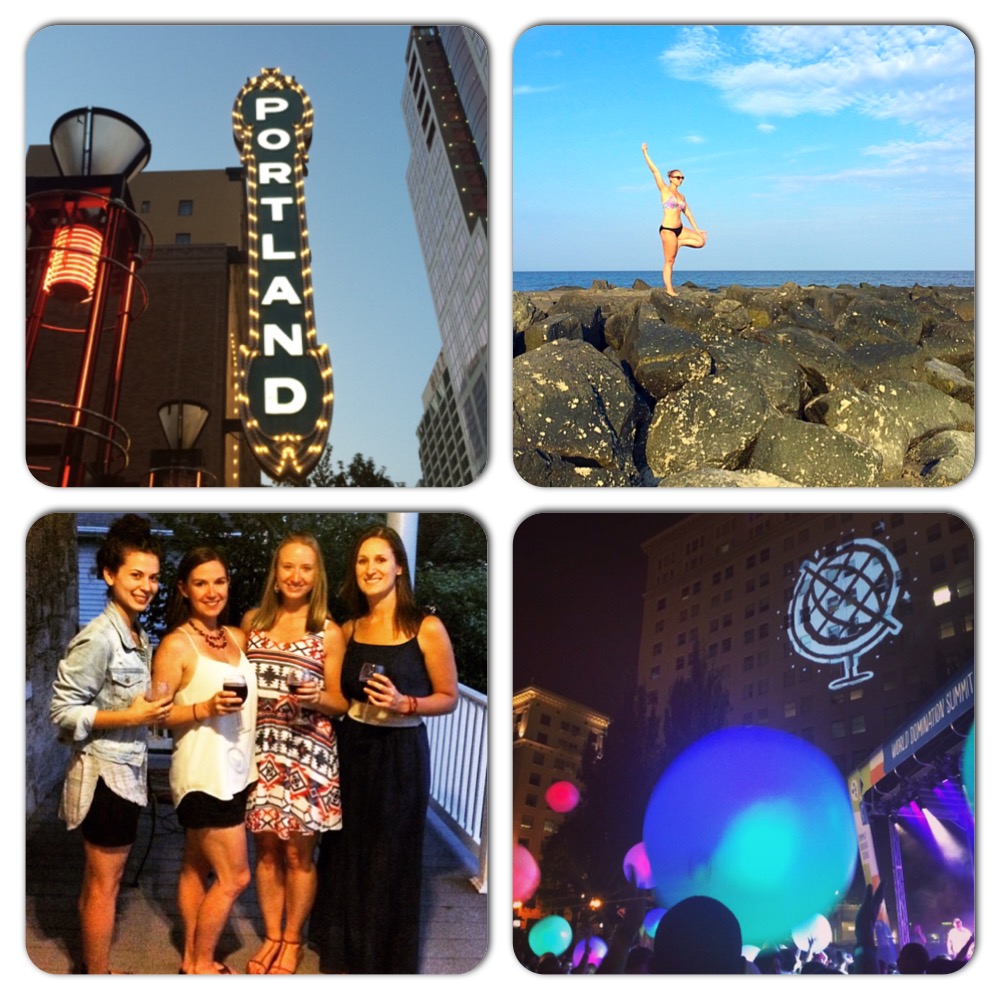 Each monthly check-in, I share three things I accomplished in the previous month and preview three things I'm excited about or hoping to accomplish in the month ahead. It's fun to look back and forward, and as an added bonus, these monthly check-ins keep me accountable to reach my goals.
I hope you'll join in and share your three things in the comments section! I've been thrilled to see that other bloggers enjoy my monthly check-ins and have adopted the format for their own blogs- this is AWESOME! If you write a similar monthly check-in/look ahead post, please feel free to utilize this format and be sure to leave a link in the comments below so we can all support you in your goals for the coming month!
In July, I…
1. Attended my first World Domination Summit. Before I went to Portland for the World Domination Summit (WDS), I was describing it as a "blog conference." That seemed the simplest way to explain it to my friends and family back home. Now that I'm back, I've written all about my WDS experience and I think it defines WDS much better than "blog conference." Exploring Portland with my accountability partner/friend Sara and my other good friend Janelle was the icing on the cake! I still will be publishing a post with all of my Portland recommendations. I loved meeting new and like-minded people and I was inspired by many of the sessions I attended. I'm so glad I finally attended WDS after reading about it for the past five years!
2. Vacationed down the shore for a week. My week in Ocean City, NJ with my family is always one of my absolute favorite weeks of the year. Waking up early to run/bike on the boardwalk, drinking coffee from OCNJ Coffee Company, staying on the beach until 7:30 p.m., playing Dominos and other games, making fun drinks for the beach and eating alllll of the amazing food are among just some of the memories made during our week at the beach. This year, I found a balance between running (yep, running…haven't heard me talk about that in awhile!) and yoga (see below). I didn't get as much reading and relaxing done as we were a VERY large group- think 25 people taking over a section of the beach- but it was still an incredible time…Ocean City will always be my home away from home.
3. Stepped out of my yoga comfort zone. This month, I seriously stepped out of my yoga comfort zone. First, I tried out TWO new studios. This is very strange for me, as I've really only ever practiced at my studio here, so even going to a new studio felt out of my realm of comfort. The first studio I checked out was Yoga Pearl in Portland. The studio was absolutely beautiful and a sunrise vinyasa class was the perfect way for Sara and me to kick off a busy WDS weekend. The second studio I checked out was Golden Buddha Yoga in Ocean City, NJ. The studio is brand new and I loved it! I went to the studio twice- the first class I went to I *thought* was going to be vinyasa, but actually turned out to be Kundalini (VERY different from vinyasa) so that threw me wildly out of my comfort zone. Another new yoga experience was taking essentially a private lesson on the beach (no one else showed up for 7 a.m. beach yoga!). I felt a little awkward, but I tried to just embrace the experience and soak in the knowledge of my teacher.
In August, I will…
1. Continue my yoga teaching journey! In July, I substituted a few yoga classes and I am so excited to share that I have five more classes on my schedule for August. The dates are below 🙂
8/7: 5:45 p.m. all levels hot vinyasa, Dana Hot Yoga- Glenside studio
8/9: 9:30 a.m. all levels hot vinyasa, Dana Hot Yoga- Glenside studio
8/20: 7:30 p.m. all levels hot vinyasa, Dana Hot Yoga- Spring House studio
8/25: 7:30 p.m. all levels hot vinyasa, Dana Hot Yoga- Spring House studio
8/27: 5:45 p.m. all levels hot vinyasa, Dana Hot Yoga- Glenside studio
I'm thrilled and grateful to have so many opportunities to teach and continue improving my teaching skills! In August, one of my major goals is to teach a new flow for at least a few of the classes above. For all my sub opportunities so far, I've continued teaching my first class, sometimes with a different theme and quote, but the physical postures have remained the same. I wrote a new flow on the plane home from Portland, but I've been a little nervous to actually start teaching it!
2. Travel to Hershey, PA. I'm so pumped to visit Hershey, PA this month! My main purpose for visiting is to go to the Maroon 5 concert, but I've added on a visit with my amazing friend, Janelle and we'll also be spending some time at Hershey Park! Roller coasters! Woohoo! I haven't been to Hershey Park in a few years, but the last time I went, I had such a blast on all the rides. It's so fun to be a kid again! I'm also really excited to see Maroon 5. I haven't been loving their new material lately, but I'm hoping they'll throw in some old school stuff during their performance.
3. Figure out next steps for the 30 Days of Gutsy course. As fall begins to roll around, I always begin thinking about how I want to celebrate my blog's anniversary in October. Last year, I launched the Get Gutsy ebook. I'm still not quite sure what I'm doing for this year, but I've promised that the 30 Days of Gutsy course will return sometime this fall. As I've been thinking more about it, I'm considering turning the email course into a workbook. I loved running the course twice (the beta version and the public version) but it didn't turn out exactly as I had hoped, so it may be time to adapt. Does anyone have any thoughts or ideas around changing the format? I'd love your opinions! Would you be interested in consuming the course content in more of a workbook, get it all at once, format?
July Posts You May Have Missed
Get Gutsy With Sarah Hutton: "I've Made Risky Career Moves That Turned Out To Be Extremely Rewarding"
Do You Follow "The Rules"? Getting Real About Dating
Shine Your Light: 8 Takeaways From World Domination Summit 2015
If We Were Meeting For The First Time
The Ultimate Mid-Year Check-In 2015: Are You Where You Thought You'd Be Six Months Ago?
Jessica Around The Web
Guest posts, articles and other places you can find me this month online.
Four Ways to Build (And Rally) Your Community Around Your Content– for Scribewise
How to Get Comfortable When You Have to Pick Up the Phone– for PRSA Tactics
What I've Learned and Applied from 50 Awesome Entrepreneurs– my tip included in Nick Loper's Side Hustle Nation post/podcast
Tell Me All About It: Q&A with Jessica Lawlor– an awesome Q&A interview with Mary Catherine Starr from StarrStruck blog.
What did you accomplish in July and what are you looking forward to accomplishing in August? Share your three things in the comments below!
Want more gutsy content delivered straight to your inbox twice a month? Be sure to sign up for my FREE #GetGutsy e-newsletter filled with inspiration, ideas and action items to get out of your comfort zone. When you sign up, you'll also be sent a FREE copy of the Get Gutsy ebook, filled with 19 inspirational stories to help you get gutsy.