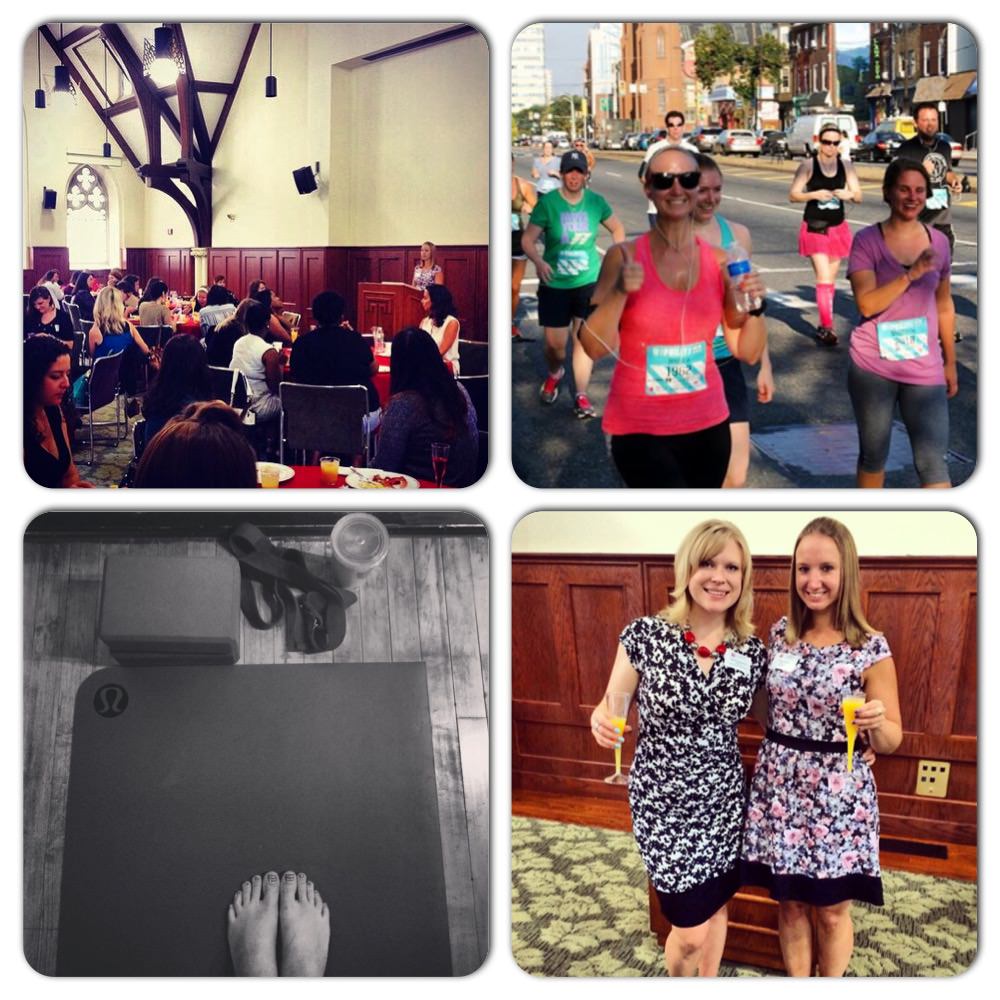 Each month, I share three things I accomplished in the previous month and preview three things I'm excited about or hoping to accomplish in the month ahead. It's fun to look back and forward, and as an added bonus, these monthly check-ins keep me accountable to reach my goals.
I hope you'll join in and share your three things in the comments section! I've been thrilled to see that other bloggers enjoy my monthly check-ins and have adopted the format for their own blogs- this is AWESOME! If you write a similar monthly check-in/look ahead post, please feel free to utilize this format and be sure to leave a link in the comments below so we can all support you in your goals for the coming month!
In September, I…
1. Outlined my biz/brand plans for the rest of the year and beyond. You may have seen on the blog, earlier this month, I shared a peek behind the curtain of the Get Gutsy brand/biz and outlined my plans for 2015 and beyond. It felt SO good to share with you what I have up my sleeve…and get it down on "paper" so you can all hold me accountable! I couldn't be more excited about the direction this brand/biz is headed and I'm so grateful to have you here with me. If you haven't checked out my plans yet, be sure to do so…there are plenty of opportunities for you to get involved!
2. Kicked off the Temple Women's Network with a successful brunch event. As I've mentioned a couple of times, I'm the president of the newly-formed Temple Women's Network, an alumnae association for Temple women…it is such an honor to lead this group of inspiring and fascinating women. September was a busy month for the group as we elected an executive board of 20 fantastic women and hosted our first major event! Our goal for the brunch event was 50 and we far surpassed that with a packed room and more than 70 women in attendance. We heard from Temple alumna Yasmine Mustafa who is in the midst of launching ROAR, a company that makes fashionable safety accessories to reduce assault. Her story is incredibly inspiring.
3. Had a packed month of fun events. September was another very busy month (anyone seeing a trend here?) The month kicked off with the Philly 10K, a new race that took runners through Philly's diverse neighborhoods, a route never done before in the city. I absolutely LOVED this race and despite being in a running rut, had a great time. I also finally made a decision and purchased a new yoga mat- I decided to go with the Lululemon mat after much research…I love it! My practice has been so much stronger since investing in a quality mat. Earlier in the month, I attended my first biz retreat called Astonish Yourself with Coach Jennie. It was an inspiring day and helped me set my goals in motion. Late in September, I heard NBC's Brian Williams speak at Temple University's Lew Klein Awards, where my friend Meredith was honored with the Rising Star Award.
In October, I will…
1. Launch the #GetGutsy ebook and celebrate two years of the Get Gutsy blog! I'm writing this post a bit later in the month, so this has already happened, but I'm so excited to share that the Get Gutsy ebook is now out in the world! We'll talk more next month about how the launch went, but in the meantime, if you haven't received your copy, be sure to sign up for the Get Gutsy newsletter and a free copy will be sent directly to your inbox. Putting together this ebook was so much fun. I worked with Sierra Elmore from 13 Elm Streets and was SO happy with her design- she really understood my vision for the ebook. It was inspiring to read the stories all over again and share them in an even more public way than the essay contest back in January. I hope you enjoy reading the book as much as I did!
2. Travel to Charleston, SC for a mother-daughter getaway. Again, let's pretend this post went live a few days ago since I'm actually just home from my weekend getaway to Charleston! Each year my mom and I take a mother-daughter getaway. Two years ago, we went to Punta Cana, last year we went to Savannah and this year, we headed South again to Charleston. I had heard so many wonderful things about the city and after looking at pictures, I knew I wanted to go see it for myself! I didn't love this Southern city as much as I thought I would, but I definitely had a great time there with my mom. I'll have a full travel recap on the blog, so stay tuned if you're interested in planning a trip to Charleston yourself!
3. Events, events, events. Continuing on my monthly trend of packing my calendar to the brim, October is another crazy busy month. Luckily, many of the events I have on my calendar are fun and I'm looking forward to them! This coming weekend is Temple's Homecoming and I'll be there representing the Temple Women's network. (Confession: despite my extreme love for Temple University, going there for four years and being an active alum for four years, this is my FIRST Homecoming ever). This weekend, I'm also going with my mom and some other family members to see Theresa Caputo from Long Island Medium live at a show in Philly. I'd love for someone in our group to be selected for a reading! Later in the month, my freshman year college roommate from Long Island is coming to visit so I've got lots of fun fall activities planned, including a couple of day trips.
September Posts You May Have Missed
Say No (To Say Yes To The Things That Matter)
A Day In The Life Of A Side-Hustling Solopreneur
What's Around The Corner for 2015? A Peek Behind The Curtain Of the Get Gutsy Brand/Biz
Jessica Around The Web
Guest posts, articles and other places you can find me this month online.
Interview with Jason Mollica for the JourneyCast podcast– Jason interviewed me about PR and personal branding for his podcast.
What The 2014-2015 TV Season Has To Do With Content Marketing– for Scribewise (Also republished by Business2Community)
Work Life Balance For Young Professionals is Actually Possible– I'm quoted in this article for eZanga, which was also republished by Yahoo, Monster and Business2Community
What did you accomplish in September and what are you looking forward to accomplishing in October? Share your three things in the comments below!
Want more gutsy content delivered straight to your inbox twice a month? Be sure to sign up for my FREE #GetGutsy e-newsletter filled with inspiration, ideas and action items to get out of your comfort zone. When you sign up, you'll also be sent a FREE copy of the Get Gutsy ebook, filled with 19 inspirational stories to help you get gutsy.