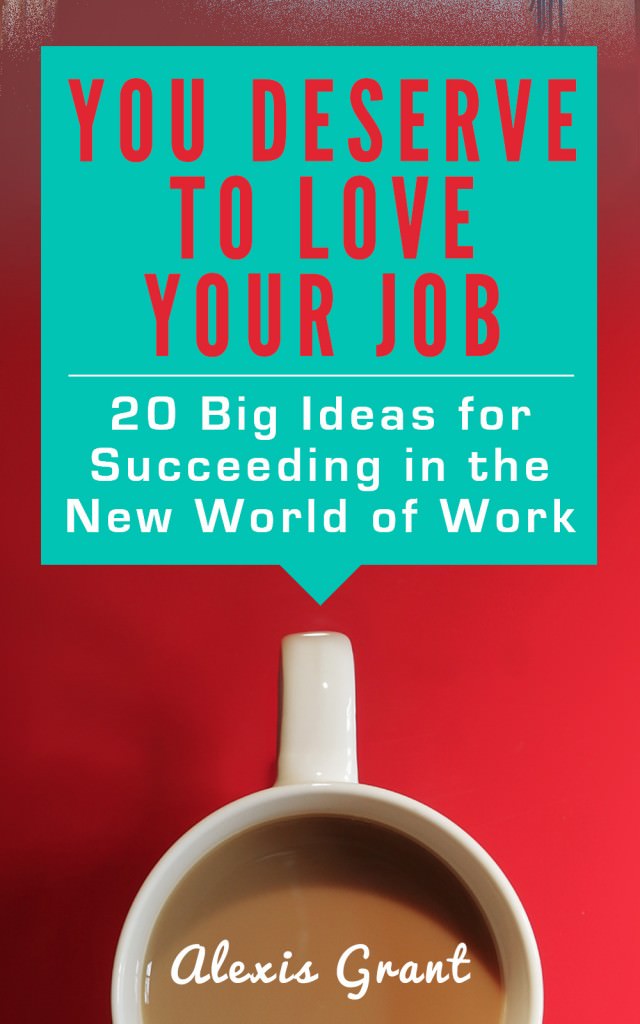 "You deserve to love your job."
Wow. That's certainly not a phrase you hear too often in this tenuous, rocky world of career advice.
In fact, most of the time, we hear the exact opposite…"You should be THANKFUL to even have a job."
Alexis Grant's new Kindle book "You Deserve To Love Your Job: 20 Big Ideas for Succeeding in the New World of Work" bucks traditional career advice in this 46-page manifesto for those seeking passion and happiness in their careers and lives.
I had the opportunity to review Lexi's book this weekend in advance of its release on Amazon yesterday and I tore through it in a matter of hours, highlighting favorite passages along the way.
What I love most about this book is that Alexis both inspires AND offers up practical advice, tips and tricks for finding or creating a job you love. The book is broken into "Big Ideas" instead of chapters, which makes the content super easy to digest, almost like reading a series of awesome blog posts.
The book is filled with incredible advice (see for yourself!) but here are a few of my favorite passages and six major takeaways after reading "You Deserve To Love Your Job."
1. "For this to truly work, you must forget about the career everyone says you should have, and go after what you really want."
In the beginning of the book, Alexis urges readers to forget about past career advice and to get rid of any preconceived notions about your future that you've held onto your entire life. I could especially relate to this as a PR professional who is already on my second job, a little less than four years out of college. All my life, I watched my parents work hard for one company- my dad recently retired after 30 years (30 years!) at the same company. That's just not how things work anymore and that's okay- exciting even!
Similarly, in addition to my full-time job in PR, I'm building a freelance writing and blog management business on the side. So many ambitious professionals are doing the same thing (see big takeaway #4 below) but this definitely doesn't follow the "traditional" path to success. I love that Lexi encourages readers to forget all that and forge your own path.
2. "Figure out what you want. Sometimes we stand still because we don't know which direction we want to go in." 
Oh yes, how I can relate to this quote. How many times have you been completely paralyzed by fear or confusion that you do absolutely nothing? I'm definitely guilty.
But what Alexis suggests here is different: instead of thinking about what you want (because really, you could be "thinking" forever), she recommends trying new things and talking to people who work in the professions that you *might* be interested in.
This is taking action and moving forward, even when you're not 100 percent sure of what you want. Every small step (even if it turns out to be the wrong direction) helps you get a little closer to discovering your dreams and passions.
3. "It no longer makes sense to run yourself into the ground to build someone else's dream. Here's what's far smarter: building your own. When you build someone else's brand, you're investing in their future, but when you build your own brand, you're investing in your future."
Whenever I speak to student groups or other young professionals about personal branding, this is one of the most important things I stress to them; it is absolutely critical to create your own personal brand and to be doing something on the side of your full-time work.
I notice a lot of my peers who work in PR or social media let their own websites or social media accounts fall by the wayside because they are busy managing the presence of their clients or companies. I totally get that- after all, social media is a major part of my full-time job and it is certainly time-consuming. It's obviously super important to go above and beyond at work to do a good job, but it's also important to maintain your own presence and dream.
A job can be taken away with the snap of a finger, but your personal brand and reputation will be with you forever. Striking that balance between excelling at your full-time job and maintaining your own dreams/ambitions on the side can be tough to find, but I've personally found that it is completely worth it to invest in your own future.
4. "The smartest 20-somethings (and 30-somethings and beyond) build their own businesses on the side, creating new opportunities for themselves while still gaining skills, contacts and money from their day jobs. It allows you to fail without as much risk."
Yes, yes and yes. Alexis was one of the people who actually encouraged me to pursue my side business a few years back, so I can absolutely agree with this advice.
I truly feel that I have the best of both worlds right now; I have a full-time job that I love and that provides a steady paycheck and stability, but I'm also able to pursue other passions, develop new skills and make extra income on the side through my freelancing.
And like Lexi says above, because I have the comfort of my paycheck every two weeks, I'm able to be a little more risky with my freelance business and take chances on things I might not otherwise do if I was relying on my blog/freelance biz as a primary source of income.
5. "Turning the right way off the bat is best, but turning the wrong way can be a huge learning experience. And taking a detour is better than not moving at all." 
Similar to takeaway #2 above, we often can be paralyzed into inaction by fear.
I love Lexi's advice here that making mistakes and getting away from your dreams at times can help you get back on the right track. In this chapter, she says, "When in doubt, guess." There's no point in standing still wondering what's next when you can continue moving forward, even if that forward motion takes you to an unpaved side road.
And who knows? While you're on that detour (I like to think of detours as adventures!), you may even discover a new passion or skill set you never even knew you had.
6. "Sometimes, listening to your gut is the only way to differentiate between fear that's keeping you alive  and fear that's preventing you from really living."
One of my three words for 2014 is instinct and a lot of instinct comes from listening to your gut, so I really appreciate Lexi reiterating just how important your gut reactions really are.
Lexi talks about the difference between good fear and bad fear- admittedly, this is something I've really been grappling with lately. It's challenging to figure out the difference between being scared and knowing what you really want, but when in doubt, listen to your gut because it's usually right.
Alexis is like the mentor you've always wanted- that person who supports you in your goals 100 percent and helps you develop a plan to get there. That's exactly what "You Deserve To Love Your Job" does. A must-read for all those seeking inspiration in their careers (and lives).
What are your thoughts on some of the above passages and takeaways? Would love to hear them in the comments!
*Disclosure: Alexis Grant provided me a review copy of this book prior to its release on Amazon. All (gutsy) opinions are my own.