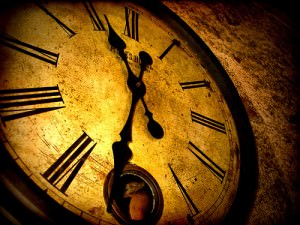 I've always been a fan of Mitch Albom's books (Hello?! The Five People You Meet in Heaven…classic) so when I saw the author appear on Good Morning America in September clutching a giant hourglass, I was intrigued and knew I'd most definitely pick up his latest book, The Time Keeper.
"Try to imagine a life without timekeeping. You probably can't…yet all around you, timekeeping is ignored. Birds are not late. A dog does not check its watch. Deer do not fret over passing birthdays. Man alone measures time."– The Time Keeper
In the Good Morning America interview, Albom talks about how obsessed humans are with the passage of time. He explains that only we could immediately identify with the hourglass he's holding in his hand, but if you were to put that same hourglass in front of an animal, it would have no idea of the object's purpose.
Albom goes on to explain that as humans, we worry that we don't have enough time to do the things we want to do and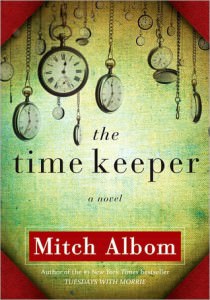 most of all, we worry about time running out. This concept was the inspiration for his latest best-selling novel.
I read this book in one sitting last Sunday, immediately engrossed in the story, but more importantly, fascinated with the greater meaning behind the book.
In The Time Keeper, Albom points out how many phrases and expressions incorporate the word "time." He names a few: pass time, waste time, lose time, a long time, right on time…the list goes on.
His main point is that we all are so obsessed with time and gaining more of it that we don't necessarily focus on how we're spending that time.
I can absolutely relate to this concept. As someone who meticulously plans out my days, sometimes even to the minute, I can 100 percent admit that I'm obsessed with "time." I've written blog posts on making your commute more productive and ways to squeeze in workouts when pressed for time. I'm always thinking about ways that I can maximize the time I do have. I try not to waste time and start my days very early to pack the most into a day that I possibly can. While I love being productive, I'm not afraid to admit that perhaps this isn't the best way to approach life.
People always talk about the illustrious goal of "living in the moment." This is a concept I've always struggled to grasp. It probably has to do with my Type A personality, but I've found that I'm never satisfied in the moment I'm in. Even if I'm happy or in a good place, I'm always striving for the next big goal. Never enjoying the satisfaction of achievement, but continuing to press on, always wanting more.
Maybe I need to slow down. Maybe we all need to slow down. I don't really know what the answer is.
Personally, I know that I want to find a balance. A happy medium between accomplishing goals and feeling productive, but also striving to enjoy each day and each step in the process.
"There was always a quest for more minutes, more hours, faster progress to accomplish more in each day. The simple joy of living between sunrises was gone."-The Time Keeper
Do you find yourself constantly measuring time or are you happy with the way you allow time to affect your life? Please share your thoughts in the comments below!