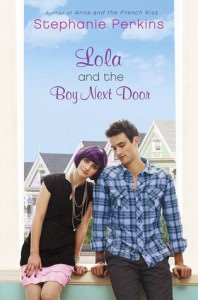 Lola and the Boy Next Door
Author: Stephanie Perkins
Goodreads| Amazon| Author Website
There are just three simple things that Lola Nolan wants in life; for her parents to accept her rocker boyfriend Max, to wear a fabulous homemade Marie Antoinette costume to the school dance, and to never see the Bell twins again. Unfortunately, all three of these wishes are a bit more difficult than Lola anticipates. Lola's parents Nathan and Andy are destined to NEVER like Max, the costume is a nightmare in the making and Cricket and Calliope Bell move back into the house next door. When Lola learns that Cricket is back, she must come to terms with the fact that she is still one hundred percent in love with him…despite everything that happened two years prior.
So I saw about 847423 gazillion positive reviews of this book, and like I was before I read ANNA AND THE FRENCH KISS, I was naturally skeptical. How can so many people adore this book? How can there literally be no critical reviews? But then, I opened the book and fell head over heels in love with LOLA AND THE BOY NEXT DOOR. And then I completely understood. It took me about two weeks to read this book not because I thought it was slow or boring, but because I just didn't want it to end. I wanted it to go on forever, and I was doing anything I could to enjoy a few pages at a time and put it down to come back to later. But alas, eventually I had to finish it (and will definitely be rereading soon).
The premise of this story captured me from page one. The boy next door? Um, yes, can I please have one of those? Some of my favorite scenes in the book took place at the windows of Lola and Cricket with the moon shining down on them. The conversations that took place in the middle of the night between Lola and Cricket moved the story forward and further developed the budding relationship between the two.
Besides the developing relationship between Lola and Cricket, there were so many secondary plots that were extremely well done; Lola and her rocky relationship with Max; Lola dealing with her parents and the return of Norah, Lola's birth mom; the friendship between Anna, St. Clair and Lola, and how they meet Cricket; the strained friendship between Lola and Calliope and how they eventually come to be friends once again. Perkins masterfully writes the romance between Lola and Cricket while also giving Lola and fully developed life with other plots to sort through.
LOLA is an incredible main character. Sparkle is the word that comes to mind when I think about her, both in her looks and her personality. At first, I wasn't sure if I'd like Lola…she is a little more 'out there' than the main characters I normally read, and I thought she might get annoying, but I found my reaction while reading to be completely the opposite. In fact, I found it completely refreshing to get to know Lola BECAUSE of how different she is. Her constant costume and wig changes kept me entertained and allowed me as a reader to truly understand her spunky and confident personality.
Sigh, Cricket. He might possible be my favorite male love interest of all time. From his physical description (Tall! Yes! Gush, Gush, Gush) to his amazingly sweet personality, I couldn't stop thinking about Cricket from page one. And I'll admit that I was definitely a tad bit jealous of Lola in the last 10 pages of the book or so. What I loved about Cricket was that he was just so inexplicably him. He liked science and inventions and wore funny bracelets and had spiky hair, and he was completely comfortable in his skin. He was such a nice guy, and completely supported his sister, another trait that made him extremely sexy.
I absolutely love when authors allow characters from their previous novels to make an appearance in a new novel, but Perkins took it a step further by allowing Anna and Etienne from ANNA AND THE FRENCH KISS to actually be pretty important secondary characters in this book. I would have been happy with a short appearance, but getting to see how Anna and Etienne's relationship had flourished post-high school made me happy. It was fun getting to see Anna and Etienne interact with Lola and Cricket.
I also adored Lola's parents, Nathan and Andy; this is probably the first book I've ever read where the main character was raised by a gay couple, and I truly appreciated the fact that Lola came from a non-traditional household. It added a whole new and interesting dynamic to the book. Plus, Nathan and Andy were such fun characters, and I loved how they truly supported Lola in everything she did from school, to her Marie Antoinette costume, to her crazy wardrobe.
While reading this book, I was transported to San Francisco; Stephanie Perkins is a master at settings. In ANNA, I felt like I was right there in Paris, and in LOLA, I could literally see the hilly streets on San Francisco. Her subtle descriptions of the weather literally made me as a reader feel like I was right there with Lola and Cricket.
Can I just say that I am extremely nervous for whatever book I read next? This book just captured my heart and I cannot stop thinking about it. Stephanie Perkins has done it again! After an amazing debut novel, she managed to absolutely knock this one out of the park (it's playoff season…forgive me for the baseball references). LOLA AND THE BOY NEXT DOOR is a book that is meant to be enjoyed again and again. I hope you'll fall in love with Lola and Cricket, just as I did.
5/5