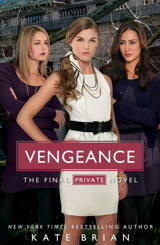 Vengeance
Author: Kate Brian
Goodreads| Amazon| Author Website
*Spoilers ahead if you aren't up to date on the PRIVATE and PRIVILEGE series
After Billings was knocked down, Reed felt like she lost a part of herself. After all, Billings was the place she met Noelle and her other friends, and finally felt like she fit in. Reed sets out to re-build Billings. Newly rich after learning she and Noelle are sisters (and after the murder of Noelle and her father) Reed puts all her energy into re-building the dorm. With the big groundbreaking weekend ahead and hundreds of Billings alumni flying in for the occasion, Reed begins receiving mystery text messages (again) and quickly learns that not everyone is thrilled that Billings is being re-built.
This is it. The final book in the mysterious, chilling PRIVATE series that I've come to grow and love over the past two years. This was one of the first series I reviewed on Cover to Cover, after a recommendation from a book blogging friend. I quickly fell in love with the series and ran out to the bookstore each time a new book came out. While the last few books in the series have been a bit disappointing, I was still looking forward to this final installment.
Unfortunately, Reed grated on my nerves throughout the book. The quiet, nice girl from book one has completely morphed as the books went on into someone pretty unrecognizable, and not in a good way. Reed's shift in popularity and attitude was certainly evident in some of the past books, but in VENGEANCE, I almost didn't want to root for Reed anymore. Plus, I already knew Reed's fate because of a strange chronological mix up…the final book in the PRIVILEGE series came out before this book, and chronologically, the PRIVILEGE series was a few years ahead, and Reed is alive…kind of took all of the suspicion out of reading VENGEANCE.
I'm also not a huge fan of Reed's boyfriend Josh, and unfortunately, he is in this book quite a bit. He was pretty whiny and shady throughout the book, and I found myself wondering what had happened to him. I used to like him a lot when he and Reed first started dating several books back! In this book, I was actually kind of rooting for Reed to date Sawyer.
One of the best parts about VENGEANCE was the fact that Kiran and Taylor return, reuniting the original characters from the very first book (minus crazy Ariana, of course). It was nice to see these two characters return, and they definitely brought back memories of some of the first books in the series.
Remember the whole witch storyline that randomly popped up a few books back? I was not happy that this storyline was completely dismissed in this book. I thought it ended pretty abruptly after it was introduced (probably because it was so random and readers and reviewers were completely thrown through a loop) but in VENGEANCE, it was almost ignored. Even though I wasn't a fan of the storyline to begin with, I was hoping I would get a more definitive conclusion about it in this final book.
Toward the end of this book, I was completely confused at some of the characters who re-entered the picture and tried to kill Reed. After 15 books, we are clearly introduced to many characters and one of the flaws about this is that it's pretty easy to forget who's who and why they hate Reed. Of course I knew Reed would get in trouble and face death once again, but at this point, the plot still felt a bit tired.
My favorite thing about this series and Kate Brian's writing is how intense and scary the books get in just a matter of minutes. Even huddled under the warm blankets of my bed, I felt definite goosebumps and chills as I read. Kate Brian definitely knows how to write a mystery, that's for sure.
Even though I didn't absolutely love a lot of small things about this book, I still enjoyed reading it. It felt a little bit like the end of an era for me. After two years, 15 PRIVATE books and six PRIVILEGE books, I definitely felt a little emotional saying goodbye to Reed, Noelle, Ariana and Billings Academy. I can't wait to see what Kate Brian comes up with next! Hopefully another juicy, mysterious series!
3/5