Today, I'm participating in Waiting on Wednesday, a weekly event hosted by Jill at Breaking The Spine. This event highlights the upcoming releases that we are eagerly awaiting!
Today, I am waiting for…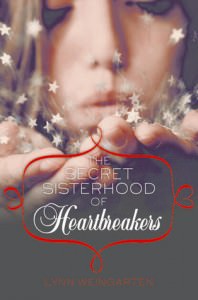 The Secret Sisterhood of Heartbreakers by Lynn Weingarten (Harper Collins Canada on December 27, 2011)
First of all, how cute is this title? This caught my attention alone.
Check out this Goodreads summary:
When her boyfriend breaks up with her on the first day of sophomore year, Lucy has no idea how she's going to make it through homeroom, let alone the rest of her life. Enter three stunning girls with a magical offer Lucy can't refuse. All she has to do is get a guy to fall in love with her in the next seven days, and then…break his heart and collect one of his brokenhearted tears. As the girls teach Lucy how to hook a guy (with the help of a little magic), she quickly discovers how far she is willing to go""and who she is willing to cross""to get what she wants.
I love how this book includes a little magic! Reminds me a bit of my favorite TV show from the 90's Sabrina The Teenage Witch. Plus, the summary of this book said fans of Meg Cabot would enjoy this book. In that case, I'm definitely in!
What are you anxiously waiting for this Wednesday?