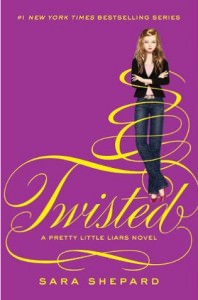 Twisted
Author: Sara Shepard
Goodreads| Amazon| Author Website

A year has gone by since the devastating fire in the Poconos where the mystery of Alison DiLaurentis was finally put to rest.  But a lot can happen in a year. Spencer, Hanna, Aria and Emily are no longer friends, and haven't talked since a trip to Jamaica a year prior. Because something happened in Jamaica. Something bad.  Something that would completely ruin their lives and pale in comparison to their previous grievances if anyone ever found out.
In the meantime, our four liars are trying to move on in their own ways. Spencer has been accepted to Princeton, her dream college. Aria is happily dating Noel Kahn. Emily finds a new friend and takes up swimming again after taking the season off. And Hanna is still dating Mike and her dad is running for senator.
But when the girls begin receiving mysterious text messages from A again, they must come together to face their fears  and own up to their mistakes once and for all.
I have to admit, I was a little skeptical when I heard that one of my favorite authors, Sara Shepard, was writing another book for the Pretty Little Liars series. After all, the supposed final book came out in June 2010. But because I absolutely adored and sat on the edge of my seat for each of the previous Pretty Little Liars books I had read, I knew I had to read TWISTED with an open mind. And boy am I glad that I did.
A is back and better than ever in this latest installment. With a fresh new storyline, new characters, but our same four loveable little liars, this series is back in a big way.
The book seemed to move slowly at first, but I later realized it was slow for an important reason. The main characters had been through a lot in the past year, and the details of what had been going on in their lives was crucial information to move the story forward. Once I realized what was going on, I relaxed and settled in to the back stories.
One of my favorite things about this series is how well Sara Shepard weaves the story together with stories about each individual girl leading up to how each girl's individual situation affects the group, overall. In this book especially, each girl had juicy secrets of her own, and at the end of each chapter, I found myself super excited for the next time it would be that main character's turn to continue her story.  It was a little bit of a tease, but written so well that I couldn't stop reading.
As I mentioned, I was particularly drawn to each individual girl's story in this book. Each situation was so well-developed, even though we of course have four different girls to deal with. Aria's storyline with Noel and his foreign exchange student Klaudia intrigued me to no end. My emotions ran the gamut as Aria dealt with this crazy girl trying to steal her boyfriend. Then there was Spencer and her strange relationship with her soon-to-be stepbrother. Emily's back story is taken to the next level as we learn of a VERY BIG secret she kept all summer. And finally, incriminating photos of Hanna threaten to ruin her dad's senatorial campaign, and she'll do anything to keep herself out of trouble. I loved that each individual story line was left just open enough to make me SO excited for the final book in the series.
Besides enjoying each individual story line, I loved that each girl told the story of what happened in Jamaica from her own perspective throughout the book in flashbacks. The scenes from Jamaica were among my favorites in this book. Introducing a new character, Tabitha, gave the story the jolt it needed to bring back the series. Scenes with Tabitha gave me goosebumps, and I could literally feel myself getting scared, just as the four main characters were. Another sign of how good of a writer Shepard is!
I have one complaint about TWISTED…I am still SO confused by the whole Ali/Courtney storyline. Even after reading, I have no idea who is who, which one is bad, which is good, and even if either of them are good. Throughout the book, the girls would refer to them as Ali, Real Ali, Courtney and Tabitha, so after awhile I stopped trying to figure it out. A bit clearer clarification and reminder from the previous book would have been helpful.
If you're into the TV series of PRETTY LITTLE LIARS (like I am!) you obviously know that the show and books are extremely different. It's interesting because even the character descriptions are totally different, but now as I read, I can't help but picture the actresses from the show.
I adored this book. The texts from A were just as spine-chilling as ever, and the cliffhanger at the end is CRAZY. This book definitely ended with more questions than answers, but hey! There are THREE more books in the series, and the next one is slated to come out in December. Can't wait!
5/5