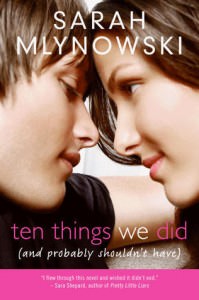 Ten Things We Did (And Probably Shouldn't Have)
Author: Sarah Mlynowski
Goodreads| Amazon| Author Website
When April's dad announces that the family is moving from their home in Connecticut to Ohio, April is shocked. She can't just up and leave school, her friends and her long-term boyfriend Noah in the middle of the year. April begs her dad to allow her to move in with her good friend Vi, and after much convincing (and lying) her dad agrees.
April moves into Vi's house excited to start a new adventure with her friend. Vi's mom is on a cross-country tour of Mary Poppins, so April and Vi have the house to themselves which can only mean one thing; trouble! April quickly adjusts to living independently and from there life gets a little crazy…
I was super excited to finally get my hands on a copy of TEN THINGS WE DID after much anticipation and rave reviews. I thought this would be the perfect book to bring along with me on vacation, and I wasn't disappointed.
My favorite  part of this book is the style in which it's written. Instead of chapter numbers, the chapters are a countdown of the ten things April and her friends did (and shouldn't have). I thought this was a really creative and interesting way to capture a reader's attention at the beginning of a new chapter. Additionally, I'm not familiar with how Mlynowski normally writes books, but I also enjoyed the headlines every few pages or paragraphs or so to introduce a  new idea or to flashback to the past. This writing style kept my attention throughout the book and made it easy to continue turning the pages when each section was broken down into such manageable chunks.
My one problem with TEN THINGS WE DID was that I never truly felt like I connected with April until the end of the book. Throughout the book, I didn't necessarily find her annoying, but I never 100 percent related to her either. I often couldn't sympathize with her problems because I didn't like the way she handled them.
The secondary characters also helped to move the story along quickly. We have the vivacious Vi who April admires (and I found a bit annoying). Even though Vi wasn't my favorite, I appreciated her role in the story; she helped April realize who she could be if she stepped out of her safe bubble. Then we have Marissa whom I really liked. She was the more normal best friend and I could relate to her and April's friendship more so than April and Vi's. Lucy was a creepy, but intriguing character to get to know, as well.
The different boys in the story also helped to keep the plot interesting. I hated Noah from the beginning; something about him was just sketchy to me and I couldn't understand April's obsession with him. Especially as he became more and more of a jerk throughout the book, I kept wishing for April to see through his act. But of course, when we're young and in love for the first time, we never see what's really there, right? The hilarious Dean added a new comedic dimension to the story and I enjoyed getting to know him and seeing his relationship with Vi develop. I was a bit skeptical of sexy Hudson in the beginning of the book, but as he began to play a bigger role in the story, I came to like him just as much as April did.
I was surprised that as fun and cute as this book was that it did dive into deeper topics like sex and sexually transmitted diseases. I definitely wasn't expecting it, but I thought the way Mlynowski approached the topic was very appropriate and responsible. While this book may be aimed at older teens due to the drinking and sex scenes, I appreciated the way the story was told and think that younger teens who read it may even learn a lesson from April and her experiences.
April certainly spun herself into a web of lies. I was completely entertained reading the fake emails April set up for her dad to send to Vi's mom and vice versa. April and Vi were certainly creative in their antics. I did find it a bit hard to believe that April's dad so willingly believed her lies, but I suppose he trusted her, and nothing bad had happened to her so he let it go.
I really enjoyed the ending of the book when April began to struggle with the fact that her mom moved to France without her and that her dad so easily allowed her to remain at home when he moved to Ohio. She knew that her parents loved her, but felt as if they should have fought for her and forced her to come along with them. This part of the book was extremely profound and got me thinking about how of course we have family members through blood, but we also have family in friends. April absolutely discovered this too.
Ultimately, my favorite part of these book is that is is fun. Pure fun. The party scenes and Vi and April's are hilarious, and the antics of two teenage girls living along together in general makes for a funny book. I loved how the book opened after the party scene and then eventually led up to how that night came to be; and believe me, that wasn't a party to be missed! April and Vi had a lot of fun together and it was delightful to experience it with them.
4/5