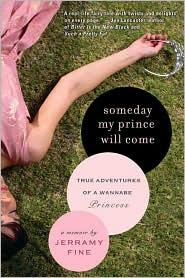 Someday My Prince Will Come (True Adventures of a Wannabe Princess)
Author: Jerramy Fine
Goodreads| Amazon| Author Website
Like most little girls, Jerramy Fine wanted to be a princess when she grew up. But unlike most other girls, Jerramy's longing to become a royal lasted long into adulthood. At the age of six, Jerramy declared that she was going to meet and marry the Queen of England's grandson, Peter. This hilarious memoir tells Jerramy Fine's true story of her journey to become a princess.
Jerramy had an interesting upbringing. The daughter of two hippies, at a young age Jerramy's parents moved the family to the middle of Colorado, where they lived on a farm. Jerramy knew from the time she was little that she didn't belong. She fantasized about how she had been mixed up at birth and that her real family (with royal blood, of course) was back in England just waiting for her to discover the big mistake.
When Jerramy went to college, it's no surprise that she studied abroad in London, bringing her worlds closer to her dream of meeting a royal. But after that wonderful semester abroad and no prince, Jerramy vowed to get back to England, some way, some how. Jerramy finally gets back to England…but will she ever find Prince Peter?
After my obsession with the Royal Wedding in April, I was more than happy to pluck this beauty off my bookshelf. I already loved it based on the title alone. Thank goodness I read past that though because I was about to discover what may make  my list of top 10 books read  in 2011. I absolutely LOVED Someday My Prince Will Come. This book is hilarious. Embarrassing to read in public funny. Jerramy's unique voice and incredible personality won me over from page one.
Now don't write this book off because of the sort of crazy premise of this story. The whole book isn't about Jerramy's goal to find Prince Peter. It's about the adventures along the way. It's about chasing your dreams even when there are a hundred thousand roadblocks standing in your way. It's about ignoring your friends and family telling you how ridiculous you are. It's about the people you meet along the way.
One quote in the book stood out to me so much that I kept coming back to read it again and again:
"Nothing splendid was ever achieved except by those who dared believe that something inside them was superior to circumstance." -Bruce Barton
This quote obviously guided Jerramy to know that she COULD make her dream of moving to England and finding her prince a reality. This quote reminds me that it's OKAY to have crazy, ridiculous dreams. I love it.
As I mentioned, this book was really about Jerramy's experiences in England, the people she met along the way, and the adventures she had. The parts in the book that really kept my attention were when Jerramy meet man after man and endured heartbreak after heartbreak. At the end of the book, she realizes that royalty or not royalty, men are the same. She learns that she has to find her own happiness to create her happily ever after. True love will come after and when she least expects it.
I really enjoyed the history lessons sprinkled throughout the book. During the Royal Wedding, I frantically Googled trying to learn more about the way the English monarchy works…little did I know, I just should have read this book first! It was really interesting to learn about royal lineage told in the lens of this really exciting story.
Besides the interesting history, it was incredible to see England through Jerramy's eyes. Even though I've been to a few different countries in Europe, I didn't have time to make it to London, and reading this book made me regret that decision more than ever. The way Jerramy describes the city that stole her heart makes London sound completely enchanting and beautiful. Plus, those accents. How can one resist?
Jerramy has a new book coming out in October called Bright Young Royals. The book will be a guide to all things modern royalty. Can't wait!
5/5