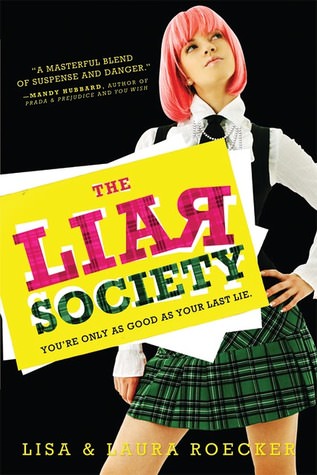 The Liar Society
Authors: Lisa and Laura Roecker
Goodreads| Amazon| Author Website
Kate is devastated when her best friend Grace mysteriously passes away. But after months of wondering what really happened to Grace, Kate isn't willing to accept that what happened to Grace was some kind of accident.  When Kate receives an email from Grace, Kate is shocked. Dead people can't send emails, right?  In the email, Grace tells Kate that she needs to talk to Cameron, Grace's sort of boyfriend. Grace says that he will be able to help.
Now Kate is more sure than ever that someone killed Grace, and she makes it her personal mission to solve the mystery of her best friends death. Along with two trusty sidekicks, Kate dives into an entire world she never knew existed as she tries to finally allow her best friend to rest in peace.
I had been MUCH anticipating this book ever since I discovered Lisa and Laura's blog about 9 months back. Both women are hilarious and I love the fact that they are sisters who write together. Plus, when I heard they wrote a YA mystery with a sassy main character in a private school setting, I knew I'd be hooked. I will admit, I was a bit thrown off when I saw the new cover, but I can't wait to purchase a final copy of the book (I read the ARC) to check out some of the additions about Kate's pink hair.
Readers who are a fan of books that take place in private schools will love this novel. However, readers who don't normally love books about private schools will ALSO enjoy this novel. Kate does go to a private school, and it plays a big part in the story, but Kate still lives at home with her family and this story doesn't delve into the privileged lives of private school kids, like many other books. In fact, in THE LIAR SOCIETY, I was fascinated by the history the Roecker sisters came up with to give Pemberly-Brown a very old school and classic feel. The details were so spot on and in depth, I could definitely imagine the school and its rituals and traditions being completely real.
My only teensy-tiny complaint about THE LIAR SOCIETY was that I thought it started off a bit slow. I wasn't truly hooked until about 80 pages in…however, once I was hooked, my butt didn't leave the couch for another three hours as I devoured the second half of the book. I definitely found most of the action in the latter part of the book, and believe me, it's well worth waiting for.
Throughout the course of the book, I fell in love with Kate as a main character. She had definite sass and was strong and confident, yet still completely likable and relatable. I also admired her drive and her persistence in solving the mystery…even if it meant putting herself into a dangerous situation. Even though Kate was hilarious and had some great one-liners throughout the story, she was definitely more complex than just another funny and strong main character. It was very easy to see the ache in Kate's heart from losing her best friend; readers will be able to see clearly why she is determined to solve this mystery.
Liam, Kate's love interest, and Seth, Kate's dorky neighbor both make excellent secondary characters who add even more humor and heart to the story. And a little romance, of course, though that plot line takes a back seat to the mystery and intrigue.
This book is perfect for mystery lovers of all ages. There were so many twists and turns in the book; every time I thought I had a clue figured out, the plot would go in a completely different direction. THE LIAR SOCIETY definitely kept me on my toes…and flipping the pages. When the book came to an end, I found myself double checking to make sure I hadn't missed any final pages and wondering if there would be a sequel (There will be! Thank goodness).  I am SO excited to see what happens to our lovely heroine Kate next!
And in case you missed it, yesterday THE LIAR SOCIETY authors Lisa and Laura Roecker stopped by Cover to Cover on their blog tour and chatted about how they write collaboratively.
4.5/5
Review copy provided by publisher.