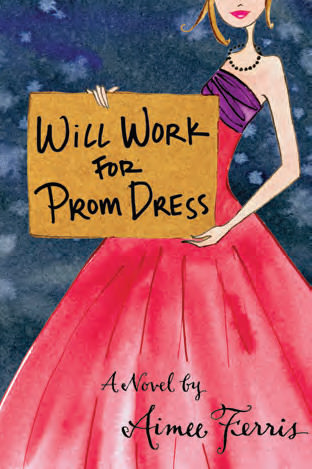 Will Work For Prom Dress
Author: Aimee Ferris
Goodreads| Amazon | Author Website
Quigley Johnson and her best friend Anne are psyched for prom. There's just one tiny problem; Quigley and Anne are both broke. In order to pay for their dream night out, both girls take on several odd jobs to earn enough money to buy that perfect dress. And of course, both are on a mission to find the perfect prom date.
But with a few months to prom, Quigley has bigger problems to worry about. Like where she'll be attending college in the fall. And the misery that her art class rival David has bestowed upon her. When Anne suggests another odd job; being a model for a fashion design course, Quigley half-heartedly goes to the class, not expecting much. And when every single person on the class chooses Anne and not Quigley to model their clothes, Quigley is mortified…until Zander chooses her.
Zander is gorgeous. And nice.  And he understands Quigley so well. Quigley falls hard and fast. But will she get the prom of her dreams?
When I accepted this book for review, I was naturally excited. I thought I'd be in for a treat- WILL WORK FOR PROM DRESS looks completely cute and has an adorable cover. I was right, but I also got so much more. This book has a lot of heart and had me rooting for Quigley until the very end.
I loved reading about the different fun and silly jobs Quigley and Anne took on to pay for prom- frozen pizza toppers, dinner theater murder victim, parade performer and fashion class model. Readers will laugh out loud as Quigley and Anne take on the silliest of jobs. Both characters are hilarious and so perfect for each other. I adored their friendship and kind of wish I had a friend like Quigley or Anne in high school. Probably would have made it a bit more bearable!
I was a little surprised (pleasantly so!) that the book had way more conflict than I had originally thought it might. Quigley finds herself in a love triangle AND in a major fight with her best friend Anne. This book certainly isn't all prom dresses and pretty makeup! Quigley has some major issues to sort through throughout the course of the book.
One of my favorite parts of the book was how art played a major role in several different storylines in the book; Quigley's photograpy, David's art and Zander's fashion design and sketching. I think the role that art played really sets this book apart from all of the other high school prom books. As Quigley's photography developed and improved, so did her maturity. By the end of the book, I felt like Quigley had really learned a lot about herself, and about high school, and how it doesn't last forever.
As far as secondary characters go, I enjoyed Anne's storyline. With her fashion designer mom and mystery celebrity dad, it was fun to see Anne develop into a young woman throughout the book. She started out a little immature and easy to cave in to peer pressure, but truly blossomed throughout the book, as she dealt with meeting her dad for the first time and falling for a new guy.
And of course there's Zander. *Swoon.* Zander isn't the usual male character that I'd find myself attracted to (I don't normally go for the brooding artsy types) but Aimee Ferris definitely converted me after I was finished reading WILL WORK FOR PROM DRESS. I thought Zander was the perfect match for Quigley- artistic and sensitive, but also kind and caring. And again, I was pleasantly surprised when the book delved deeper under the surface of Zander's good looks and charms when we learned about the accident he was in as a teenager.
If you're looking for a very cute and quick read but with a lot of depth and heart, then you will love WILL WORK FOR PROM DRESS. And with prom season just around the corner, what are you waiting for?
And if you haven't checked out the hilarious website for this book featuring different authors' prom photos, definitely check it out.
4.5/5
Review copy provided by publicist.