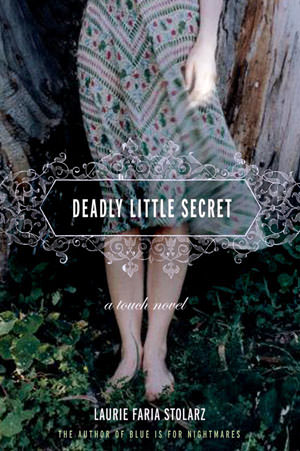 Deadly Little Secret
Author: Laurie Faria Stolarz
Goodreads| Amazon| Author Website
Sixteen year old Camelia had a fairly ordinary life until an unexpected brush with death. When a car came hurtling towards her in the high school parking lot, a mysterious boy pushed her out of the way, saving her life. After the brief moment they shared, he ran away and Camelia wondered if she would ever see him again.
Three months later, a new school year has begun and Camelia sees her mystery man. His name is Ben and rumor has it he transferred to a new school after being accused of being responsible for the death of his ex-girlfriend. The rumors are flying and Ben is immediately ostracized; no one wants to be near him, except for Camelia. For some reason, she is drawn to him and wants to know more about him.
But Ben wants nothing to do with Camelia. Because he has a secret. A secret he wishes he didn't have to keep. By touching Camelia, Ben can see into her future. And he can see danger ahead.
I was a little nervous to read this one because I've heard some mixed reviews, but overall I really enjoyed it. Laurie Faria Stolarz tells a very mysterious and intriguing story- one of that will keep you on the edge of your seat until you know Camelia is safe again. And as a bonus, because you'll be on the edge of your seat (especially in the second half of the book) it's a very quick read. I finished it in a matter of hours.
One thing I had a problem with throughout the book was that I didn't feel a connection to some of the secondary characters like Camelia's best friend Kimmie and Wes. I could understand Kimmie's role in the story, but Wes seemed kind of random to me. He didn't really add anything to the story and his role didn't push the plot along. Normally, secondary characters make the book for me, but in this case, I was more interested in Camelia and Ben, and didn't feel that those minor characters helped the plot.
The whole time I was reading the book I had this nagging feeling that I've read something like this before, and after awhile it hit me, TWILIGHT! There are certainly a few similarities (girl almost gets hit by car, mysterious boy saves her, girl is inexplicably attracted to boy, boy wants nothing to do with her, etc.) but I definitely think that DEADLY LITTLE SECRET holds it's own, especially when the whole psychometry storyline is introduced.
Psychometry, the act of being able to read an object/person by touching it/them plays an important role in the story. I've never previously heard of this, but apparently it's "real" and there are people who believe in it. Real or not, I thought it was a very cool and unique way to tell a story, and it added a whole new dimension to the plot. I know the next book in this series focuses a lot more on psychometry, so I'm definitely excited to learn more.
One of my favorite parts of the book was reading the stalkers journal entries. Every few chapters, readers were made privy to the stalkers innermost thoughts about Camelia and his plans for her. The journal entries definitely brought the book to an even creepier level, and kept me turning the pages. I was completely blown away by who Camelia's stalker was; I never saw it coming. The author did a fabulous job introducing enough slightly creepy characters that I was totally thrown off when I learned who the stalker really was. Throughout the book, Stolarz had me guessing- and I was way wrong!
While I had some issues with the book, overall, I was completely engrossed in it while reading and I am looking forward to getting my hands on a copy of its sequel, DEADLY LITTLE LIES!
3.5/5