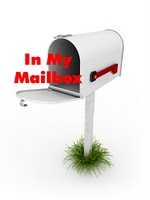 *Today is the very LAST day for my giveaway! I'm giving away two copies of Great Gals: Inspired Ideas For Living a Kick-Ass Life by Summer Pierre. Click here to enter.*
In My Mailbox, started by Kristi from The Story Siren is an awesome weekly meme to post what books we've received this week; whether it was sent for review by a publisher, purchased at a book store, borrowed from the library, or won from a giveaway.
This week, all my books are from my local library. I've decided I'd like to try to branch out in the types of books I read- I want to give some other types of books a try…this week I have a middle grade book (because I think I might want to write MG at some point) and a fantasy. Never thought I'd see the day where I'd give these a try, but both of these books came HIGHLY recommended, so it doesn't hurt, right?
Before I Fall by Lauren Oliver: This book has been raved and raved about and I finally have a copy in my hands to find out what everyone loves so much about this book. I can't wait!
Deception by Lee Nichols: Lea from YA Book Queen wrote in her review of this book that Kate Brian fans will love this. I'm certainly a Kate Brian fan, so I can't wait to check this out.
The Secret Language of Girls byFrances O'Roark Dowell: How cute is this cover? This book will be my first foray into middle grade since I was a middle grader myself! Thanks to From The Mixed Up Files for bringing this one to my attention.
What's in your mailbox today?