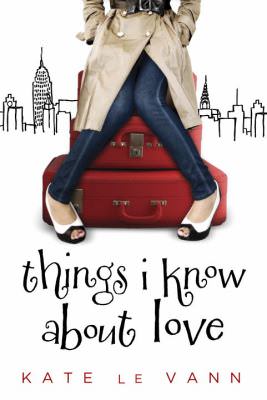 Things I Know About Love
Author: Kate Le Vann
ISBN: 9781606840788
*Spoilers ahead.
Things I Know About Love tells the story of Livia Stowe, a seventeen year old British girl who is traveling to the United States to visit her brother who is a student at Princeton University in New Jersey. Livia is super excited to see her brother, who she is extremely close to. She is also excited to take this  trip on her own, especially after fighting and winning leukemia a year prior.
Livia begins a blog about her American adventures. When she arrives in the United States, she is quickly greeted by her brother and becomes wrapped in his world, becoming fast friends with his friends and reacquainting herself with Adam, her brothers best friend, whom she had met a year earlier. Livia knows there is something special about Adam, and she finds herself falling fast. The good news? Adam is falling for her too. They begin a relationship and Adam takes Livia to New York City, so she can experience the big apple and all of its tourist attractions. When they arrive in NYC, Livia begins to feel sick and passes out. She is rushed to the hospital, where she dies a day later.
Did my review feel a little abrupt to you? That's because this book unfortunately felt extremely abrupt to me.
First let me tell you what I liked about this book. Because there was a lot that I liked, and I truly enjoyed this book until the last few pages. I loved that this book was written in blog form. I thought it was super fun and obviously since I blog, I enjoyed it. It's also really modern and I think it's a fun way to tell a story, especially because it allowed us to put ourselves right in Livia's head.
I thought Livia was adorable and I enjoyed reading about her past experiences with guys (and the subsequent lessons she learned about love) though I wish we could have learned even more. I also liked how quickly this book moved;  Livia was only in the states for two weeks, so it's natural that the book would be fast-paced.
Now let me tell you what I think could have been improved.
This is obviously the authors creative decision, but I was legitimately upset when Livia died. I actually put the book down and couldn't read the last few pages until I was finished fuming. I didn't understand this choice. Over the course of the book, we grew to love Livia and root for her. She had finally finished fighting her cancer (and while I'm 100 percent aware that recurrences happen) I just didn't see it coming in this book. Even though I personally didn't see it coming and I personally didn't agree with this choice, I realize that these aren't my decisions to make. However, I didn't appreciate how Livia died and then the book abruptly ended. I needed a bit more closure than the three pages the author gave us.
I also would have liked to see Livia and Adam's relationship develop a bit more. Again, their relationship felt abrupt to me. They were "in love" after just a week; not very realistic.
I guess my major problem with the book was its abruptness. The book is actually VERY short, so I wonder why the author didn't choose to make it longer to develop some of these plot holes. I think the book could have been much stronger if we had seen relationships and plots develop more and earlier in the book. If I had felt closer to the story and the characters, I think I would have been more open an unexpected ending, like the one we got. In this case, I felt like I had just started getting to know Livia before she was quickly taken away from the reader.
This is definitely a quick read and for the most part,  it is very cute and all it promised from its summaries and descriptions. If you want to see the USA from the viewpoint of an adorable British girl, definitely give this book a try. Just be prepared with a box of tissues!
2/5