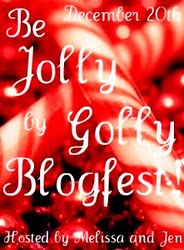 With Christmas just a few days away (Where did December go?!), I decided to take a break from my usual book chat here at Cover to Cover to share with you how my family is preparing for the holiday. Today, in honor of Jen and Melissa's awesome blogfest Be Jolly By Golly, I'm excited to show you what my house looks like right now, all decked out for Christmas.
Christmas is a BIG. DEAL. in the Lawlor household. Traditions are upheld, year after year, and it wouldn't be Christmas without shopping galore, a shiny tree, Hallmark Christmas movies and my dad's famous cookies. But perhaps the biggest staple of Christmas in my house, is the massive amount of decorations my mom has acquired over the years. Every room in our house is decked out for the holiday. Don't believe me? Check it out below!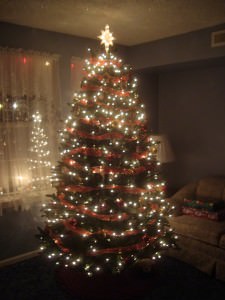 Beautiful Christmas tree. This year, all of the balls on the tree were gold and red. Very classy.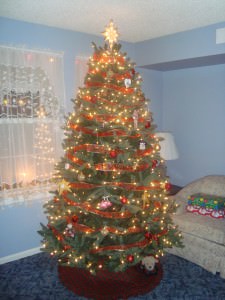 Christmas tree with the flash on…easier to see some of the cute ornaments now.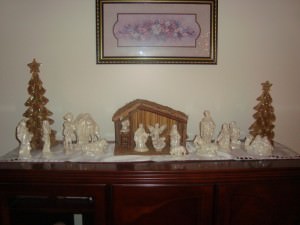 My mom's Nativity that she made in ceramics class a few years before I was born. Still looks awesome!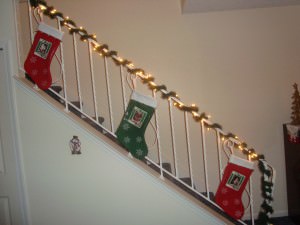 The stocking were hung by the chimney umm…staircase with care…The stockings each have a photo of me, my brother and sister when we were little on Santa's lap. I'm at the very tippy top.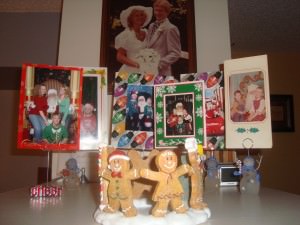 Photos of my siblings and I sitting on Santa's lap from years past. The one of the very left is actually from last year. My mom begged and begged and told us all she wanted for Christmas was a photo of her grown children sitting on Santa's lap.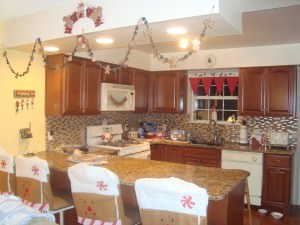 The gingerbread themed kitchen. Super cute.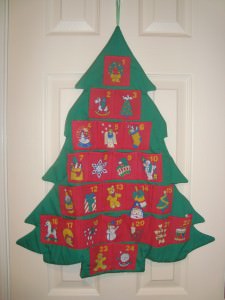 Countdown to Christmas! When I was little, my siblings and I always argued over who got to move Santa to the next day.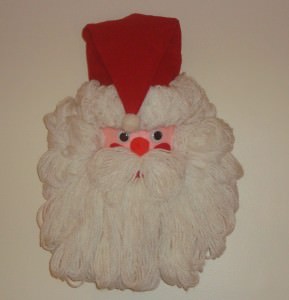 This guy watches over our living room.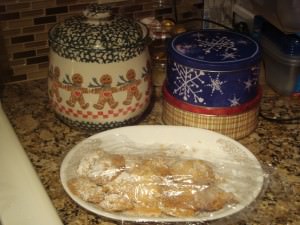 Cookies! In those jars are: butter cookies, potato chip cookies and snickerdoodles (see recipe for these below!)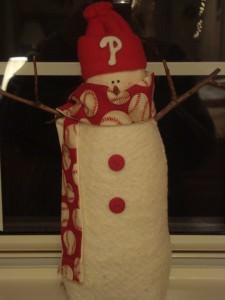 Phillies pride, always!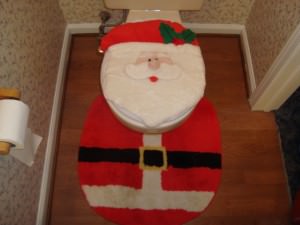 Even our bathroom is decked out!
And now, I'll share with you my absolute favorite cookie recipe on earth…sorry no photos! I made some the other night and they are almost all gone! Quite popular in my house.
Snickerdoodles (from an ancient Pampered Chef recipe my mom had, with some adjustments made by me)
1 3/4 cups of all purpose flour
1 teaspoon cream of tartar
1/2 teaspoon of baking soda
1/8 teaspoon of salt
1/2 cup of butter, softened
1 cup of sugar
1 egg
1 teaspoon vanilla
Also have some cinnamon and extra sugar on hand
1. Preheat oven to 375 degrees F. Combine flour, cream of tartar, baking soda, and salt in a small bowl. Mix well and set aside. In a bigger bowl, mix butter and 1 cup of sugar until well blended and creamy. Stir in egg and vanilla. Add flour mixture, stirring until soft dough forms. Do not refrigerate.
2. Roll mixture into balls. Place cinnamon and sugar in a small bowl and roll balls of dough into the cinnamon and sugar mixture.
3. Bake 9-11 minutes or until cookies are set.
*Makes about 3 dozen cookies*
Be sure to check out the other participants of the Be Jolly By Golly blogfest here.
How do you celebrate the holidays? Any special traditions? Share in the comments below!