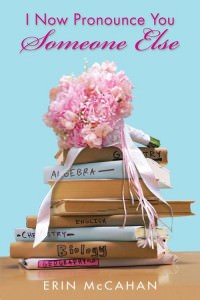 I Now Pronounce You Someone Else
Author: Erin McCahan
ISBN: 9780545088183
*Scroll to the bottom to enter for a chance to win this awesome book for yourself!

I Now Pronounce You Someone Else by Erin McCahan tells the story of Bronwen Oliver, a high school senior who just doesn't fit into her own family. In fact, she's convinced that she is really Phoebe Lilywhite, because her family just doesn't understand her.
Bronwen's dad died when she was young and her mom and brother were never the same after. Her mom re-married and although Bronwen likes her stepfather, it isn't the same as having a real father.
During the beginning of her senior year, Bronwen meets Jared Sondervan, a college senior. She quickly falls head over heels and the best part is? He is completely in love with her too. Jared has the family that Bronwen has always yearned for. When Jared proposes to her, she gleefully accepts. In a flurry of wedding planning, college applications and graduating high school, Bronwen forgets to slow down to think about the choices she is making. When it all finally hits her, she wonders if she is making the biggest mistake of her life.
I am kicking myself for waiting so long to read this one, especially since I've had it for a few weeks now!
First off, let's take a look at the cover. I'm a sucker for a good cover, and this one is awesome. I love that the cover really gives you the gist of what the story is actually about; a girl who is in high school and is juggling all of her classes, but is also getting married and trying to plan a wedding.
Bronwen is definitely a likable character. While I couldn't personally relate to her, I wanted to be her friend. I wanted to hear her story and lend a sympathetic ear. I wanted to laugh and jump for joy with her and I wanted to hug her and cry with her. Bronwen goes through a gammut of emotions throughout the book and each emotion is so real and your heart wrenches with her and for her.
The story itself starts off a little slow. You learn from reading the summary of the story that Jared is going to propose to Bronwen so my only frustration was with that it took more than 70 pages into the book to finally see Jared propose. Once the story picks up though, it keeps going and going and you won't want to put the book down until you're finished.
I found myself falling in love with Jared right there along with Bronwen. Do guys as amazing as him truly exist? I don't know, but if you do know, point me to where I can sign up for one. Jared is the guy that every girl wishes and dreams for. He is handsome, caring and kind. He wants to know every single little thing about Bronwen; the funny, the silly, the sad, the serious. I enjoyed watching their relationship develop as Bronwen eventually opened herself up to him and let him completely in.
The minor characters truly make this book. Bronwen's relationship with her mother is strained, but I loved watching her interact with her stepfather Whit. I also enjoyed the interaction between Bronwen and Jared's family. Author Erin McCahan does a wonderful job developing relationships with several minor characters, all the while keeping the story focused in on Bronwen and her central relationship with Jared.
My most favorite aspect of this book was the way it made me feel. Just as Bronwen went through a range of emotions, so did I. I felt my heart break and then I felt it slowly being mended back together again. That's how you know good writing; when the author truly makes you feel as if you are a part of the story, not merely an observer.
I loved this book so much that I am going to give my copy away so that someone else can read and enjoy it. Stay tuned for an interview with Erin McCahan and enter the giveaway below!
4.5/5