*Don't forget to check out my giveaway! I'm giving away my copy of I Now Pronounce You Someone Else by Erin McCahan. Click here to enter!*
Today, I'm participating in Waiting on Wednesday, a weekly event hosted by Jill at Breaking The Spine. This event highlights the upcoming releases that we are eagerly awaiting!
Today, I am waiting for…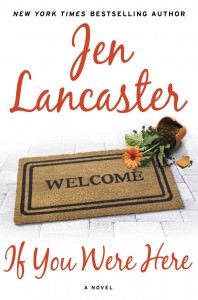 If You Were Here by Jen Lancaster (May 2011)
The only teaser we get about this one is from Jen Lancaster's blog. She writes:
"I'm unveiling the cover of my first novel, coming May 2011."
First novel?! All of her previous books were memoirs, so it looks like we'll finally get to read some fiction from the hilarious and fabulous Jen Lancaster. I love Jen's memoirs though I think I'm behind one or two. I have one on my shelf that I definitely need to get around to reading soon.
I absolutely love the title and the cover. It actually looks kind of heartbreaking and combined with the title, it seems like we'll be in for some really dramatic and emotional stuff…very different from Jen's usual. Could be super interesting!
What are you anxiously waiting for this Wednesday?