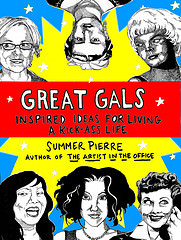 Great Gals: Inspired Ideas For Living A Kick-Ass Life
Author: Summer Pierre
ISBN: 9780399536243
*Scroll to the bottom to enter for a chance to win this awesome book for yourself!
Great Gals: Inspired Ideas For Living A Kick-Ass Life by Summer Pierre is the modern woman's guide to living your best life. Unlike most self-help type books, this workbook of sorts is different. Instead of dispensing wise words and advice, it gives YOU the opportunity to reflect on your own life, while admiring women from all over the world and their accomplishments.
Summer Pierre's drawings truly make this book special. Alongside stories of women like Margaret Cho, Betsey Johnson, Frida Kahlo, Amy Sedaris and more, Pierre provides plenty of space for reflecting, doodling and writing. She provides prompts and questions to get you thinking about how you can learn more about yourself and start living the life you've always dreamed of.
I love that this book doesn't provide advice and anecdotes in a typical self-help book way. I love that Pierre is simply the mediator between yourself and the page. YOU are truly the author of this book because this book should be filled with your thoughts and ideas by the time you get finished with it.
Take a look inside…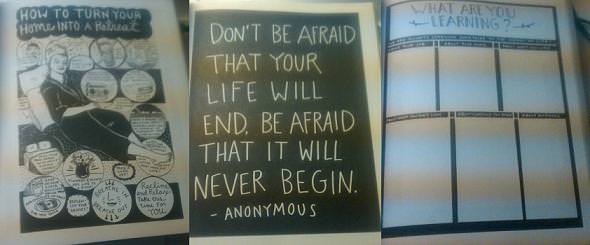 Pretty cool, right?
This book definitely doesn't need to be read in one sitting, or even in the same week. In fact, I think this book is best served sitting on your bedside or on your desk, to be picked up whenever you need a tiny dose of inspiration.
And thanks to the generosity of Penguin who sent me this book for review, I can give away two copies of this awesome book, so that you can start living your best life now, too! Enter the form below to enter the giveaway (bonus points for being a follower of my blog and spreading the word about this giveaway!)
5/5