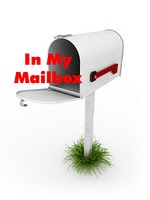 *Don't forget to check out my giveaway! I'm giving away two copies of Great Gals: Inspired Ideas For Living a Kick-Ass Life by Summer Pierre. Click here to enter.*

In My Mailbox, started by Kristi from The Story Siren is an awesome weekly meme to post what books we've received this week; whether it was sent for review by a publisher, purchased at a book store, borrowed from the library, or won from a giveaway.
I hope everyone had a fun thanksgiving, full of yummy food, family and of course, some quality time with your books!
This week was awesome because both of the books I received actually came to my mailbox! Usually, I buy a few or head to the library, but this week, I received two exciting packages.
Audrey Wait by Robin Benway: When my friend Jessica emailed me and asked me if I'd like a signed copy of this book because she had an extra, I was ecstatic. This seems like a super cute YA novel.
Mostly Good Girls by Leila Sales: I won this book from The Book Scout and I couldn't have been more excited when I found out I was the winner. This has been on my TBR list for awhile- and I'm sure it's quite obvious why. The cover and the title are fantastic!
What's in your mailbox today?