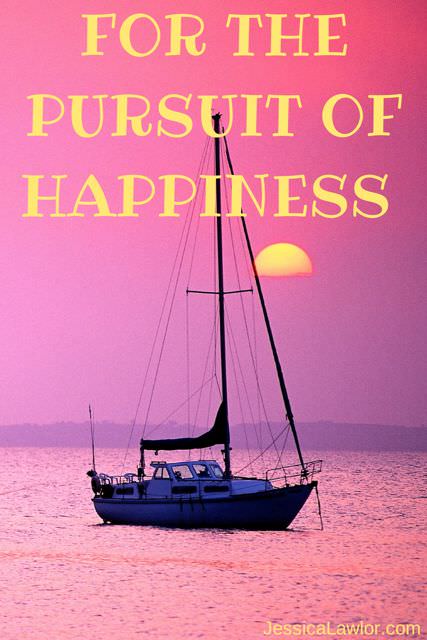 In June I went on a cruise with my mom and sister to celebrate Jamie's college graduation.
If you've never been on a cruise before, you may not know that you're often assigned a seat in the dining room with complete strangers to fill up an entire table.
My tiny party of three was assigned to a table with a family of five from a small town in the South and two ladies traveling together from Texas. I was absolutely fascinated by one of the women at the table.
Stunningly beautiful, well-traveled and clearly smart and savvy, this woman, Kim, had upended her small-town life a couple of years prior and moved to St. Thomas, part of the beautiful U.S. Virgin Islands.
Immediately wanting to know her entire life story, I began peppering her with questions, starting with:
What made you move to St. Thomas?
Her answer surprised me.
Without missing a beat, she smiled and said, "For the pursuit of happiness."
I was completely taken aback.
Here I was waiting for an entire story…an "Oh, I found a new job in St. Thomas" or "I moved to be closer to my boyfriend" or some other seemingly "logical" reason.
But her simply stated answer was perfect.
No elaborate backstory needed.
Kim had made a massive change in her life simply to find happiness.
(Now, obviously I know there's likely more to the story that Kim didn't share with our 10-table dinner table, but I'm sticking with the fairytale inspiring version of this story, because it's more about her attitude and less about her reasons)
When was the last time you made a big decision or did something simply to be…happy?
I definitely don't do it enough, but Kim's answer to my question certainly made me think more about how I can continue to pursue happiness without needing a logical explanation or elaborate reasoning for my decisions and actions.
Because really, you don't need to explain yourself or your decisions to anyone. At the end of the day, you need to make the decisions that are right for you…and if they lead you toward happiness? Well, that's a beautiful thing.
I'm looking forward to the day someone asks me why I did something or why I made a certain decision and I'll simply smile and say, "I did it for the pursuit of happiness."
How can you "pursue happiness" more in your every day life, through both small and large decisions? Share your thoughts in the comments below.