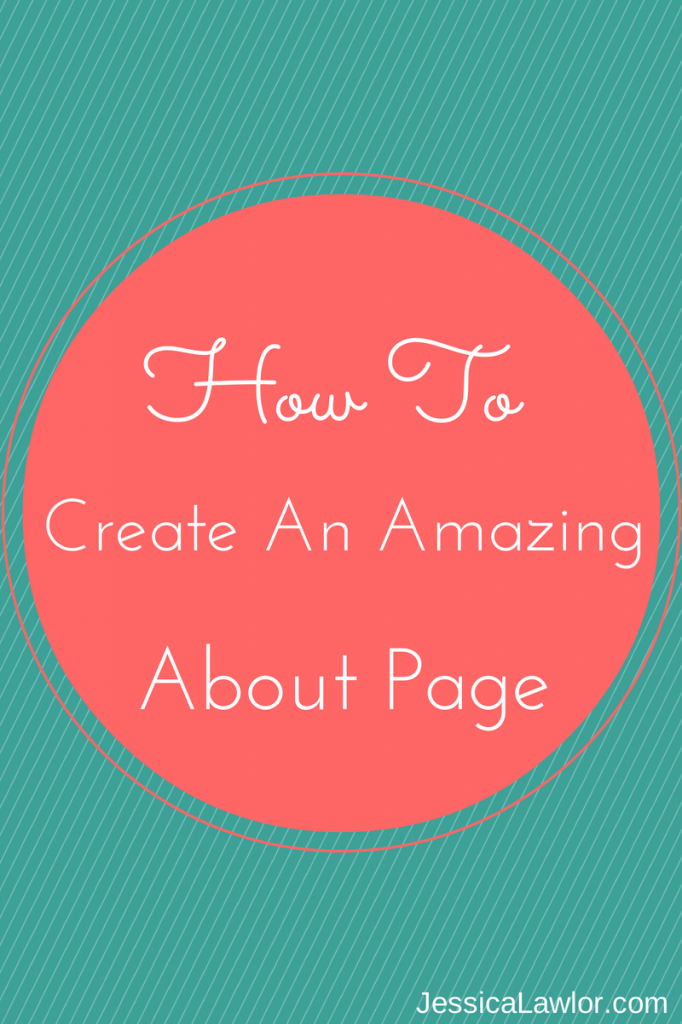 One of the dreaded tasks on my blogging to-do list for the past year has been a complete overhaul of my blog's About Page.
The About Page (or aptly-named Meet Jessica page on my site) is the most critical page a blogger will write. It's one of the first pages readers typically click to when they land on your site to decide if you're someone they want to keep reading. In my case, I have an About page and an About The Blog (Get Gutsy) page to familiarize new people with both myself and the blog.
When I looked at my Google Analytics, I discovered that my Meet Jessica page is the fifth most popular page on my website. The Get Gutsy page is the 10th most popular. With both of these pages being in the top 10 most viewed pages on my website, I knew I needed to update them to paint a more accurate picture of who I am and what the Get Gutsy community is all about.
After all, I hadn't updated either of these pages since I re-launched this blog in October 2012 (YIKES!). They were both sorely out-of-date.
I spent an entire weekend overhauling the pages.
Then, I decided to try something different.
I reached out to about 20 friends, mentors and members of the Get Gutsy community for their feedback. I asked them to be brutally honest and share their thoughts and ideas about the pages.
What happened amazed me.
Read on to see how I crowdsourced my community to help revamp the copy for my site…and be sure to check out my nine tips for creating an amazing about page.
What Changed?
I set out to update my "Meet Jessica" page, but ended up doing a complete overhaul of almost every page on my site. Here's a rundown of what changed:
Meet Jessica: I completely rewrote the Meet Jessica page.
Get Gutsy: I edited the Get Gutsy page to be more about the community…or what I'm now calling the "Get Gutsy Movement." I also am using this page to introduce new readers to some of my most popular/useful content.
Praise: I've toyed around with creating a Praise page for some time to showcase some of the wonderful testimonials/recommendations I've received. I'm super excited about this page and that all-important third party endorsement from members of the community.
Work With Me: I'm getting super clear about the services I offer and made a ton of changes to this page. I actually ended up removing a couple of services (PR and social media) and added new ones (blog management, personal branding bootcamp sessions) since my services and offerings have changed as I grow in my freelance career. I also updated this page by adding client testimonials to vouch for my freelance work/services.
Feedback I Accepted and Implemented
-Amy Chick reminded me that the About page really isn't about ME- it's about the reader and what the reader will get out of my blog. She encouraged me to reorder the flow of the "Meet Jessica" page by starting off with what the person reading my blog will get out of it…and then sharing my personal story.
-On the Meet Jessica page, genius copywriter Sara Frandina pointed out something really important- she reminded me that I hadn't shared MY own Get Gutsy story. I explain what the community is all about and who should be a part of it, but I didn't explain why I decided to get gutsy. I've since added a paragraph about that and think it makes the entire page stronger and more personable.
-Most people really liked that I incorporated newsletter opt-in boxes throughout many of the pages. However, I really appreciated the suggestion from Ashley Brooks to reword the copy around the newsletter to be more of an invitation, not a command. Previously, I had included language like "you'll want to sign up" and have since changed it to be more of an invitation to join the Get Gutsy movement and community.
-A couple of different people pointed out that there was absolutely no reason that I should be linking to the Merriam-Webster dictionary definition of the word "gutsy" on the Get Gutsy page. To me, this was a huge DUH moment. Why send people away from my site…to a boring dictionary definition, no less?
-My friend Janelle Foltz pointed out that the "10 things you should know about me" section of the Meet Jessica page was super fun, but not very visual. Several of the items lend themselves well to photos, so per her suggestion, I've added two photos to make the page more appealing.
-On the Praise page, I included testimonials from members of the Get Gutsy community, but hadn't included any client testimonials for my freelance services. Several people who reviewed the pages pointed this out. Another *palm hits head* moment. If a potential client landed on my blog, naturally they would gravitate to the Praise page. It only makes sense to include client testimonials there AND on the Work With Me page.
Feedback I Didn't Implement
-A couple of people didn't think the photo I selected for the Meet Jessica page was the best choice. I personally love that photo, so I made the executive decision to keep it- perhaps I'll change it in the future, but for now, I like it. Similarly, people asked for me to share more photos of me doing "gutsy" things like trapeze lessons or yoga- I did add a few pictures in, but for the most part wanted to drive home the point that getting gutsy doesn't have to be some kind of adventurous or physical action. It's way deeper than that.
-Several people loved the idea of including a list of my most popular posts on the Get Gutsy page, but thought I should narrow down the number of posts selected. A few people said the list looked daunting and overwhelming. Perhaps I'll change this down the line, but for now, I know I personally skim through pages like this on other blogger's sites and only click the links that interest me most. I'm not scared off by a large list- in fact, it makes me even more excited to get to know a new blogger and dive into their content.
-One person out of the 20 or so had concerns about the Praise page. They thought it was a little "me, me, me." I didn't agree with this feedback, as I know testimonials are super important to show that other people vouch for your work and content. My major goals for this blog include inspiring and creating a community through my Get Gutsy message AND to showcase my work to potential freelance clients. I feel that the Praise page helps me achieve both of those goals.
Tips to Create An Amazing About Page
1. The About Page really isn't about you. As I mentioned above, the About Page isn't really about you. Yes, of course you'll introduce yourself, but the real goal is to let your readers know what's in it for them. This is your first impression. Make it memorable.
2. Use bullets and headings. Similar to blog post best practices, break up your page using bullets, bolded headings and photos. Most people are turned off by large blocks of text. Especially on your About Page, you want to reel the reader in and keep them on your site.
3. Share your story. Thanks to Sara's awesome suggestion, I've now incorporated a bit of my personal Get Gutsy story into the About page. This lets readers know exactly who I am and WHY I put so much time and effort into this blog and community.
4. Make it fun. Your About Page doesn't have to be boring. I got the idea to include the "Things You Should Know About Me" section from Amy Lynn Andrew's site where she lists 67 random facts about herself. I thought the list was super fun and a way to get to know the quirks and personality of the blogger behind the page a bit more.
5. Include a newsletter opt-in or other call to action. If you have a newsletter, your About Page is the perfect place to encourage a new reader to get more involved in your community by joining your list. I chose to include multiple opt-ins throughout the various pages to try to catch people while they are in the middle of reading the page or if they make it all the way to the end.
6. Seek feedback from members of your community. This was the most critical part of the entire process. I knew my pages would be way stronger if I asked members of the Get Gutsy community for THEIR feedback. After all, they know the brand just as well, if not better, than I do (because really, they are the people shaping and supporting it!). I chose to ask around 20 people for their input and received responses from around 12- I felt that was a small enough sampling of my audience to get a strong feel for the general consensus, but also wasn't SO many opinions that I couldn't cull through them to make decisions. Also, be sure to choose a wide variety of people- the folks I asked to review my pages are a mix of other bloggers I admire, copywriters, loyal Get Gutsy readers and friends.
7. Incorporate feedback, but ultimately, make your own executive decisions. Asking for feedback is great. Incorporating smart feedback is awesome. But ultimately, this is your blog and you get the final say. As I mentioned above, there were several suggestions I did not implement because they didn't resonate with me. Be confident in your own decisions.
8. Include your readers in the copy. Since the Get Gutsy blog is a super supportive and engaged community, it didn't feel right to not include THEIR words about what getting gutsy means. I sent a call out to my newsletter subscribers and asked for them to define getting gutsy. A few of those responses now live on the Get Gutsy page. Think about how you can include your readers in your website's copy and About Page.
9. Just because you finish updating your blog's About Page doesn't mean your job is over. These pages are meant to be living, breathing documents. Continue to review and update them often as your goals and content shift and change. I will *never* let my pages get as out of date as they were when I started this process.
Thank you to the following amazing people who helped me reshape the content on this site: Ashley Brooks, Caroline Winn, Ron Vitale, Dana Sitar, Amy Chick, Cristina Roman, Betsy Mikel, Sara Frandina, Janelle Foltz, Stephany Reihing, Brooke Traister and Jessica Malnik.
More About Page Resources
Here are some the blog posts/resources that helped me in the revamping of my own About Page:
-Alexandra Franzen's "5 Cheat-a-licious tricks to finish your "About Me" Page already"
-Amy Lynn Andrew's "How To Write A Killer About Page"
-Ask Pat's podcast episode on creating an About Page.
-Copyblogger's "Are you making these 7 mistakes with your About Page?"
-Michael Hyatt's "10 ways to create a better About Page for your blog"
Have other tips for creating an amazing About Page? Oh! I'd also LOVE your thoughts and feedback on the new pages. Share them in the comments below.
Want more gutsy content delivered straight to your inbox twice a month? Be sure to sign up for my FREE #GetGutsy e-newsletter filled with inspiration, ideas and action items to get out of your comfort zone.