As many of you know, Muck Rack was my first-ever client, and I'm coming up on a big milestone with the company: I've spearheaded 100 case studies over the past five years.
Back in 2016, Muck Rack, the leading Public Relations Management (PRM) software, had a couple of case studies on hand, which served as crucial sales vehicles.
Although those case studies were useful, they weren't enough. The sales team often approached the marketing team to see if they had any clients in X industry or Y niche or from a Z-sized company. That's because prospective clients wanted to talk to similar customers to get a feel for how they're using Muck Rack to hit their PR goals.
Enter: JL&Co. My goal for the past five-plus years has been to help Muck Rack build a robust library of case studies ranging from big companies like Taco Bell and Verizon to PR agencies, hospitals, universities and more.
What is a case study?
Case studies, or customer stories, are basically success stories, so potential clients or customers can see how a product or service works "in the wild."
Case studies give you the chance to tap into your brand's super fans and ask them to share with the world why they love working with you, your product or your service.
Case studies are an important part of the content puzzle — and they can be used in a number of ways:
Sales rep sends a case study directly to a prospect
Available for download on your website
Placed in an email marketing funnel
Video testimonial
Social media content
Blog content
And for a writer or content creator who knows what they're doing, conducting case study interviews and writing case studies for your clients can also be quite lucrative.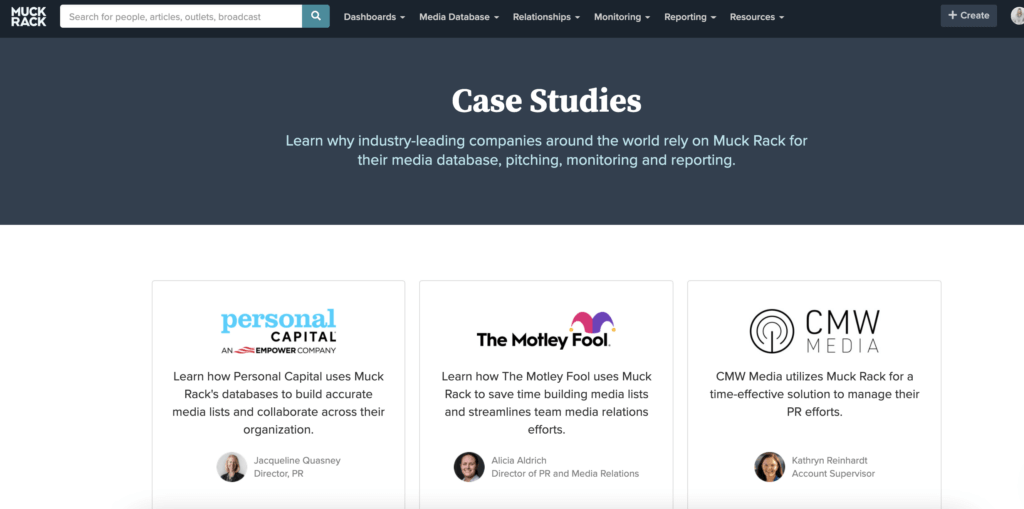 Writing a case study: A step-by-step process
I've learned a lot through this experience building a case study program from the ground up, so I wanted to share my step-by-step process, plus some big takeaways that could make writing case studies a whole lot easier for you.
Step 1: Identify your subject
When it comes to identifying who should be featured in a case study, I lean on my client's sales and customer success teams. Both of these teams work directly with customers, so they can identity:
What type of case study could benefit them (e.g. a large PR agency wants to see how other large agencies use Muck Rack), and
Companies that use Muck Rack to achieve — and exceed — their unique PR goals
We use a spreadsheet to track what case studies we've done. These are broken into categories ranging from specific features companies use to industry and company size.
Step 2: Prepare for the interview
Preparing for the interview is key!
After I schedule the interview, I send the customer about 10 questions via email. This gives them time to think about specific examples and success stories they can highlight in the interview.
I don't recommend more than about 10 questions because you don't want to overwhelm the interview subject — you can always ask follow-up questions along the way.
A few examples of questions I ask include:
How did you track your team's journalist relationship history and contact information before using Muck Rack?
What types of goals or tasks are you using Muck Rack to accomplish?
What would your job be like if you didn't have Muck Rack?
My overall goal in the interview is to understand how Muck Rack has improved the team's performance, collecting specific examples of how they use features along the way. I also keep the questions open-ended, which gives me some really good soundbites I can highlight.
Step 3: Interview time!
Before Zoom became a thing, I conducted these interviews over the phone and took shorthand notes. Let me tell you: This was a huge mistake.
As soon as Zoom became popular, I made the switch. I could easily record my conversations, which allowed me to more actively listen and ask strong follow-up questions. Not to mention, I could nail exact quotes.
Before you start your interview, be sure to ask your subject for permission to record for transcription purposes. I've never had anyone say "no" — it's just a nice courtesy.
Here are a few other tips to keep in mind as you dive into the interview:
Save room for silence. Sure, it can be a little awkward, but if a customer gives a short answer, I'll wait a beat before jumping over to the next question. They may be thinking or something might come to mind they hadn't yet considered.
Ask follow-up questions. You don't have to stick to the script of questions you provided the client. If you want more details, ask follow-up questions and let the interview wander a little. I always try to ask questions that'll give me specific numbers. For example, if they say Muck Rack saves them time, I'd ask: How much time do you think you've saved each week? When you go to write your case study, this will show the value of your product or service.
Always ask this final question: "Is there anything I haven't asked that you think would be important to include?" Usually, this question prompts the client to say something really nice about Muck Rack. These are usually the best sound bites.
Finally, once your interview is over, I strongly recommend transcribing it. You can save a lot of time using a transcription service like Otter.ai. It costs me about $100 a year, but in my opinion, it's totally worth it.
Step 4: Outline your case study
I've developed two templates Muck Rack uses for case studies. It took a bit of finagling to get these super solid, but now that we have them, it saves us a lot of time.
The first format highlights major Muck Rack features and shows how the company or person uses these features. We then cap the case study off with a fast questions section. The Motley Fool case study is a good example of this formatting.
The second format highlights life before and after Muck Rack, and we wrap it up with fast questions. The Personal Capital case study is a solid example of this format.
It's worth noting a case study doesn't have to be a 10-page PDF. I love Muck Rack's case studies because they're short but impactful. We keep the layout visual with lots of white space and bite-sized information. We keep our audience in mind: PR pros are busy, so we want to make sure they can skim these and pick up the big highlights in little time.
For visual elements, we always ask the customer to send over a headshot and logo.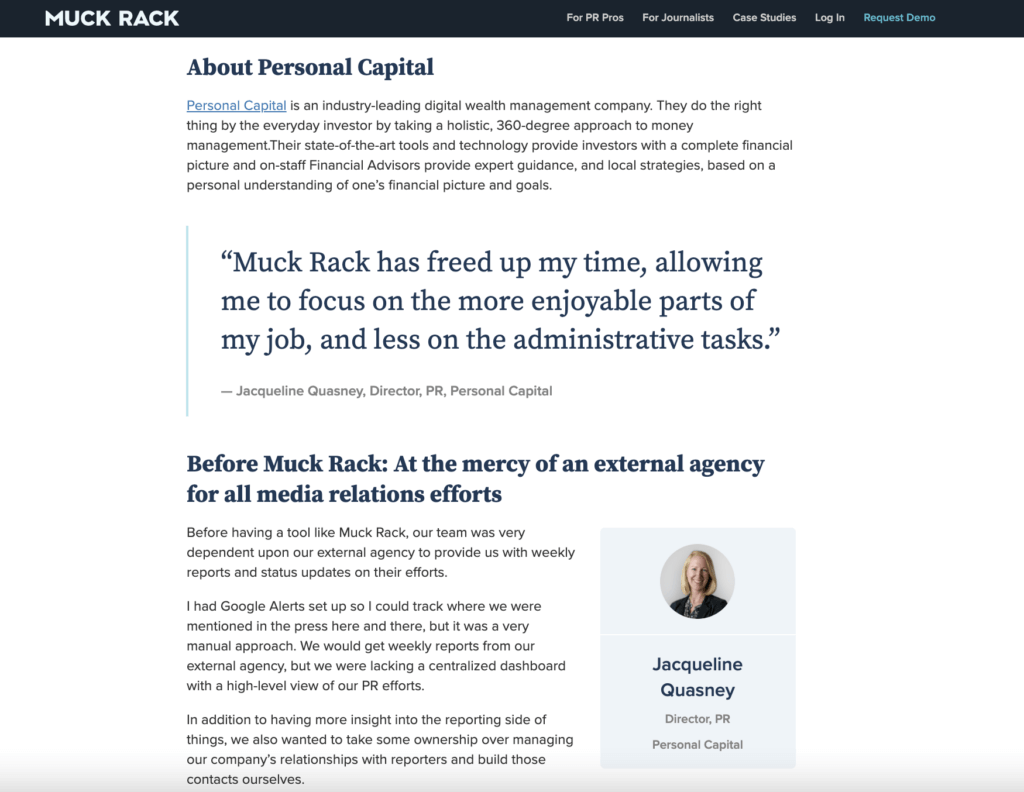 Step 5: Get to writing
You'll notice Muck Rack's case studies are written in first person — from the perspective of the customer. This was a deliberate decision because customers want to hear directly from other customers — they don't want to hear Muck Rack toot its own horn.
As I write case studies, I also keep these tips in mind:
If you're writing in first-person (from the perspective of the customer), embrace the "voice" that comes out in the interview. If a subject is super formal, follow the lead. If they've got a silly side and enjoy a pun or two — great!
Highlight specific examples and numbers to help potential customers understand the value of your product or service.
Write for your audience. At Muck Rack, we knew PR pros didn't have time to scroll through pages and pages of information, so we chose to keep case studies as concise as possible.
I also always link back to the customer's site as a courtesy — it's a good service for your reader, and the customer will love the exposure and SEO link juice.
Step 6: Send over for customer review before publication
Here's my final step before a case study goes live: I send it to the customer to review. This is a super important step in the process because I want the customer to feel comfortable with what they said. Usually, there aren't any big requests, but I like to know they're happy with the final product. Plus, bonus points if they love it so much they share it on their social profiles.
Once the case study goes live, it's shared with the sales team so they know a new case study is available to share with prospective clients, and it also gets published to the Muck Rack blog and social channels.
If you want to see more of the Muck Rack case studies me and my team have worked on, feel free to take a look through the archives.
Want to learn more about case studies and JL&Co's client projects? You can keep tabs on me by signing up for my content newsletter. Every two weeks, I'll give you the lowdown on what I've been up to and share some of my favorite articles, resources and gigs in the content world.