After declaring last summer the "summer of passion projects", I've decided to make it an annual tradition.
Last summer was a huge success for me when it came to the three projects I set my mind to: I kicked off my website rebranding, prepared for a new semester teaching at Temple University and developed a branding workshop for yoga teachers that I've presented three times now.
Check, check and check! Three projects complete.
Now that I've been running JL&Co for going on my fourth straight summer, I know that business tends to slow down during the months of June, July and August. With clients and prospects in and out of the office during the summer, requests for proposals tend to trickle and regular client work slows down.
While this used to worry me, I've come to realize that business ebbs and flows throughout the year, and instead of fretting, I should use my newfound time and energy in a productive way.
And so, the summer of passion projects begins again!
Why do you need a passion project?
I'm sure you have passion projects up your sleeve too!
You know what I'm talking about — those ideas that constantly get pushed to the bottom of your to-do list, even though you secretly think they could be really cool to pursue. Or those fun bonus projects that don't directly relate to your job or business (or maybe they do!), but energize and excite you.
It can be easy to get lost in the day-to-day shuffle of your job, online business or your client work, and forget about what it was that got you excited about what you do in the first place.
Take it from me: passion projects rock!
Focusing efforts on three projects last summer helped me learn new skills, gave me something to be excited about and allowed me to flex my creativity in a new way.
I felt accomplished and satisfied when the projects were done.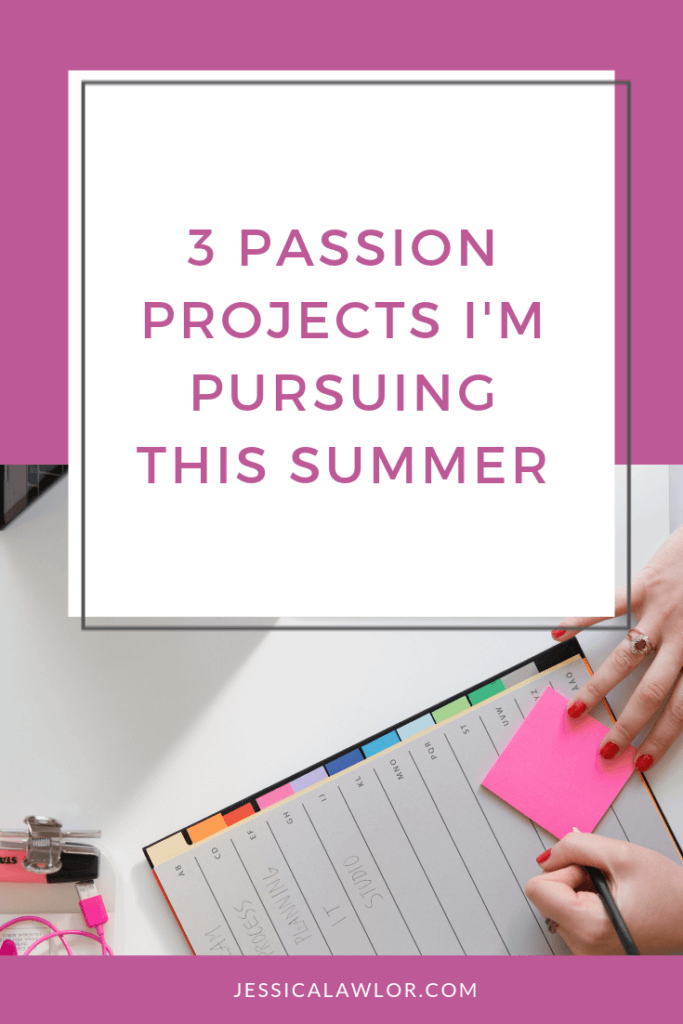 My 3 passion projects for summer 2019
Summer is here, and I'm ready to dive headfirst into my passion projects. Here's how I'll be spending some of my time over the next few months.
1. Develop an email sequence for my newsletter community
For as long as I've been blogging I've had an email list. I dutifully send newsletters to my community twice a month, and I love the relationships and connections I've been able to build through email marketing.
However, I know that I've just barely begun to scratch the surface of what is possible when it comes to growing a more engaged email community.
After developing an email sequence for a client recently, I decided it was time to finally build out an email sequence for myself.
You might be wondering, what's an email sequence? Whether you've heard the term before or not, if you're subscribed to any type of email newsletter, I can almost guarantee you that you've received emails as part of someone's email sequence.
An email sequence (also known as a drip campaign) is a series of emails that a new subscriber receives after they sign up for your list. Some email sequences may include 10 emails and last for two or three months — other email sequences might include dozens of emails and last for years.
The purpose of an email sequence is to introduce a new subscriber to your brand, share old content they may have missed and use as a tool to stay connected to your subscribers in between regular emails.
I'm not sure exactly what my sequence will look like just yet, but I'm excited to audit my blog content to see what makes sense to share with new subscribers to take them on a journey and allow them to get to know me and my brand a bit better.
2. Create a new content management offering
A few months back I worked with a project-based client over the course of two months to help build them a PR plan that they could take as-is and then implement on their own.
It was such a satisfying project because it had a clear beginning and end, was priced at a set rate and allowed me to strategize and consult without the hours of implementation normally involved in working with a longer-term client. It was a huge win for me — and for the client!
I began to wonder if this was something I could build for those seeking my content management services.
I regularly receive inquiries from bloggers and businesses who want help developing and managing their content strategy — this is the work me and my team excel at — it's what we've done for years for Muck Rack and The Write Life.
But content management can be pricey and time-consuming! And I understand that working with my team on a retainer basis isn't an option for everyone, especially those who might not be ready to fully invest in a managing editor right this moment.
So my goal this summer is to create an in-between content management offering — an option that allows folks to work with me for a shorter period of time and get the plan and tools they need to implement on their own.
I haven't fully developed what this offering will be, but that's what I'll be up to over the next few months — figuring out what to call the offering, writing a sales page and beginning to promote and market this new part of my business.
3. Build community
I know. 'Build community' sounds really vague, and it is.
This passion project may take a bit longer than summer to develop, but it's one that's super important to me. (It was even one of my goals for 2019, so this is the perfect time to revisit it!)
Back when I was all in on the "get gutsy" theme (ICYMI, I said buh-bye to my old way of thinking recently), building community was easy. I hosted an annual essay contest, created a course and ran a Facebook group to share stories/support on how community members were stepping outside of their comfort zones.
But as I shifted focus and started JL&Co, I started to lose that sense of community. It's important for me to bring it back, as it's one of the primary reasons I continue to blog after all these years.
My community has grown up and changed, just as I have. I'll be spending some time this summer figuring out how to create community with the new trajectory me and those who read this blog are on.
Here we go!
The best time to get started on your passion project? Right now.
Do yourself a favor: Add your passion project to this week's to-do list, even setting aside just 15 minutes to give your project the jump-start it deserves.
I know I'll be doing the same.
Do you have any passion projects you're pursuing at the moment? I'd love to hear about them in the comments below!