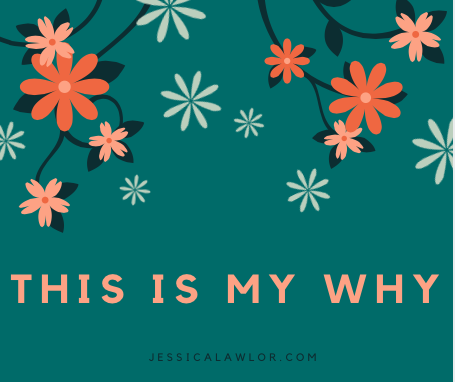 I woke up this morning feeling stressed out.
I was "out of the office" most of yesterday on-site with a client, so I need to do double the work today to get caught up. Before I even rolled out of bed, I was already reviewing my to-do list in my head and starting to feel anxious that there aren't enough hours ahead of me to get it all done.
But then I remembered something that happened on Tuesday evening that changed my entire day.
My week. My world.
I taught my 5:45 p.m. hot vinyasa yoga class, as I do every single Tuesday. After class, a student came up to me and gave me a gift. I was very taken aback.
A few months ago this student shared with me that a quote I read during class inspired her to take the steps to start a business she had been thinking about for some time.
I sat down on the bench at the yoga studio to read the card the student gave me and was almost brought to tears by what she wrote.
Here's the note: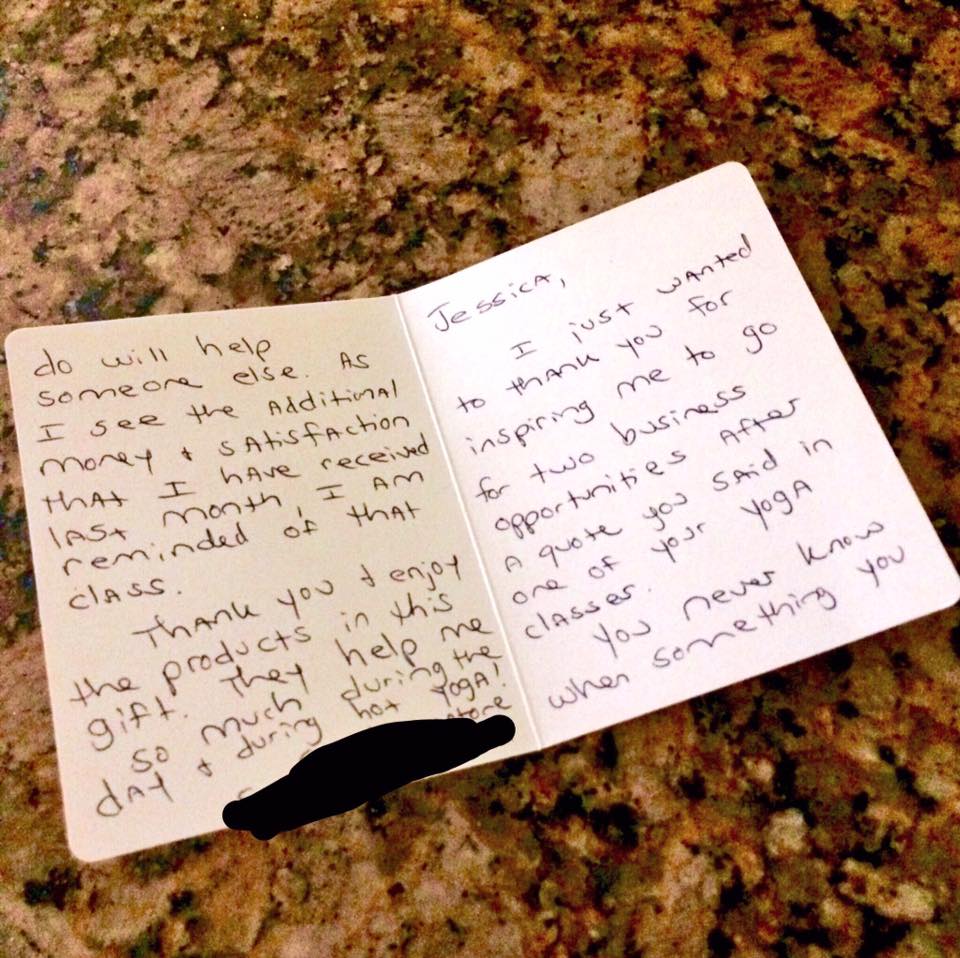 As my kind student wrote, "You never know when something you do will help someone else."
Your words matter.
Your actions matter.
At any point throughout any given day, you could be making a difference in someone's life…and you might not even know it.
If you're lucky like I was, someone will share with you just how you made a difference…and it might change your entire perspective.
But even if they never share it with you? I hope this story assures you that there are hundreds, maybe even thousands, of moments in your life that your words changed someone. That your actions made someone think differently. That YOU, in some small or large way, made a difference.
Because believe me, it has happened.
This isn't about teaching yoga, although this particular moment took place in a yoga class. Even if you're in a job that you hate or one that feels completely without purpose, the way you approach your day and the people you surround yourself with matters. This is just about living life and the way you welcome every single moment.
Thank you, Sue, for this important reminder.
The reminder of my WHY. Of my purpose. The reminder that we are all here to support and lift one another higher.
The length of my to-do list hasn't changed. The number of emails in my inbox hasn't budged. But my attitude has changed.
This morning, I turned my anxiety into gratitude. Gratitude for the simple fact that every single day I get to wake up and pursue my WHY. And the even more beautiful part of all of this? That my why has the power to impact someone else's WHY for the better.
I will never forget this lesson.
What is your WHY? I'd love to hear it in the comments below.
Want more gutsy content delivered straight to your inbox twice a month? Be sure to sign up for my FREE #GetGutsy e-newsletter filled with inspiration, ideas and action items to get out of your comfort zone. When you sign up, you'll also be sent a FREE copy of the Get Gutsy ebook, filled with 19 inspirational stories to help you get gutsy.