Little-known fact: back in the day before Get Gutsy was even a glimmer in my mind, this very website was a book review blog. For more than two years, I diligently reviewed books, in total, reviewing more than 150 books. (You can still check out those reviews here)
I stopped reviewing books mainly because I stopped reading as much. Unfortunately, my reading time quickly faded away when I stopped commuting by train. I tried reading before bed, but most nights I was so tired, I fell asleep as soon as my head hit the pillow.
While I don't read as much as I used to, I still LOVE reading and usually can finish four or five books during a week-long vacation.
This summer, I want to bring regular reading back into my life because it brings me so much joy.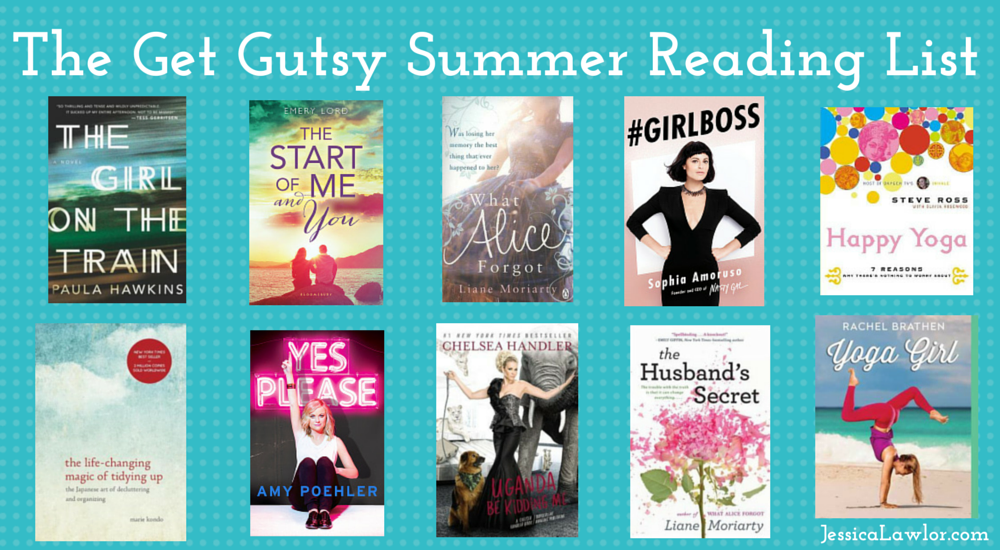 Here's what's on my summer reading list:
Beach Reads:
I'm a complete sucker for a light and fun beach read.
Happiness for Beginners by Katherine Center: I've read other books by Katherine Center and enjoyed them. I love the premise of this book- a woman gets divorced and her brother convinces her to sign up for a wilderness survival course.
The Start of Me and You by Emery Lord: After reading (and obsessing over) Emery Lord's first book Open Road Summer, I will read anything she writes and I'm so pumped to read this book.
The Balance Project by Susie Orman Schnall: This one is kind of meta…the main character in the book writes a book about work/life balance, all while struggling with it herself. This sounds right up my alley!
About A Girl by Lindsay Kelk: Just look at the gorgeous cover of this book! It sucked me right in.
Mystery and Suspense:
Even though I love light reading, especially in the summer, I've found myself drawn to some pretty intense thrillers and suspenseful stories lately.
The Girl On The Train by Paula Hawkins: I started this one the other night and I'm already completely sucked in. They say if you're a fan of Gone Girl, you'll love this book.
The Husband's Secret by Liane Moriarty: This book came highly recommended by my friend at work. The premise? Your husband leaves you a letter only to be opened AFTER his death…but you open it before and all of the secrets come tumbling.
What Waits In The Woods by Keiran Scott: A camping trip gone awry? A dead body in the woods? A new book from Kieran Scott? I'm intrigued.
What Alice Forgot by Liane Moriarty: The main character in this book wakes up in a hospital 10 years older than when she last remembers.  Ten whole years of memories are missing…oh, and her life is completely different. She must put the pieces back together.
Just For Giggles:
There's nothing better than a book that makes you laugh out loud.
Uganda Be Kidding Me by Chelsea Handler: Chelsea Handler's book always make for great summer reading. This one has been on my list for awhile, but I haven't gotten around to it yet.
The Andy Cohen Diaries: A Deep Look at a Shallow Year by Andy Cohen: I LOVED Andy Cohen's first book and can't wait to read this one, which is in diary format.
Yes Please by Amy Poehler: Everyone has raved about this book and it has some great reviews. I've heard that it's both funny AND inspirational, which makes it even better.
I Can't Believe It's Not Better by Monica Heisey: This is a book of funny essays, stories and advice to help you live your "best life" (or whatever that means). I love these types of books!
Biz Books:
Gotta keep the business moving forward! I don't spend too much time reading business-related books because I think you can easily get lost in all of the advice without actually implementing, but every once in awhile, some of these catch my eye.
The Life-Changing Magic of Tidying Up: The Japanese Art of Decluttering and Organizing by Marie Condo: I've heard mixed reviews on the impactfulness of this book, but either way, I'm always looking for new ways to declutter and organize, so I'm going to give this a try.
#GirlBoss by Sophia Amaruso: I've heard nothing but good things about this empowering read. I can't wait to get my hands on a copy!
Yoga and Inspiration:
In the midst of my yoga teacher training, I'm loving our required reading and with my program ending in June, I want to continue my yoga education.
Yoga Bitch: One Woman's Quest to Conquer Skepticism, Cynicism, and Cigarettes on the Path to Enlightenment: Okay, with a title like this, who isn't a little bit intrigued? Described as sort of like Eat Pray Love, but for the twenty-something set, I'm excited to read this one.
Happy Yoga by Steve Ross: Steve Ross believes the key to yoga is lightening up. I saw this book at my yoga studio and as soon as I saw the title and cover, I added it to my to-be-read list.
Yoga Girl by Rachel Brathen: If you follow @yogagirl on Instagram, you're likely inspired by her gorgeous photos. This book takes readers behind-the-scenes of her popular Instagram account to her personal journey.
Do Your Om Thing by Rebecca Pacheo: I read Rebecca's blog, so naturally I want to read her book all about making yoga philosophy accessible and applicable to the 21st century.
For more books on my to-be-read list, check out my Goodreads shelf…there are nearly 300 books on my list! 
What's on YOUR summer reading list? I'd love to add some new finds to my to-be-read list! Leave your suggestions in the comments below.
Want more gutsy content delivered straight to your inbox twice a month? Be sure to sign up for my FREE #GetGutsy e-newsletter filled with inspiration, ideas and action items to get out of your comfort zone. When you sign up, you'll also be sent a FREE copy of the Get Gutsy ebook, filled with 19 inspirational stories to help you get gutsy.