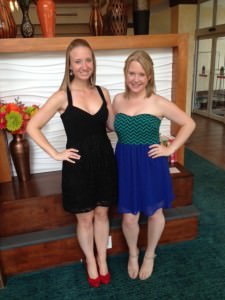 Start your week right! Every Sunday I post my favorite links from around the web and share my goals for the upcoming week.
Before we get to the links this week, reminder: Google Reader is going away TOMORROW. If you haven't already, here are some steps you can take to ensure a seamless transition to whatever RSS service you select:
Here's how you can stay in touch with me and this blog throughout the transition:
Links
On Email Marketing:
30 Day List Building Challenge: Interested in growing your email list? This is one of my main goals now that my e-newsletter is fully launched. Nathalie Lussier is hosting a 30-day list building challenge in July where she'll be sending out FREE advice, tips and ideas to grow your list. There's also the chance to earn points and win fun prizes. I'm TOTALLY in. Join me!
On Productivity:
How to Be More Productive and Accomplish the Big Things That Really Matter: If you're struggling with getting a head start on your big goals, this post by Alexis Grant may help. I especially like her tip about focusing on your most important task at the beginning of the day.
Time Isn't Money and NO Is The Answer: YES, YES and YES. This post by Emily Theis for Proof Branding's blog is genius: why saying NO is sometimes completely necessary and a GOOD thing for your business and life.
On Achieving Dreams:
5 Ways To Go After Your Someday Dreams Today: You know that "someday" dream on your bucket list? Ashley from Your Super Awesome Life shows you how to make that dream a reality today.
On PR:
6 SEO Rules Every PR Pro Should Live By: I'm SO proud of my friend Kathleen McFadden whose post for her agency Buchanan PR's blog got picked up as the top story for PR Daily. In this post, she breaks down SEO into very simple terms and action items for PR pros.
On Writing:
5 Steps You Can Take This Week to Build Your Author Platform: I'm thrilled to share my first post as a monthly contributor to Dana Sitar's blog A Writer's Bucket List. My first post details simple steps you can take RIGHT NOW to build your author platform.
This Week on JessicaLawlor.com:
An Important Reminder: Be Kind to Yourself: After an intense month of June, I realized something important: I wasn't being very nice to myself. You can only be your best self when you take care of your own needs first. Learn more in this post.
Goals
Embrace my long weekend and enjoy the Fourth of July. I'm hoping to head into the city to celebrate at the Wawa Welcome America and 4th of July Jam and Fireworks (John Mayer is performing!!!). 
Continue working on my next few freelance pieces and projects- more to come on exciting new freelance developments in a post soon!
Have any links or goals you'd like to share? Leave them in the comments!
Want exclusive content NOT featured on the blog delivered straight to your inbox twice a month? Be sure to sign up for my FREE #Get Gutsy e-newsletter filled with inspiration, ideas and action items to get out of your comfort zone.