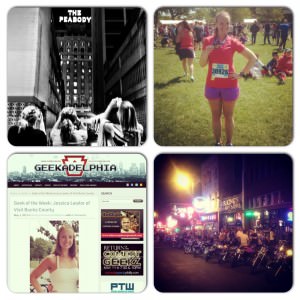 Each month, I share three things I accomplished in the previous month and preview three things I'm excited about or hoping to accomplish in the month ahead. It's fun to look back and forward, and as an added bonus, these monthly check-ins keep me accountable to reach my goals.
I hope you'll join in and share your three things in the comments section! I've also been thrilled to see that other bloggers enjoy my monthly check-ins and have adopted the format for their own blogs- this is AWESOME! If you write a similar monthly check-in/look ahead post, please feel free to utilize this format (I'd appreciate a brief shout-out) and be sure to leave a link in the comments below so we can all support you in your goals for the coming month!
In May, I…
1. Completed my second Broad Street Run. For the second year in a row, I conquered Philadelphia's iconic Broad Street Run 10-mile race. I had a blast the entire race weekend and as an added bonus, I knocked four minutes off my 2012 Broad Street Run time! This race is very special to me (it was my first long distance race!) and I look forward to making it a tradition for years to come.
2. Traveled to Memphis, TN for the PRSA Travel + Tourism Conference. I was super excited to have the opportunity last month to travel to Memphis for a PR conference for work. The conference itself was awesome and full of information, takeaways and ideas. I was lucky enough to have a bit of free time to explore the city. I dined on some amazing BBQ (I'm still dreaming of those dry rub ribs from Rendezvous), visited Graceland and spent a night listening to live music on Beale Street. I also got comfortable with being alone and spent a few hours before traveling home checking out the Civil Rights Museum and eating at the famous Gus's Fried Chicken solo.
3. Ramped up my freelancing/e-newsletter efforts. May was an exciting month for both my freelancing and e-newsletter goals! I published several guest blog posts, was featured as Geekadelphia's "Geek of the Week," took on a new blogging client and am also currently fielding a few new exciting opportunities. I've also sent out two more #GetGutsy e-newsletters and am loving the awesome responses from those who subscribe. I've been blown away by the reactions and nothing makes me happier than to hear someone say they look forward to my emails! Not subscribed yet? It's super easy to get on the list!
In June, I will…
1. Run two 5Ks (in the same week!) After completing the Broad Street Run last month, I currently have no long distance races on the horizon. I want to take the summer to focus on getting speedier and one of the ways I'm doing that is by participating in 5Ks- my goal is a sub-30 minute 5K! I've come close a few times, but haven't hit my goal yet. This week I'm doing two 5Ks- one in the morning and the other an evening race. I'm excited to get back to running for fun and to improve my speed in the coming months.
2. Watch my little brother head off to prom and graduate from high school. This month, my little brother (who I can hardly believe is already 18!) will go to his senior prom and graduate from high school. I'm so proud of him and I can't wait until he officially becomes a Temple Owl when he heads to college in August (YEP! He's going to Temple!) I'm so excited for all of the graduation festivities this month including the actual ceremony and his big party which we'll have here at our house later this month. Congratulations Matt! I'm so proud of you.
3. Complete my term as PPRA's Vice President of Programs. I LOVE the PR community in Philadelphia and one of the major reasons for that has been my involvement in the Philadelphia Public Relations Association (PPRA). As the VP of Programs, I've been tasked with leading a team of four committee chairs to plan both educational and social programs for PPRA's membership. This position has been both rewarding and challenging and I can't wait to take on a new role within the organization for next year.
May Posts You May Have Missed
Broad Street Run Race Recap: A 10-Mile Adventure Through The Heart of Philadelphia
Reflections From The Real World: Advice for New College Grads
Where I've Been Freelancing Lately: Geekadelphia, Brazen Careerist and Muck Rack
Getting Comfortable With Being Alone
What did you accomplish in May and what are you looking forward to accomplishing in June? Share your three things in the comments below!