Today, I'm participating in Waiting on Wednesday, a weekly event hosted by Jill at Breaking The Spine. This event highlights the upcoming releases that we are eagerly awaiting!
Today, I am waiting for…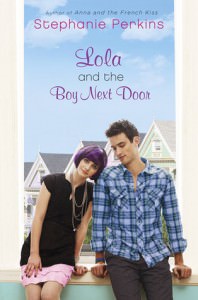 Lola and the Boy Next Door by Stephanie Perkins (September 29, 2011 by Dutton)
I don't think I even need to explain my reasons for wanting to read this book…it's pretty self-explanatory. After not reading one negative review of ANNA AND THE FRENCH KISS by Stephanie Perkins, I read it and loved it myself. I've read in some early reviews that LOLA is even better than ANNA (if that's even possible!).
Check out this Goodreads summary:
Budding designer Lola Nolan doesn't believe in fashion . . . she believes in costume. The more expressive the outfit — more sparkly, more fun, more wild — the better. But even though Lola's style is outrageous, she's a devoted daughter and friend with some big plans for the future. And everything is pretty perfect (right down to her hot rocker boyfriend) until the dreaded Bell twins, Calliope and Cricket, return to the neighborhood.

When Cricket — a gifted inventor — steps out from his twin sister's shadow and back into Lola's life, she must finally reconcile a lifetime of feelings for the boy next door.
This sounds SO. GOOD. I already love Lola as a main character just from reading the summary. I can't wait to get to know her better when I get the chance to read the book! Plus, I've heard that Cricket even rivals Etienne as the sexy male love interest…
What are you anxiously waiting for this Wednesday?