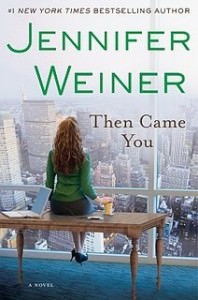 Then Came You
Author: Jennifer Weiner
Goodreads| Amazon| Author Website
Four very different women heading in four very different directions in life. Yet, there is one thing that bonds them.
Jules, a college senior, needs money to help her alcohol addicted father get into rehab. Young housewife Annie is struggling with money, and her relationship with her husband. Gorgeous PR executive India wants a baby, and lifelong financial stability with her much older husband. And Bettina, India's stepdaughter (even though they are essentially the same age) wants to unearth secrets about India's past, and win back her dad's love and affection.
I am a HUGE Jennifer Weiner fan and I was so excited when I got my hands on a copy of her latest. I had seen the cover a few months earlier and I was intrigued by the title. I knew I was in for a treat. One of my favorite things about Jennifer Weiner's latest books is how she ties her stories to something happening in the news that intrigues her; in her previous book, it was all about political sexual scandals. For THEN CAME YOU, Weiner came across an article about a woman who wanted to have a baby and paid for a surrogate. It got Weiner thinking about how much money can really buy, and inspired the idea for this story. I love learning about how book ideas come about, and Weiner always has great stories behind her ideas.
Like I said above, I love how Weiner finds her story ideas, and I loved the plot of THEN CAME YOU. This book examined issues around fertility, surrogacy and money. How some women want a baby so bad they will do literally anything to make it happen. No amount of money is too expensive. As a woman (albeit definitely not ready for babies, myself) I could definitely relate to this story and the desire to want to have a baby. Previously, I didn't know too much about surrogacy and egg donorship, but this book definitely introduced me to an entire world I hadn't ever learned much about. It was fascinating to explore all of the issues surrounding these obviously very sensitive topics.
My favorite part of this book was hearing four different stories that were later expertly intertwined. I'm a huge fan of books with multiple main characters and storylines and with four diverse women telling this story, I was immediately hooked.
Right away, I liked Jules. I loved how caring she was and how she wanted to help her father so much that she'd sacrifice anything to ensure he got the money to go to rehab. Even though her father made life difficult for her, Jules didn't care. I admired Jules for her strength and loyalty to her family.I also enjoyed her completely seperate storyline about discovering her sexuality and dealing with all of these struggles alongside her family and money issues. Jules had A LOT going on, but handled it so maturely.
Then there's Annie…I didn't click with Annie right away, but I grew to care for her throughout the story. For some reason in the beginning of the book, I didn't realize that she was also in her 20's. I thought she was much older for some reason. Perhaps she came across that way. Toward the end of the story, I loved that Annie got the courage she needed to stand up to her husband.
I was pretty suspicious of India, especially in the beginning of the book, but I still found her hard to dislike as the story went on. Even when she was at her worst, I still felt for her. She was also a fun character to read about with her interesting past.
Finally, there was Bettina. Bettina wasn't my favorite character in the beginning, but I definitely felt her grow and change for the better throughout the story. As a daughter, I could understand her frustration with her father's relationship with India; I know I would certainly feel the same way if I were in her shoes. Toward the end of the book, my feelings about Bettina did a complete 360 as she stepped up and took control of her life, even in a very complicated situation.
The story started a bit slow, in my opinion, but definitely picked up the pace about halfway through. I understand why the story had to start a bit slow; we had four women to get to know, after all, but I was ready for the action to begin, after I had learned about each woman and her history. But when the action began, wow…I was hooked. I don't want to spoil anything, so I won't say any more, but I will say, I was completely shocked by what happened in the second half of this book.
While nothing will compare to my absolute favorite Jennifer Weiner book, GOOD IN BED, THEN CAME YOU is a definite winner.  A bonus were the many references to places I know dearly from living in the suburbs of Philadelphia and heading into the city often. Jennifer Weiner makes Philly proud!
4/5
Review copy provided by GalleyGrab.