Today, I'm participating in Waiting on Wednesday, a weekly event hosted by Jill at Breaking The Spine. This event highlights the upcoming releases that we are eagerly awaiting!
Today, I am waiting for…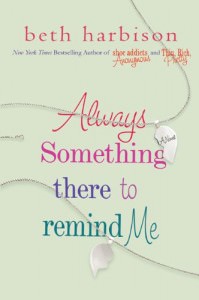 Always Something There To Remind Me by Beth Harbison (August 1, 2011 by St. Martin's Press, Inc.)
Check out this Goodreads summary:
Two decades ago, Erin Edwards was sure she'd already found the love of her life: Nate Lawson. Her first love. The one with whom she shared everything – dreams of the future, of children, plans for forever. The one she thought she would spend the rest of her life with. Until one terrible night when Erin made a mistake Nate could not forgive and left her to mourn the relationship she could never forget or get over.

Today, Erin is contentedly involved with a phenomenal guy, manoeuvring a successful and exciting career, and raising a great daughter all on her own. So why would the name 'Nate Lawson' be the first thing to enter her mind when her boyfriend asks her to marry him? In the wake of the proposal, Erin finds herself coming unravelled over the past, and the love she never forgot. The more she tries to ignore it and move on, the more it haunts her.
I read one of Beth Harbison's books pre-blog and absolutely loved it. I am really looking forward to reading this title because come on, what girl hasn't thought about what her first love is up to these days? I think this book will be 100 percent relatable for most women, myself included.
Also, I love the cover! I know it's very simple, but I really like the font and the broken heart necklace.
*In case you missed it, I'm giving away a copy of NEVER SIT DOWN IN A HOOPSKIRT by Crickett Rumley to one lucky reader! Be sure to enter by Thursday at 10 p.m.*

What are you anxiously waiting for this Wednesday?