Today, I'm participating in Waiting on Wednesday, a weekly event hosted by Jill at Breaking The Spine. This event highlights the upcoming releases that we are eagerly awaiting!
Today, I am waiting for…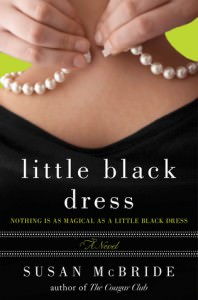 Little Black Dress by Susan McBride (August 23, 2011 by HarperCollins)
Check out this description from the HarperCollins website:
Can there be magic in a Little Black Dress? Susan McBride, author of The Cougar Club and the Debutante Dropout mystery series, answers with a resounding, unequivocal, "Yes!" McBride's mesmerizing tale of two sisters whose intertwined lives are torn apart by a remarkable dress that opens up doors to an inescapable future is an ingenious work of the imagination that recalls the novels of Claire Cook and Jill Kargman. A sometimes heartwarming, sometimes heartbreaking look into two generations of women, this Little Black Dress is something every fan of quality contemporary women's fiction will want to own.
This book sounds absolutely charming. I love the whole idea of a little black dress linking two generations of women together. Of course, as you know, I also love books about sisters, so I already know this book is a must-read for me.
What are you anxiously waiting for this Wednesday?