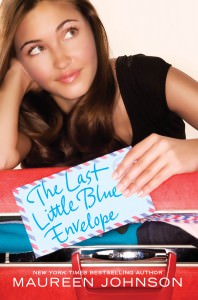 The Last Little Blue Envelope
Author: Maureen Johnson
Release Date: April 26, 2011
Goodreads| Amazon| Author Website
Ginny is working on her college applications trying to sum up her whirlwind summer into a succinct, sensible admissions essay when she receives a strange email. It's from a mystery boy who says he's found her bag- the bag that contained letters from Aunt Peg and the one final letter Ginny had yet to read.
Ready for a new adventure, Ginny heads back to London where she meets Oliver, the boy with the letters and her bag. He tells her that he won't give her the letters unless she agrees to let him come along to complete the tasks Aunt Peg has laid out for Ginny in her final letter. Blackmailed and with no other choice, Ginny agrees. She invites Keith, her old kind of boyfriend along, and his new girlfriend Ellis. The unlikely four pile into Keith's car and set off on a journey to complete Aunt Peg's wishes, and to help Ginny finally get closure.
I was a little worried when I began reading THE LAST LITTLE BLUE ENVELOPE, as I read 13 LITTLE BLUE ENVELOPES several years ago. I was concerned that I wouldn't remember the story and I'd be a little lost, but as it turns out, I had absolutely no reason to be worried at all. Johnson does an excellent job in the beginning of the book subtly summarizing what happened in the first book, so much so that details from the first book came rushing back. Instantly, I was back in Europe with Ginny ready to set off on an adventure.
Just as I loved the first book, I was still completely intrigued by Aunt Peg's cryptic instructions and mysterious notes. Aunt Peg once again sent Ginny on a wild goose chase throughout Europe to put together a one of a kind piece of art.  I'll admit, one of her famous notes even got me a little teary-eyed.
I enjoyed the addition of two new travel companions in this book- Ellis and Oliver. Ellis, Keith's new girlfriend is the girl you want to hate, but can't help but love. Her quirky, sweet manner made me instantly like her. Oliver was certainly an interesting character. While I didn't like him at times, deep down I had this feeling that he was good and was hiding his true self from Ginny. I never got the feeling that he was *really* a bad guy, out to take advantage of Gin and her money. Towards the end of the book, I loved seeing a new side of Oliver that really confirmed my feelings about him.
The setting in THE LAST LITTLE BLUE ENVELOPE was incredible. Johnson does an awesome job describing all the different European cities Ginny visits. After traveling throughout Europe myself a few years ago, I became completely nostalgic reading this book. Johnson's descriptions actually made me feel like I was right there in London, Amsterdam and Ireland right along with Ginny.
I am so impressed by Maureen's writing. She manages to be hilarious and witty, while still keeping the story realistic and heartfelt. I couldn't put this book down. Without giving anything away, the ending of this book is absolutely perfect. I don't think lovers of the first book will be disappointed.
5/5
Review copy provided by NetGalley.