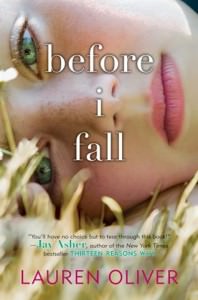 Before I Fall
Author: Lauren Oliver
ISBN: 9780061726804
Before I Fall by Lauren Oliver tells the story of Sam Kingston, a pretty and popular senior who has it all. She has three loyal best friends, a great family with a sister who adores her, not to mention her boyfriend is the hottest guy at school. It's Cupid Day; Sam's favorite day of the year. Valentines Day is around the corner and Sam is excited to go to school to see how many roses she'll get this year.
Her day is fairly normal; she goes through the motions of school, cuts class with her best friend Lindsay and later attends a party at a guy named Kent's house. On the way home from the party, Sam is in a car accident and dies. Only, instead of dying and moving on to another life, Sam goes on to live the day of her death seven times. In each go round, Sam changes her actions desperately trying to figure out why she is stuck in some kind of limbo. Throughout the entire experience, Sam learns what is important, who truly cares about her and what matters most in life.
This review was super difficult to write because this was probably the most powerful book of 2010 (if not one of the most powerful books I've ever read). I even tweeted:


You would think that reading the same day repeated in a book seven times would get boring after the third or fourth time, but Lauren Oliver expertly tells this story in a way that each day feels completely new- and like anything can happen. Like Sam can change the face of the future.
In a few reviews I read, some bloggers felt that Sam wasn't a very likeable character in the beginning and as she began to grow and evolve, they began to like her more. I have to disagree. What I loved most about Sam is that to me, she seemed to be completely normal. Yes, she was in the popular crowd, but it was clear that her best friend was the queen bee, and she seemed to be the mean one. Sam was kind of guilty by association for her actions in my opinion. I thought Sam was completely relatable because, honestly, I think we've all been there. We've all made fun of someone. We've all gossiped behind someone's back. But deep down, we know that's not the person we're supposed to be. We know it's wrong. We accept that we've made bad choices. I think everyone can find a little bit of Sam in themselves. This is one of the reasons I found this book so powerful.
That brings me to the next thing I loved most about this book. It was intensely realistic. I truly believe that this book painted an accurate picture of what it's like to be in high school today.It's kind of unfortunate that this is the way things are, especially in the wake of several suicides from bullying, but if Oliver was trying to paint an accurate picture, she succeeded.
The secondary characters in this book play a huge role in the story. Throughout Sam's seven days left on earth, we get to know the main players in her life pretty intimately. Though I could get behind Sam, even though she was kind of a mean girl, I couldn't relate to her best friend Lindsay. I'm not sure as readers we were ever really supposed to like Lindsay though. One of my favorite secondary characters was Sam's little sister. I thought it was really special when they were able to bond and Sam was able to get her closure that her sister would go on to have a good life.
What a beautifully haunting book that really made me stop and think about my actions. The whole time I was reading, I kept thinking about what I would do if I could go back and change the way I treated someone- or made the day a little brighter for someone else. It made me more aware of my current actions and motivated me to live an even better life.
5/5